Kris Jenner Just SHUT DOWN The Rumor That Tyga Is The Father of Kylie's Baby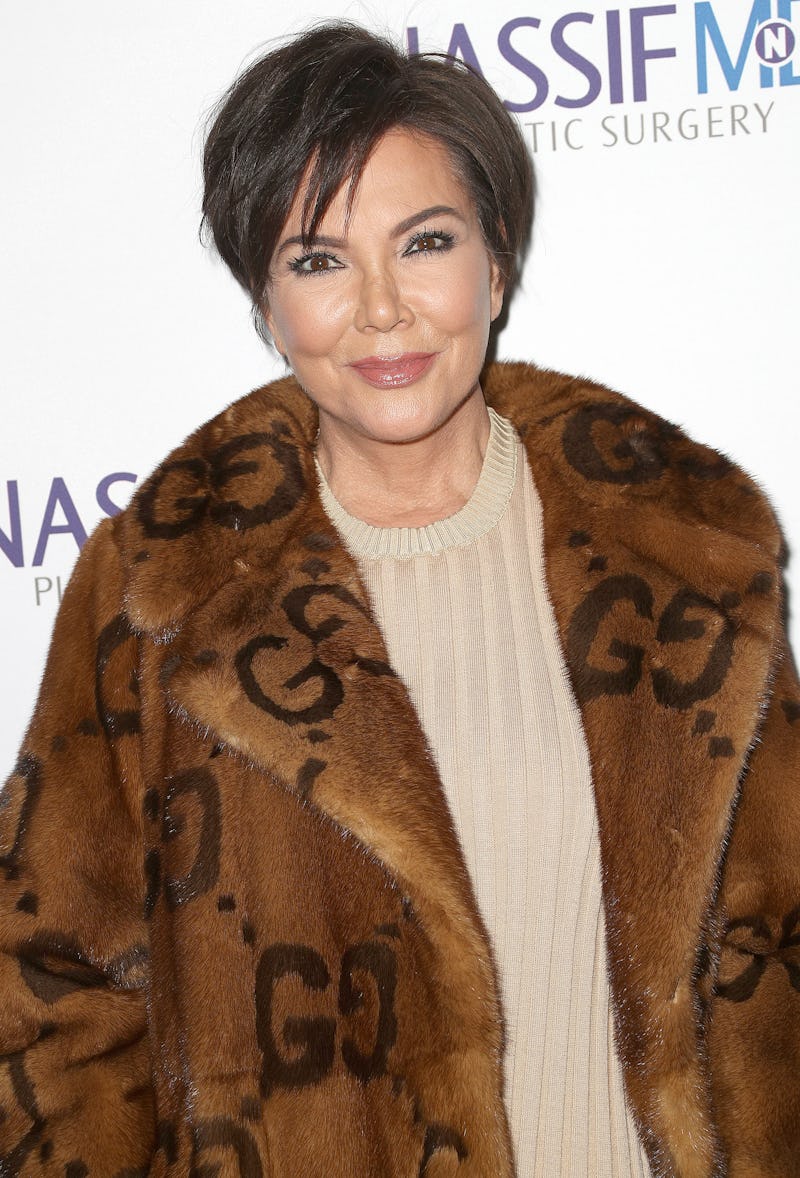 Frederick M. Brown/Getty Images Entertainment/Getty Images
The Kardashian/Jenner family matriarch is not here for any negative rumors about her children. According to Us Weekly, on an episode of the Kyle and Jackie O radio show, Kris Jenner denied rumors about Tyga fathering Kylie's baby. So, take note, everyone, feel free to put that silliness to rest.
During her interview, co-host Kyle Sandilands couldn't help but bring up a particular rumor that has plagued one member of the Kardashian family in particular. In reference to some Kylie Jenner-related gossip, he asked the momager, "Tyga was chiming in saying maybe it was his baby." Jenner shot that rumor down quickly, before he could even finish the full question.
She replied, "Oh no, no no. I think that was just a bunch of silly rumors as usual." According to Just Jared, Sandilands went on to say that he doesn't believe any rumors until he "speaks to Kris," which is a pretty good rule of thumb, actually. The matriarch then replied with a chuckle and said, "Yeah, you guys know better than that." And now, hopefully, everyone else will know better than to believe that silly gossip, too. After all, unless it comes directly from the momager extraordinaire herself, or any of her famous children, it's probably wise to take these ridiculous rumors with a grain of salt.
When Kylie announced the birth of her daughter, Stormi Webster, rumors began circulating pertaining to the child's true parentage. According to Radar Online, which was one of the first to report this piece of gossip, Tyga was said to have demanded a DNA test from the reality star because he supposedly felt as though there was "a chance this baby could be his," according to a source at the publication.
Considering that it wasn't coming from Tyga himself, concerning the Radar Online story, and the fact that Kylie has been upfront about her relationship with her boyfriend, Stormi's father Travis Scott, it was always safe to say that this gossip was exactly that. Even if you thought there was a shred of truth to this, everyone now knows definitively per Jenner, that those rumors were just wildly untrue.
These recent paternity rumors came on the heels of even more paternity-related gossip from September 2017. Tyga shocked the world when he commented on Kylie's pregnancy news on Snapchat. The rapper screenshot a headline about the reality star's news and captioned it with, "Hell nah that's my kid." It was all kinds of confusing. However, he later clarified things to UK's Metro and said, "I didn't comment on anything, I didn't comment on anything, it was a fake story." So, it seems like he may have been joking around and that there was no truth to his Snapchat.
While the rapper never commented directly on these recent paternity rumors, he did have some kind things to say about Kylie's baby news recently. In an interview with the morning show Everyday Struggle in February 2018, the rapper said that his relationship with the Life of Kylie star is in a good place. He said, per People, "It was a relationship that was in front of the world. And that was it. She has her new life, I have my new life. And that's it. There's no bad blood, no problems." He continued to say, "We communicate here and there."
Tyga and Kylie previously had an on-and-off relationship from 2015 to 2017, per Cosmopolitan. They seemingly called it quits for good in April 2017 when the reality star and rapper broke up. It's possible that these paternity rumors popped up because of the pair's history together. However, the Life of Kylie star has been full steam ahead with current boyfriend Travis Scott since they started dating in April 2017
TMZ first reported in September 2017 that the two were set to welcome a child together. However, the Keeping Up With the Kardashians star didn't confirm the news herself until February 2018, where she also surprised her fans by revealing that she already gave birth to her daughter.
Jenner will always be there to support her children, especially in the face of some pretty ridiculous rumors. While the KUWTK star will stay mum on certain, important topics relating to her children (like Kylie's pregnancy), she hasn't stayed quiet when it concerns her family in the past. In August 2017, Jenner shut down claims that Caitlyn Jenner created KUWTK (a story first started by the I Am Cait star herself). In regards to Caitlyn's claims, she told The Hollywood Reporter, "It's so absurd. I'm not sure what the motivation was for her to say something like that. Maybe somebody should remind her that it's called Keeping Up With the Kardashians."
The momager also dispelled a particularly ridiculous rumor in an interview with THR in June 2017. She told the publication that she found the rumors that she conspired to make Kim Kardashian's sex tape public, in order to garner fame, "offensive." She went on to say that "of course it's nonsense," before continuing: "You know, haters are gonna hate. People are gonna come up with the most ridiculous things."
Jenner isn't wrong there. People have always sought to come up with some wild gossip about the Kardashian/Jenner family. But, when it comes to all of those silly rumors, rest assured you can always count on the momager to have her family's back.