Everything You'll Want To Know About Kylie Jenner & Travis Scott's Relationship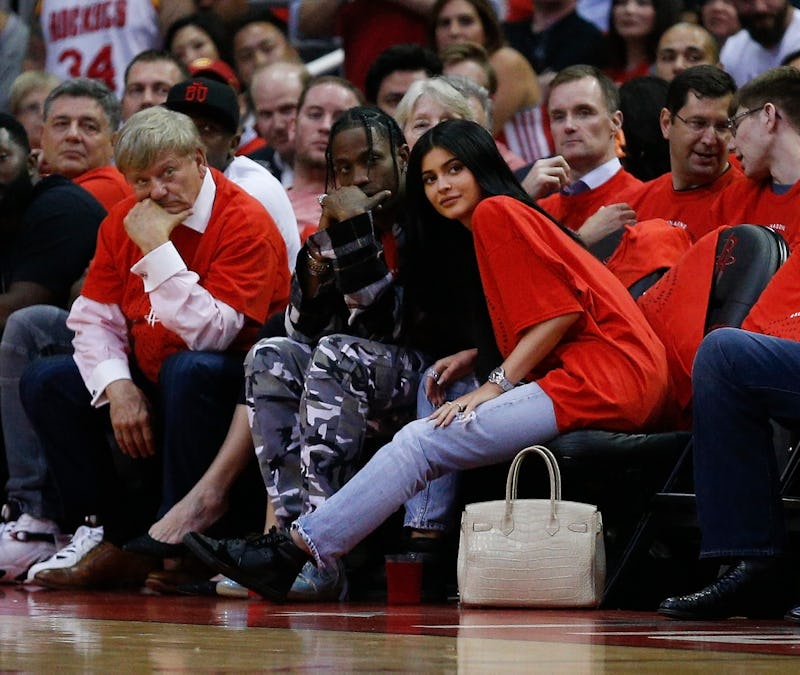 Bob Levey/Getty Images Sport/Getty Images
There might be a new member added to the Jenner family soon: Kylie Jenner is reportedly pregnant, per TMZ. And if the rumors are true, then her boyfriend Travis Scott may be the father. This might have you wondering, how long Jenner and Scott have been dating? (Bustle reached out to Jenner and Scott's reps about the baby rumors, but did not receive an immediate response.)
Jenner and Scott's romance began in April, shortly after Jenner broke up with Tyga. Over the summer, the couple was spotted at Coachella and at a basketball game in Houston together. Jenner and her sister Kendall also went to Scott's birthday party at the end of April. Since then, Jenner and Scott seem to have been busy enjoying their relationship with a trip to Mexico and some downtime in Boston.
Scott was by Jenner's side when she turned 20 in August, and he seems to be well-liked by the Jenner-Kardashian family. People reported in August that Jenner's family was supportive of the relationship, and a source told the magazine, "There is no drama with Travis. He is a cool guy. He treats Kylie with a lot of respect and love."
Their relationship appears to have truly blossomed over the summer months. While Jenner has kept her romance private for the most part, that didn't stop rumors about the couple getting secretly married from starting after just a few months of dating (for the record, they have not tied the knot). However, they did get matching butterfly tattoos in June.
If their relationship did indeed begin in April, then Jenner and Scott have been together for around six months now. Even though it's been a busy year for Jenner with the launch of her new series, Life of Kylie, and the continued success of her makeup brand, she's made time for her new romance. Meanwhile, Scott's music career has been booming this summer as he dropped three new tracks and prepared for the debut of his new album, Astroworld.
Despite their busy careers, Jenner and Scott appear to have consistently carved out time for each other, and that says a lot about their relationship. Even though Life of Kylie has been airing on E!, Jenner has been careful to keep her dating life quiet. She and Scott have also largely avoided posting about their coupledom on social media. That level of protectiveness over their romance hints that it could be something special.
Now that rumors are circulating that the couple is expecting, it could be some time before they deny or confirm the news. If they treat the pregnancy chatter the way they have treated their personal lives so far, then either way, they may want to preserve their privacy. It seems to be important to both Jenner and Scott that their relationship remains out of the spotlight.
According to TMZ, Jenner and Scott have reportedly been sharing the news that they are expecting with friends and family. The site even writes that sources claim Scott has said he and Jenner are having a little girl. However, at this time, the news remains unconfirmed.
If Jenner is pregnant and Scott is the father, then fans can likely expect the couple to keep their child out of the public eye as much as possible. Jenner knows firsthand what it's like to grow up in the spotlight, thanks to Keeping Up With the Kardashians. And given how she has been separating her public and private spheres more and more, if her first child is on the way, it would make sense for her to want to keep any potential pregnancy news quiet for as long as possible.
For now, fans of the reality star have plenty of reasons to be happy for her, whether she's expecting or not. Because no matter what, her summer romance with Scott appears to be going strong.