Kristen Bell's Advice For Overcoming Feelings Of Inferiority Is Beautifully Simple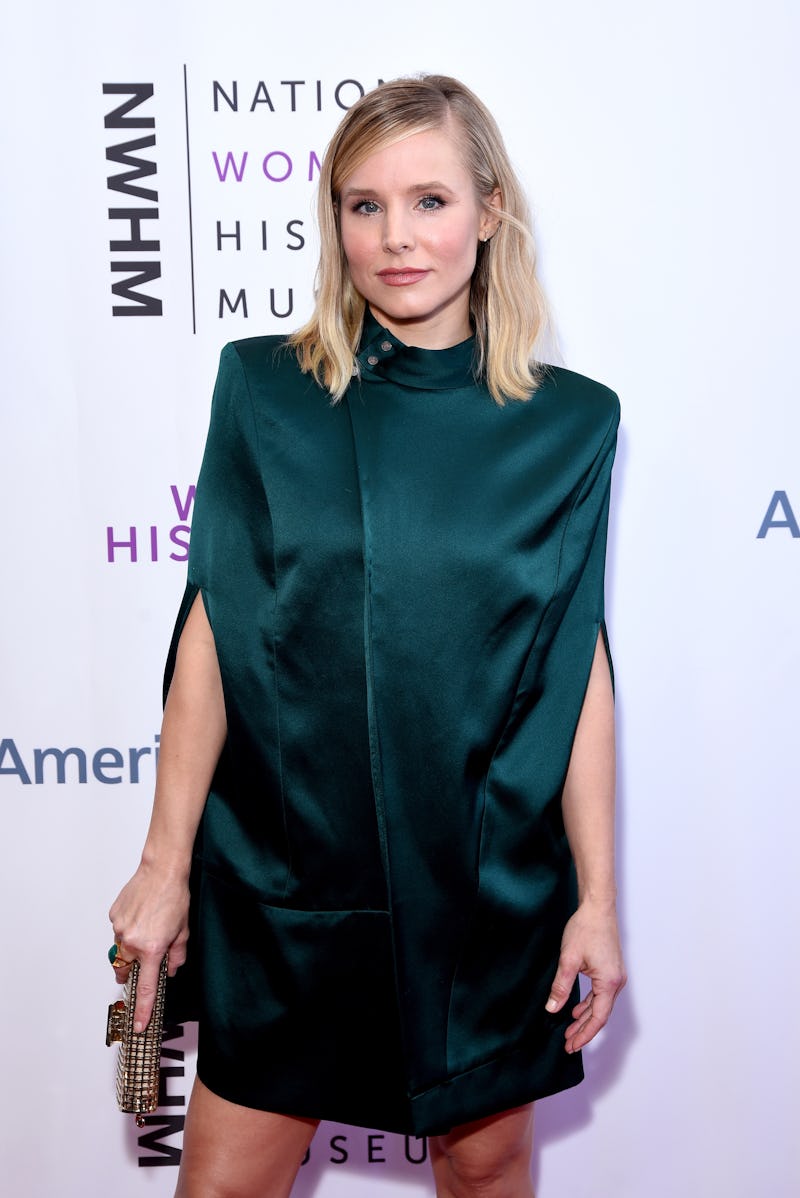 Presley Ann/Getty Images Entertainment/Getty Images
Impostor syndrome and inferiority complexes often plague even the most confident people, sometimes with a big emphasis among women. Being the only woman in the room can make a person start to second guess themselves. And it can be hard to overcome feelings of inferiority, no matter how good you are at what you do. However, The Good Place star, Kristen Bell, overcame feeling inferior by following some good advice.
"I walk into every room feeling inferior," Bell told Elle at the Women Making History Awards in Los Angeles on Sept. 15. The actor was presented with the Women Making History Award, which is given to a handful of women who make important strides in their field of work and who are role models for all women. In addition to Bell, Kathy Bates, Patrisse Cullors, and Gabrielle Union were also honored with the title award.
Bell explained to Elle that part of the reason she feels this way is due to her stature (she's 5-foot-1), but with the help of famous First Lady and feminist, Eleanor Roosevelt, she's overcome it a bit. The actor said that she looks to her all the time for encouraging words of wisdom. "And by 'look to,' I mean I punch 'Eleanor Roosevelt quotes' into Google," Bell reportedly said. Not a bad idea, considering every Google and Pinterest search will no doubt come up with a ton of inspiring blurbs.
One famous quote in particular has stayed with Bell the most. The actor continued,
"She said, 'No one can make you feel inferior without your consent. Think about that for a second. No one can make you feel inferior unless you consent. I read that ten years ago, and I think about it every single day."
Everyone's thoughts of inferiority stem from somewhere; whether it's from feeling like others are better for a position, or that you won't be able to live up to someone's ideas of who you're meant to be. All of these things come from comparisons to other people; their thoughts of you, their own experiences and skills, or maybe what they've said before. Learning to not care about their judgments can definitely quell those thoughts of personal incompetence.
And as Bell reportedly said in her speech, she had to learn to stop caring so much about the opinions of other people. "I just stopped consenting," she said. With that determination, she feels more able to walk in a room sans those feelings of inadequacy. "Or I at least try," Bell conceded. Sometimes that's all you can do to give yourself that little confidence boost.
Since she's raising two daughters, Lincoln and Delta, Bell revealed that she tries to bolster them with examples of strong, capable women like Roosevelt, Gloria Steinem, and Ruth Bader Ginsburg.
Elle reported that a real-life role model poses as a great example for Bell's daughters as well: Bell's sister-in-law, Carly. "She's like a third parent," Bell said in her speech. "They see a woman who has tenderly changed their diaper, and also a woman who can fully re-engineer the septic tank if it gets blocked. And they have all these tactile examples of women in their lives that they know are accomplishing things, and that just do not live inside a box."
Bell's words just go to show that the more powerful women you have in your life — be it in quote form or right next to you — the easier it is to overcome feeling inferior.