Kristen Bell Really Doesn't Care What You Think Of Her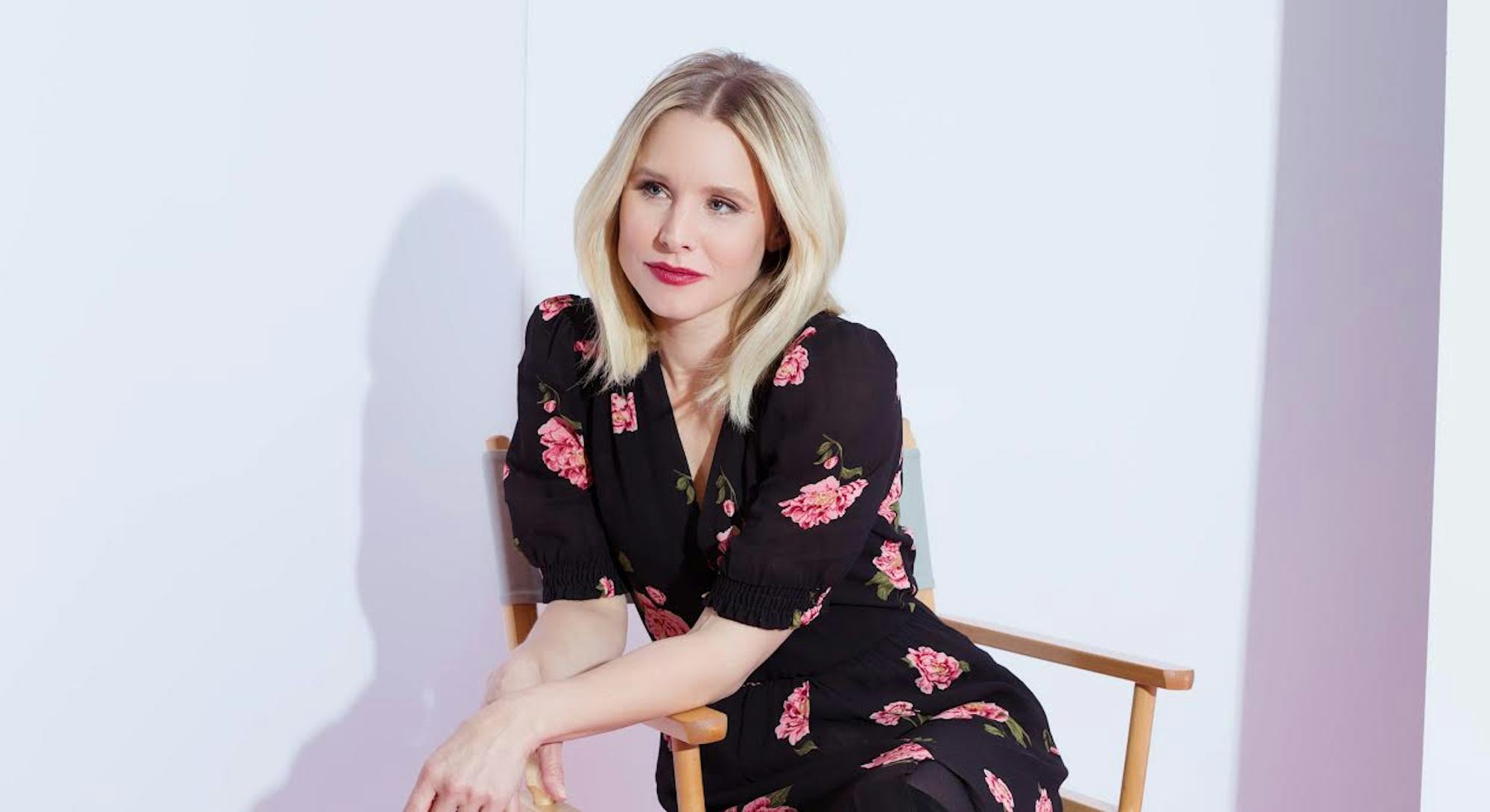 Ashley Batz/Bustle
Here's a shocker: Kristen Bell is nice. Really nice. She's the kind of person who squeals with joy when her favorite green tea is brought into the room, and who uses the word "sassafras" in conversation without any irony. In other words, she's the total opposite of the cruel, hard-R characters she's played in projects like The Good Place, Forgetting Sarah Marshall, and, most recently, CHiPs, and for some fans, seeing the sloth-loving, "Africa"-singing star play bad might feel pretty jarring. But here's the thing: Bell actually doesn't care what you think of her, at all.
"You can see me however you want to see me," she says, sitting down in Bustle's New York office on a recent March day. "I try not to look too often to how I'm perceived. I think it messes with your head. ... My life motto is that I like being an actress, but I love being Kristen."
It's the kind of sweetly sincere statement one would expect from Bell — well, at least the Bell we've come to know off-camera. Although the actor has always shown a knack for sarcasm and eye-rolls (Veronica Mars, anyone?), recent years have seen her take on a series of roles that've pushed her from America's Sweetheart to That Girl You Really Don't Want to Piss Off. And while some fans may be freaked out by the transition, Bell's found it to be nothing but fun.
"I'm thrilled to get the shot to play something that people don't normally view me as," says the actor.
Her latest role, that of the latex-wearing, insult-hurling Karen in CHiPs, is perhaps her most extreme yet. The soon-to-be ex-wife of the movie's protagonist, Jon (Dax Shepard, who, of course, is Bell's real-life husband), Karen is described frequently in the movie as a "d-ck" — a term Bell proudly embraces.
"Karen is the cherry on top of the a-sholes that I've played," she says with a big laugh. "She's definitely the most unlikable character I've ever played, and I've played some unlikable characters."
Although she's married to the movie's star and director, Bell wasn't a shoo-in for the part. Originally, Shepard didn't think she was up to the task, deeming her — you guessed it — too nice to convincingly play the cruel, selfish character. But, being the self-described "nosy wife" she is and wanting to "weasel my way into every project [Shephard] is doing," Bell slowly persuaded her husband to give her a shot.
"I was just a d-ck to him at home for a while," she says, before breaking into a laugh. "No, I did threaten to do that. But we actually just had a long talk about it, and I said, 'Whatever you decide, I totally get it.'"
Eventually, Shepard conceded, and Bell took on the role. Still, once filming started, they both actively worked to ensure that their real-life chemistry didn't affect the less-than-stellar relationship between their characters. "He made a very good point, which is why he's a good director. He said, 'I don't want anyone even subconsciously to be rooting for us, during this movie,'" recalls Bell.
The 36-year-old loved playing Karen, and having yet another mean-spirited character to attempt to understand. "When you play an antagonist, you have to find out why they're the protagonist in their own story," she says, and she's clearly speaking from experience; the entire premise of her NBC comedy The Good Place is an exploration of what happens when a horrible person is forced to confront the behavior of her past. In January, the low-rated but critically-acclaimed show was renewed for a second season, and soon, fans will get to see more of Bell's mayhem-causing Eleanor take on the afterlife.
"It was just really dumb luck that Mike [Schur, the Good Place creator] had written this incredibly cool, complex character in Eleanor," the actor says, looking back to landing the part in 2016. "It gave me my very favorite challenge, which is finding an inherently unlikable character on paper, and figuring out how to get you on her side."
When Bell first heard about The Good Place, she'd just come off a five-season run on Showtime's House of Lies, and her next move was unclear. "I had no idea what I wanted to play if I were to sign onto a new show," she says now. Yet she quickly signed on, "thrilled" to play the part of Eleanor in a series as smart and unique as Schur's — no matter how few people tuned in to watch every week.
"I would rather work on a show that no one watched and have a good time there then be on or in the number one show or movie in America and be miserable," Bell says.
Next season of The Good Place will be a big one — "The show is going to have its foot on the gas," Bell promises — but it won't be the only must-see project featuring Bell coming down the line. She has a cameo in James Franco's The Disaster Artist, which just screened at South by Southwest, and a role in the ensemble comedy How to be a Latin Lover, out this spring. There's a Frozen spinoff airing on ABC this winter, and Bad Moms Christmas, the sequel to the raunchy 2016 hit, out in November. And behind the scenes, Bell is busy producing pilots for ABC and a kids' show for Amazon, not to mention planning her dream roles ("I don't even care what the superhero story is — just give me a suit, and let me do an action sequence," she says with a laugh).
There's a lot coming up for Bell, and it's too early to know how fans and critics will react to each role. But whatever the answer, it doesn't matter; as long as she's having a good time, the actor doesn't care one bit if we like it or not.