OMG, The 'Veronica Mars' Revival Just Announced It's Bringing Back These 3 Fan Favorites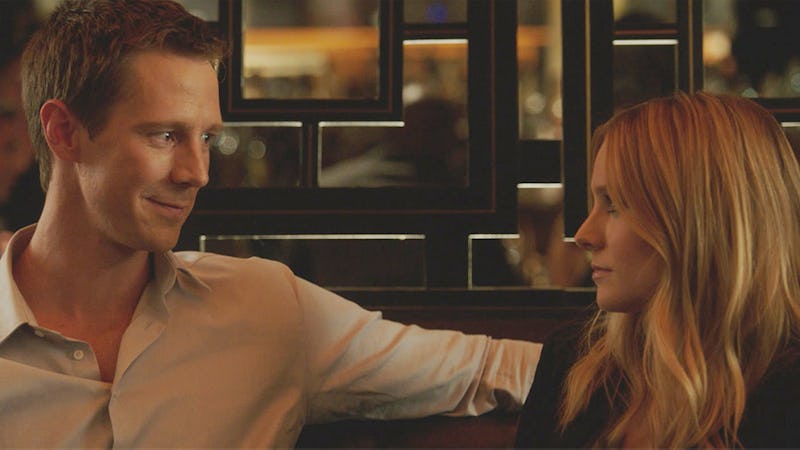 Warner Bros. Pictures
Veronica Mars is putting her team back together and its members should look very familiar to her beloved Marshmallows. After it was announced that a Veronica Mars revival is coming to Hulu with star Kristen Bell, fans wondered who else from the cast would be returning. Turns out, the titular detective won't be the only one returning to the show. The Veronica Mars revival cast has added three fan favorites to its roster, for a new season that promises to satisfy all your sleuthing needs.
On Monday, Sept. 24, Veronica Mars creator Rob Thomas announced four more actors who would be returning for the Veronica Mars Hulu mini-series, which starts streaming in 2019. "Here's who we have booked for the #VeronicaMars series, so far," he teased, writing, "(More are on the way, I swear.)" For now, Bell will be officially joined by Jason Dohring, who played Veronica's on-again off-again boyfriend Logan Echolls, and David Starzyk, who played Richard Casablancas, Cassidy and Dick's father, who fled the country after Veronica discovered he had committed real estate fraud. Francis Capra will also be back as Veronica's friend Eli "Weevil" Navarro, along with Percy Dags III, better known as her best friend Wallace Fennel.
To get fans even more excited about the show, Thomas posted old photos of Dohring, Capra, and Dags III in costume joking, "Here's an early wardrobe photo to get us all in the mood." It's safe to say, these lewks might not return even if the cast is — well, except for Weevil's signature black leather jacket.
Fans were quick to respond to the news that their favorite Veronica Mars players were coming back for another season. And no surprise, there was a lot of excitement to go around, especially where Logan and Veronica are concerned. "Damn skippy!" a fan named @HilarySpenstar tweeted. "It ain't Veronica Mars without the gang!"
"I have never been so excited for something," a Marshmallow who goes by the Twitter handle @morgann_tidddd wrote. "I knew watching the series over and over again would pay off. I have such an emotional connection to this show and I'm so happy it's being revived." (And for fans that haven't watched all the way through, it was announced that all three seasons of Veronica Mars, along with the 2014 movie will be available to stream on Hulu starting in the summer of 2019.
Another fan named @FearlessSammi13 tweeted that they hoped this cast list meant love was in the air. "Not only do we get more @veronicamars but more story/mystery with these amazing characters that make this show great and of course more LoVe," they wrote. LoVe, of course, is Logan and Veronica's couple name. "Yes I will forever and always root for Logan & Veronica," they added. Piz fans might have something to say about that, especially if GLOW's Chris Lowell gets added to the cast, but his character's future has yet to be determined.
While it's unclear if Veronica Mars' love life will play a role in the upcoming season, Thomas revealed on Twitter that the reboot will be a "hardcore So-Cal noir" that will follow "one big case." According to the creator, Veronica will once again be investigating the class divide in Neptune, CA, where crime just never stops. This time, spring breakers are being killed and Veronica has been asked by one of the victims' families to help them find their son's killer. But, as reported by Entertainment Weekly, what she might find out is that someone in the town is killing off these kids in hopes of killing off the tourism that so many of the working class residents rely on.
Last week, Thomas tweeted that the series, which will be just eight episodes long, will be its own story and not just a rehashing of his Veronica Mars novel, The Thousand Dollar Tan Line, despite some similarities. "The mini-series will be set against a Spring Break backdrop," he wrote. "But TDTL is NOT the story we're telling. We're five years after the movie."
Thomas also revealed that "Pony is included. Marcia Langdon is police chief" — meaning this character from the book will play a role in the mini-series — and said that the "books are 98% canon." And, Thomas shared one more clue: "Spoiler: Neptune finally incorporated." This means that Neptune now has its own elected officials, so Veronica probably has even more people in power she needs to keep her eyes on.
Fans might be doing a lot of guessing until Veronica Mars returns, but luckily, Thomas seems to be using his Twitter as a spoiler machine. So fans can likely expect more fun cast announcements in the coming weeks.