These 'Twilight' Stars Had A Sweet Reunion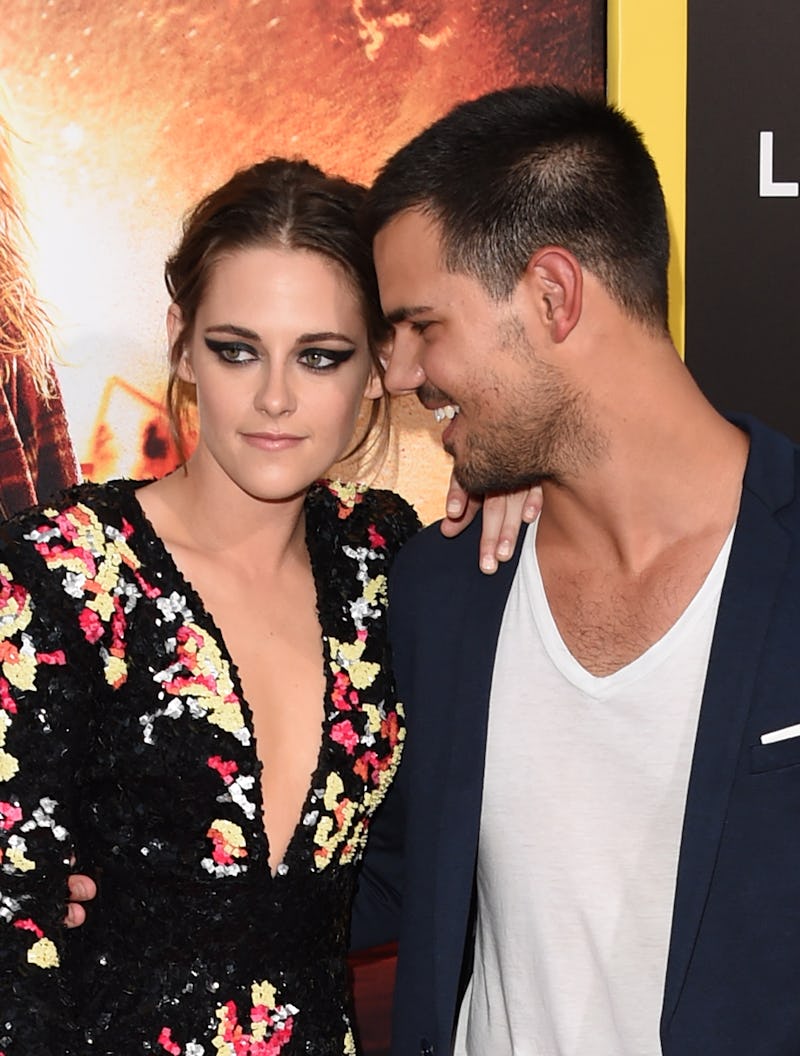 Jason Merritt/Getty Images Entertainment/Getty Images
If I asked you to close your eyes and then told you that Kristen Stewart and Taylor Lautner reunited, what would you see? Would it be a scene from Twilight where they're smooching each other? Maybe some shy looks from across the room, or playful banter? I'm not mad at it, but the reality is actually even better. The former costars' paths crossed recently at a Moschino afterparty in Los Angeles, and the photos from the event make it clear that these two are friends. Nothing more, nothing less, just friends. But I hesitate to even put the "just" in front, because Stewart and Lautner's friendship is so much better than any alternative.
Not that I'm the kind of fancy Hollywood person who gets to go to fashion parties, but I do pay attention. And I can tell you that a friendship this enduring is rare. Stewart and Lautner started shooting the Twilight saga when they were teenagers — 17 and 15, respectively — and wrapped it five years ago in 2012. I don't know about you, but those were my prickliest years right there, and I'm not friends with a ton of people I met during that time. Especially not coworkers who I had to kiss onscreen. (Helpful reminder that I am still not a fancy Hollywood lady.) But one look at the way these two posing with each other is proof that they are the exception to any rule I might have in my head.
Look at the completely not self-conscious way these two are leaning into each other. Lautner is pulling Stewart in, and she's letting herself be pulled, no matter what her face is trying to tell the camera in the second photo. They just look so relaxed, like they can be their true selves. Lautner looks almost protective of the 27-year old star, but not in a gross, bro-y way at all. The two just look close, intimate in a way that feels like it almost transcends dating. Stewart actually did date her other costar, Robert Pattinson, and I can't imagine them being this loose and happy around each other.
Lautner and Stewart look like two people who know they'll be in each other's lives forever, and can pick up from wherever. No matter how long it's been since Twilight, or since they last crossed paths, that easy intimacy is still there. And when I'm more excited about two actors running into each other in real life than I am about imagining their fictional characters reuniting, that's when I know we're dealing with something really special. A true friendship.