Kristen Stewart Took Her Heels Off On The Cannes Red Carpet Because She's All Of Us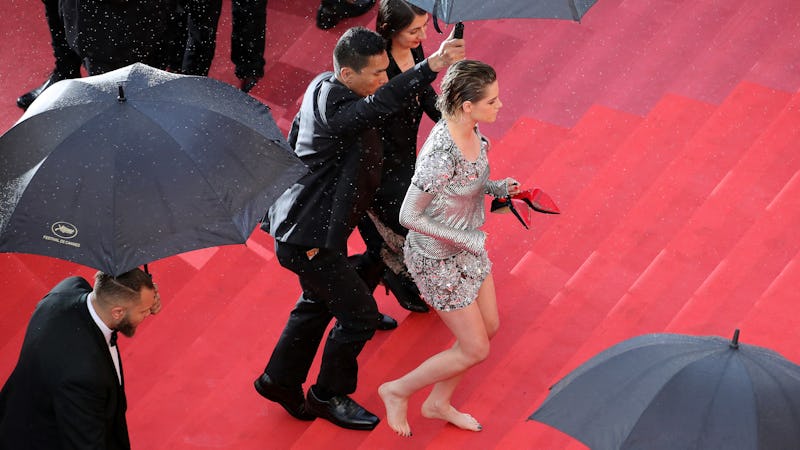 Andreas Rentz/Getty Images Entertainment/Getty Images
The Cannes Film Festival this year was filled with daring slip dresses, geometric cutout panels, and fairytale-like gowns, but one actress in particular is making waves with her fashion choice. Kristen Stewart took off her shoes on the Cannes red carpet, and in that moment, she became all of us.
This year Stewart isn't just an actress attending the festival but a competition jury member, being part of a voting panel that consists of other legends like Ava DuVernay, Khadja Nin, Lea Seydoux, and jury president Cate Blanchett. She started out the night by walking down the red carpet to the premiere of Spike Lee's BlacKkKlansman, a true story about a '70s black detective who applied for and was granted access to the Ku Klux Klan. On the red carpet she wore her short crop of hair slicked back — as is becoming her signature — and donned a beautifully bejeweled long-sleeve mini dress and a pair of Louboutin spike heels.
All was well until the sky opened up and it began to drizzle, where photographers and fans on the side of the red carpet opened up their umbrellas and Stewart paused on the edge of the stairs. Barely hesitating, she slipped out of her stilettos to avoid slipping on the wet carpet, and hopped up the rest of the steps to the premiere barefoot.
For anyone who has ever worn heels only to find that the pavement outside has turned slick while they were indoors at the restaurant or bar, you know how relatable that move was.
But many people are now wondering if the actress slipped off her shoes in protest, especially considering the controversy that the festival had surrounding sexist dress codes a few years back. In 2015 several women wearing flats were turned away from screenings because they didn't have heels on — including a producer with a foot injury who couldn't get into the Carol premiere. That sparked an avalanche of similar stories from other women — and many of them in their fifties — which resulted in a vocal protest during the 2016 Cannes red carpet from a couple of important leading ladies.
Most notably, Julia Roberts walked the red carpet barefoot in her off-the-shoulder Armani Prive dress. When asked why she did it, she nonchalantly shrugged and said, "A lot was happening from my ankles up. Let's not forget all that. A lot of time and effort went into ankles up." While she didn't say it was a protest explicitly, the suggestion was that she looked dress-code appropriate from the ankles up, and that's all that should matter.
Susan Sarandon also showed up wearing a tuxedo and flats to the 2016 red carpet, which, coupled with the suit, was extra subversive when it came to the gendered dress codes of the festival.
Stewart also had something to say about the dress code that year, where she showed up in a mini lamé dress with black sneakers, only to change them out for heels on the red carpet. During the photo call she flipped off the photographers, letting the world know what she thought of being forced into changing her shoes.
She then went on to tell Vanity Fair, "Things have to change immediately. It has become really obvious that if (a man and I) were walking the red carpet together and someone stopped me and said, 'Excuse me, young lady, you're not wearing heels. You cannot come in.' Then (I'm going to say), 'Neither is my friend. Does he have to wear heels?' It can work both ways. It's just like you simply cannot ask me to do something that you are not asking him."
While women were barred entrance for their flats in 2015, the Cannes Film Festival director Thierry Frémaux responded to the backlash via Twitter, writing, "For the steps (red carpet), nothing has changed: Smoking (tuxedo), black tie. No mention of heels." Instead, the issue was with the hosts and hostesses at the door, over-policing outfits.
While Stewart hasn't publicly mentioned if she took off her shoes because it was slippery out, or if she was repeating her 2016 protest, (especially considering that 82 women climbed the Cannes steps together this year to promote improved gender equality in the film industry.) Whatever the reason was, it was still one of the most relatable moments on the Palais red carpet.