Kristen Stewart Tried Seducing Kenan Thompson & Ego Nwoodim On 'SNL'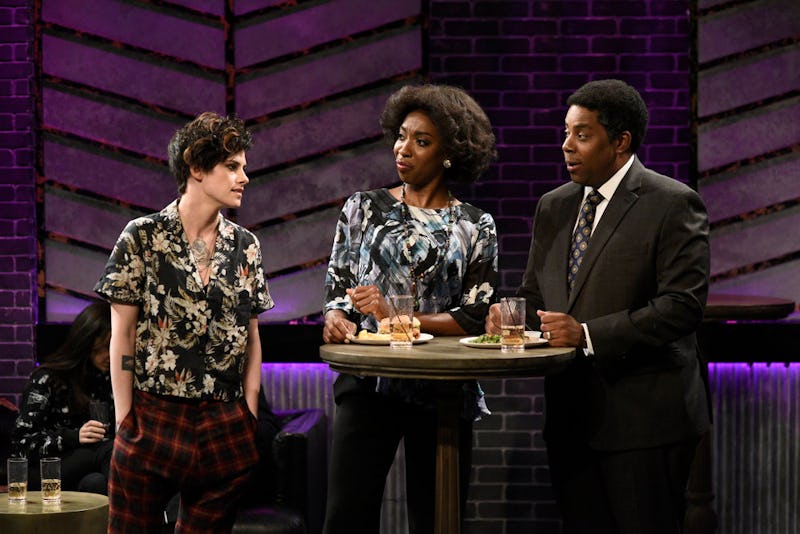 Will Heath/NBC
Spoilers ahead for the Nov. 2 episode of Saturday Night Live. When Kristen Stewart hosted Saturday Night Live in the past, she flirted her way into Vanessa Bayer's heart in a covert Totino's commercial. In the Nov. 2 episode, the Twilight star brought this same energy to her flirty bar patron sketch on SNL, where she attempted to seduce a seemingly curmudgeonly married couple, played by Kenan Thompson and Ego Nwoodim.
Stewart played a bar patron who nervously approached the couple to try and flirt with them. Her romantic interests, however, were celebrating their wedding anniversary and busy eating fish sandwiches from McDonald's and fried crab cakes. As a result, the couple were completely oblivious to Stewart's come-ons. "How long have you been married for?" Stewart asked them hopefully.
"Since birth," Thompson answered.
Intrigued by their relationship, her character offered, "I'd love to just, like get inside that — even if it was just one night." They, however, misunderstood her implication and gestured around the bar, saying there was plenty of people for her to meet here.
When Stewart informed the couple that she's pansexual, Thompson's character answered, "What's that? Like, having sex around pans?"
Defeated by the couple's obliviousness, Stewart's character finally gave up on a potential threesome. Just then, a terrified Bowen Yang came in dressed in a leather bondage suit, whom Thompson and Nwoodim's characters called "Pig Boy." They'd clearly already made plans and had no need for a fourth.
It was certainly a bizarre sketch, and fans had mixed feelings about it. But what most viewers could agree on, however, was that they did not see Bowen's character coming. "This is literally my grandparents," airoderinde wrote on Reddit before adding: "EDIT: Don't remember seeing any Pig Boy...." waltonsimons12 commented on the YouTube clip, "Damn, Shyamalan himself couldn't have seen that twist coming." "[T]op 10 plot twists of our generation," AidanDaher wrote under the same clip.
Other fans, however, were just happy to see Stewart sporting some great looks. The Charlie's Angels actor certainly brought several great outfits to her hosting gig, which fans were giddy over.
Before the episode aired, some fans said they hoped the Totino's sketch would be reprised. And while it wasn't, the bar patron sketch was something of a spiritual successor. In the aforementioned SNL commercial, Vanessa Bayer played a house wife whose sole purpose in life was to feed her "hungry guys" as they watched football. This, of course, involved Totino's pizza rolls, which she returned to the kitchen to prepare. But waiting for Bayer in the kitchen, however, was Stewart's character, Sabine, who began seducing her.
So, understandably, fans thought this sketch would take a similar trajectory. "I thought the lady was gonna get turned on by Kstew's character like she was Sabine in the Totinos commercial lol," Ajay G commented on YouTube.
Sadly, Stewart's character didn't have the same affect on the happily married couple in this week's sketch. However, it seems like those two have their own thing going. Besides, if crooning "I Kissed a Girl" didn't affect the couple, then nothing will.