There's No "Drama, Drama, Drama" Behind Why Kristin Cavallari Didn't Get Brody A Wedding Gift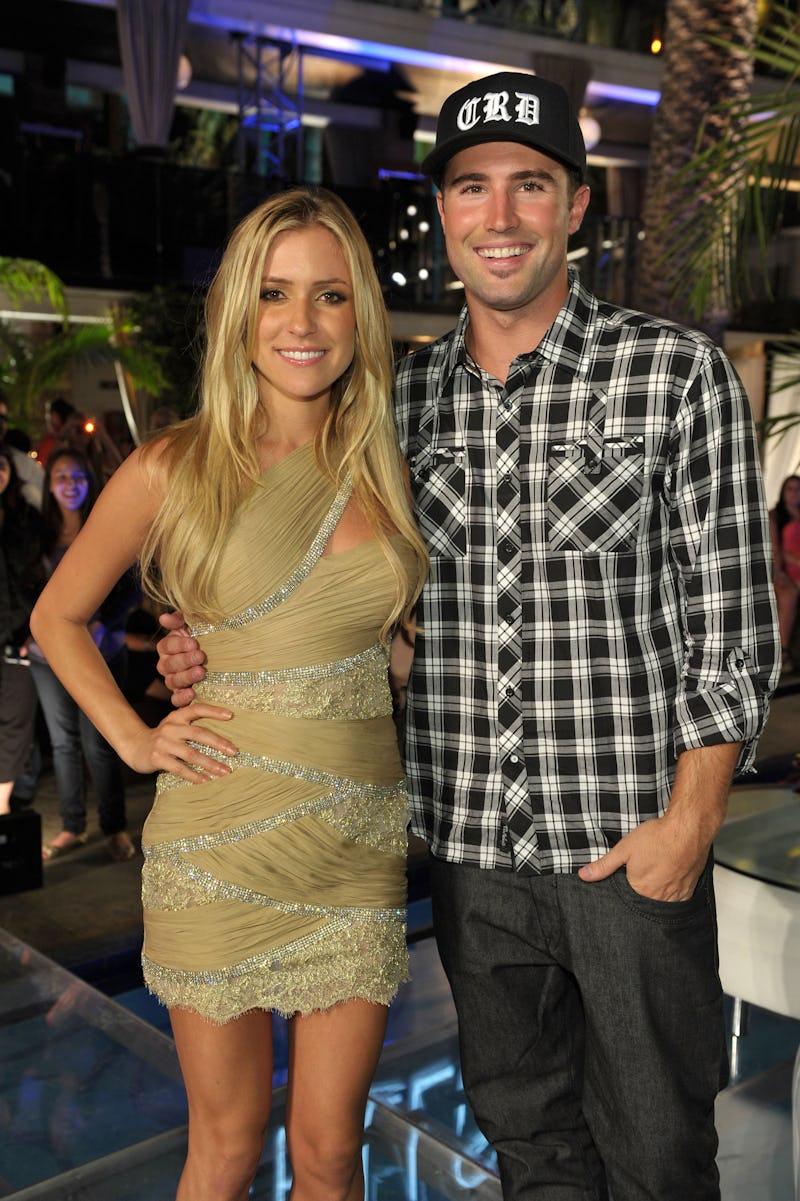 John Shearer/Getty Images Entertainment/Getty Images
The hills are alive with the sound of gossip, and who better to dish it out than everyone's favorite former teen queen of Laguna Beach? According to an interview with Us Weekly published on Thursday, Kristin Cavallari didn't get Brody Jenner a wedding present, which may sound like either an intentional diss or a major faux pas. Drama, drama, drama, drama, right? Actually, though, it turns out it's neither, as K-Cav revealed that she wasn't even invited to her ex's wedding to Kaitlynn Carter in the first place.
There was once a time that seems like both yesterday and forever ago, when Cavallari and Jenner were the pinnacle of reality TV relationship perfection. The two stars dated for about a year and a half, and Cavallari even declared that it was her "first mature relationship," she told Teen People (via People) in March 2006.
Alas, it just wasn't meant to be, and Cavallari would go on to marry NFL player Jay Cutler in 2013. The star and her husband now have three kids together — Camden (5), Jaxon (4), and Saylor (2) — and she's long-left her "what happens in Cabo" days behind her.
While Cavallari and Jenner have reportedly remained friendly throughout the years, they're clearly not that close anymore — seeing as how Cavallari didn't score an invite to Jenner's June 2 destination wedding. He did, however, give her a head's up in advance, though. Cavallari told Us Weekly that she "spoke to [Jenner] about a month prior," and after he told her when the festivities would be going down, she "knew it was coming." Well, at least her let her know?
"I did not send a gift," she admitted. "I wasn't invited, why would I send a gift?" Honestly, that is 100 percent understandable. Beyond understandable, even. Expected. Send a hand-written note or a congratulatory text if you feel so inclined, but there are zero reasons to send a gift if you don't get invited to the actual wedding.
As a matter of fact, when it comes to destination weddings in particular — Jenner and Carter got married on the island of Nihi Sumba in Indonesia — "while there are no hard and fast rules, there is a general understanding that [guests] presence at the [destination] wedding can absolutely be their gift," Kylie Carlson, the CEO of the International Academy of Wedding & Event Planning told Vogue in March. "Guests are presumably taking time off from work and arranging childcare, so they've already invested quite a bit," she explained.
Whether or not Cavallari ever expected to nab a spot on Jenner's wedding day guest list remains unclear, but she did seem genuinely thrilled for him and Carter when news of their engagement first broke. "I love Brody, and she's so sweet," the former Hills star told Entertainment Tonight back in 2016. "So I'm really, really happy for them."
At that time, Cavallari had been married to Cutler for nearly three years, and she told ET, "It's such an exciting time in both of their lives and I know Linda [Thompson], [Jenner's] mom, loves [Carter], so she must be so excited. And so, I just think it's awesome."
So, there you have it. The wedding gift drama wasn't ever even drama at all. Consider it dunzo. If you miss watching Cavallari stir up the pot like she did on Laguna Beach, though, there will undoubtedly be at least a little bit of drama on her new and upcoming E! reality TV show, Very Cavallari.
The star admitted that while she did have "a few things taken out" from the series, she still "left a few things in that will probably get me in trouble," Cavallari confessed to Us Weekly. Chances are that "trouble" won't translate to seeing the mom of three dancing on bars or feuding with Lauren Conrad, but it will definitely still be very, very, Kristin Cavallari.