Krystal Responded To Being Kicked Off 'The Bachelor' In A VERY Krystal Way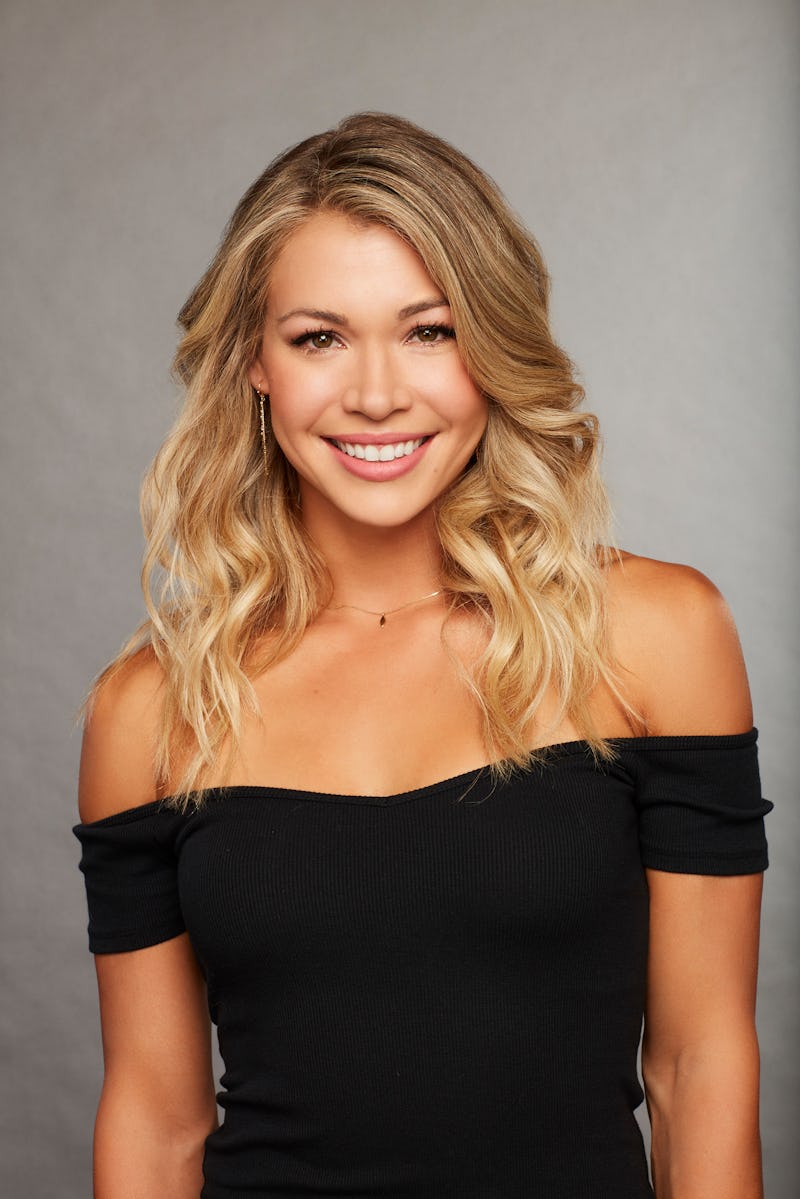 ABC/Craig Sjodin
Well, it happened Bachelor fans. The season's resident "villain", Krystal Nielson, got sent home on a two-on-one date. And now, Krystal has responded to being sent home from The Bachelor in a very classic Krystal manner. Attention, Arie, because her statement's directed towards you.
On the very same day that she was eliminated from The Bachelor (film editing: Debra Light), Krystal posted a photo on Instagram with a very interesting caption. The contestant posed against a backdrop of sparkly stairs and captioned the photo, "NO ONE can steal my sparkle," which makes clear that she's doing just fine on her own post breakup. She then posted a bunch of glittery emoji and hashtagged the post with "#glitterstrong" and "#krystaloncrystal". She may have been a polarizing reality TV contestant, but her statement here still stands: It's not OK to let anyone steal your shine, not even the titular Bachelor.
But, any Bachelor viewer knows that Krystal did more than just bring the sparkle to the reality show; she also brought the sparks. In one incredibly tense moment during the series, she even brought the "glitter" (which her hashtag #glitterstrong is no doubt a reference to). In a previous episode, Krystal refused to attend a cocktail party after Arie allowed all of the women to come hangout on the latter portion of their bowling date, even the ones who didn't win the game. That move didn't sit well with Krystal, but she was just "done" after the other women confronted her about her unsportsmanlike behavior. And being "done" meant throwing a bunch of imaginary glitter at the camera, as only she could.
Krystal's latest post comes after she was eliminated on a two-on-one date in favor of contestant Kendall. Krystal went into the date with so much confidence that it didn't seem like this possibility even crossed her mind. She was "99 percent" confident that she would get the rose. Krystal even tried to put down her competition to Arie during their date by telling him that she thought Kendall wasn't ready for any kind of commitment. Well, Kendall, who exhibited a maturity rarely shown on The Bachelor (or reality TV, in general), surprised the season's villain by snatching up the date rose.
Against the beautiful Parisian backdrop, Krystal lamented that the decision was "bullsh*t" and said that she was worried about finding love and acceptance in a relationship. It was a pretty sad moment for the contestant. Even Bachelor villains want to find their happy ending, guys!
But, since Krystal's time on The Bachelor was especially turbulent, she didn't garner a lot of love out there on the interwebs. Some fans weren't fond of her antics (such as throwing a fit about a bowling date, stealing away more time during cocktail parties, general taunting speeches, etc.). A lot of those fans weren't afraid to say so on Twitter, and a lot of those same fans were overjoyed to see the her elimination.
Krystal had a little something to say about all of the "negativity" she was experiencing from Bachelor fans back in January. On Instagram, she posted a photo of herself with "#NotMe" written on the palm of her hand. She said that she was hurt by all of the negative comments she received in regards to her appearance and character. She went on to say, "As tough as it was at times filming the show, I'm so thankful for the experience because it's allowed me to grow. I'm learning to take the good with the bad and becoming stronger as a result." So, it definitely sounds like she's using her time on The Bachelor, and her time reflecting on it afterwards, as a learning experience for herself.
By those who love drama and entertainment, you will be missed, Krystal. But, you know what they say: There's always Paradise. And the tropical Bachelor series could use a little of her sparkle.