Kylie Jenner's Air-Conditioned Home For Her Dogs Is So Luxurious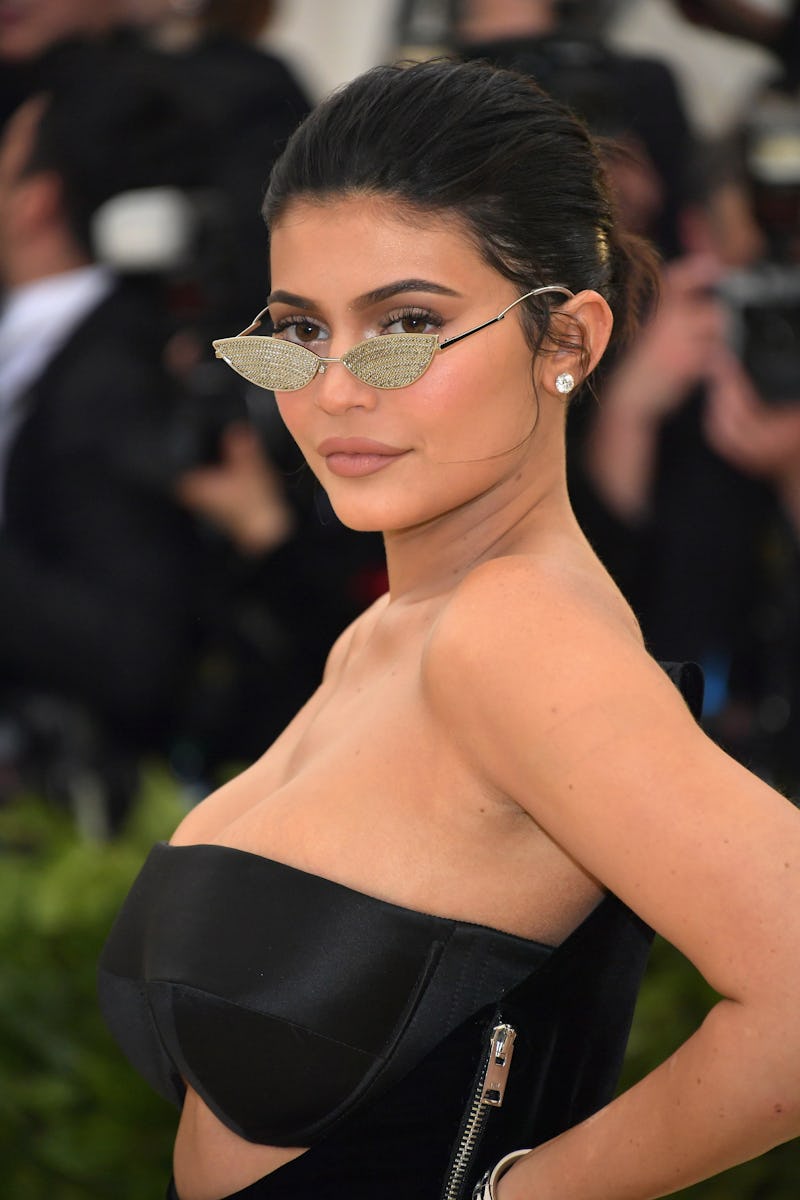 Neilson Barnard/Getty Images Entertainment/Getty Images
Extravagance is pretty much built into the entire Kardashian-Jenner brand, and now it would seem that the life of luxury even extends to the family's furry friends. Not only do any pets of the clan get to relish in the sprawling, full-size mansions of their owners, but now they're even getting standalone homes of their own. Kylie Jenner built her dogs an air-conditioned mini condo outside her house, and the footage is kind of incredible.
On her Snapchat story, Jenner revealed that the giant dog house outside her apartment would be equipped with air-conditioning and heat, so in case the adorable greyhounds, Norman and Bambi, happen to wander outside of the main mansion, they won't be out in the harsh elements of Southern California for too long. According to Teen Vogue, Jenner also has several other pets besides just these two that happen to have their own Instagram — including at least one other dog and a rabbit, so this might not be the last fans see of pet-sized additions to her property. People even reports that at last count, there were nine pets in her household, so she might (somehow) need an even bigger dog house.
In the video, she claims it's not really a dog house, it's more like a guest house, and given the craftsmanship that obviously went into constructing it, she has a point. It even has a porch with a white picket fence! Check it out for yourself:
Jenner is no stranger to "nesting" now that she's officially a mom, so perhaps those motherly instincts are extending even more to her pets now, too. In a tweet back in March, she confirmed that the pets were all still around even after she gave birth to daughter Stormi, making them one, big, happy family.
It's nice for devoted fans to get a few more glimpses at Jenner's pets, especially after the reality star laid low for so long, hiding her pregnancy from everyone except those closest to her. She was even noticeably absent from Keeping Up With The Kardashians except for a few FaceTime appearances and brief visits with her sisters. Then, Jenner finally revealed the birth of Stormi back in February with a sweet video and a social media statement explaining why she felt she needed to keep this to herself.
"I knew for myself I needed to prepare for this role of a lifetime in the most positive, stress free, and healthy way I knew how," she wrote. "I knew my baby would feel every stress and every emotion so I chose to do it this way for my little life and our happiness." And really, what could be more relaxing than preparing for a baby with these little guys in tow?
Now that Jenner is regularly back on social media, sharing more of her home life than she did during the pregnancy, she essentially has no choice but to update when the dogs have officially moved in. The condo also raises so many questions about the average life and endless perks of being a Kardashian-Jenner dog.
If they have an air-conditioned condo, what's next? Do they get manicures, facials, and fur treatments? Do they have doggy assistants of their own to manage their very busy appointment books? Do they have their own version of Keeping Up With The Kardashians in which they lounge on over-sized dog beds and dish on who's secretly about to have puppies? Are they totally out-of-touch celebrity dogs, or would they get along with my own pup, who lives in the woods and always has at least a thin layer of mud on her fur?
Whatever the case may be, Jenner's fans are obviously invested in the dogs and their new home. Let's just say if reincarnation is real, there's going to be a lot of people lobbying to come back in their next lives as a Kardashian-Jenner pet.