This Instagram Of Kylie Jenner's Hand Has Fans Convinced She's Doing A Pregnancy Photoshoot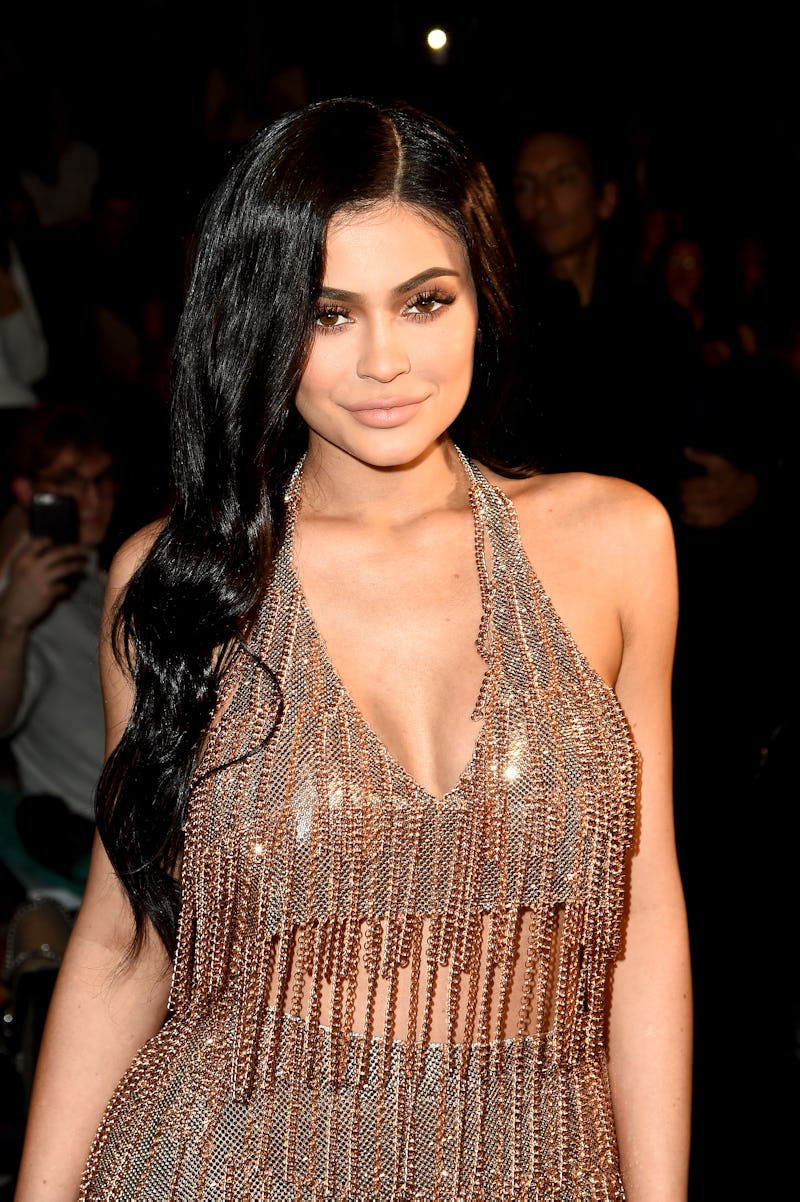 Nicholas Hunt/Getty Images Entertainment/Getty Images
It seems like every other day there's a new rumor related to Kylie Jenner's reported pregnancy. Fans are constantly on the hunt for evidence of a baby bump and look for hints in everything the reality star and cosmetics entrepreneur posts to social media. This time, followers of Jenner think that she's planning a pregnancy photoshoot because of a photo she posted to Instagram of her hand decorated with a pink butterfly jewelry and pink fingernails. It seems like it could be a hint that she's expecting a girl, but there's actually a little bit more than initially meets the eye, if you consider the details of the setup.
Jenner hasn't confirmed or denied any pregnancy reports herself, but a source previously told People that Jenner is expecting a baby girl, who is due in February 2018. If the timeline is correct, that would put her at about five to six months pregnant.
On Wednesday, Nov. 1, Jenner shared much discussed new photo to Instagram with an emoji and a short message reading, "shoot day." Although there could be a number of reasons why Jenner might be participating in a photoshoot, either for Kylie Cosmetics or for her family's reality show, people quickly assumed that Jenner was confirming recent rumors that she was planning a Beyoncé Knowles Carter-like pregnancy announcement photoshoot.
"Kylie was inspired by Beyoncé's iconic twin announcement," a source told HollywoodLife.com a few weeks ago. "She decided to reach out to the photographer as well as other photographers she loves and trusts to recreate her own special iconic moment." If their sources are correct, then whatever photo Jenner releases is sure to be met with a headline generating reception.
As People points out, Jenner's butterfly accessory could suggest that her shoot has something to do with her rumored baby's father, Travis Scott. The publication reports that butterflies have "a special meaning" to Jenner and Scott. The couple got matching butterfly tattoos back in June. Additionally, one of Scott's more popular songs is "Butterfly Effect," which seems to refer to Jenner because of lyrics like, "She caught the waves just thumbin' through my braids," and "Need ya love, not a need it is a must," as Elite Daily pointed out. It was never confirmed whether or not the ink was permanent, but the couple's connection to the insect could mean her new pink butterfly jewelry is in honor of the rumor that Jenner and Scott are expecting a girl.
However, keep in mind, Jenner and her family seem to be participating in shaping the narrative and speculation surrounding the current pregnancy rumors. Just a few days ago Jenner's sisters Kourtney Kardashian and Kendall Jenner even appeared on Ellen during a segment joking about the possibility of multiple pregnancies in the family. Their other sister Khloé Kardashian is also reported to be pregnant, although she has not officially confirmed it, and Kim Kardashian has confirmed that she is expecting a child via surrogate. Perhaps Jenner is just playing into what fans think they know by posting the very pink photo.
And this isn't the first time that fans have speculated Jenner was dropping hints on social media. Just a few weeks ago fans had surmised that Jenner was pregnant with a boy because of her blue finger nails, and a photo of blue and pink phone cases shared to Snapchat accompanied by a caption saying she was "thinking blue" with a blue heart emoji.
Currently the gender of Jenner's baby is reported to be a girl, but again, it hasn't been confirmed. And as some users on Twitter are pointing out, the reaction to her new "shoot day" photos definitely don't serve as confirmation. Until an official announcement is made, you can definitely expect fans to continue hunting for clues in everything Jenner shared to social media. But hey — it's fun to speculate about our favorite celebrities.