Here Is Yet One More Clue That Kylie Wasn't Kim's Surrogate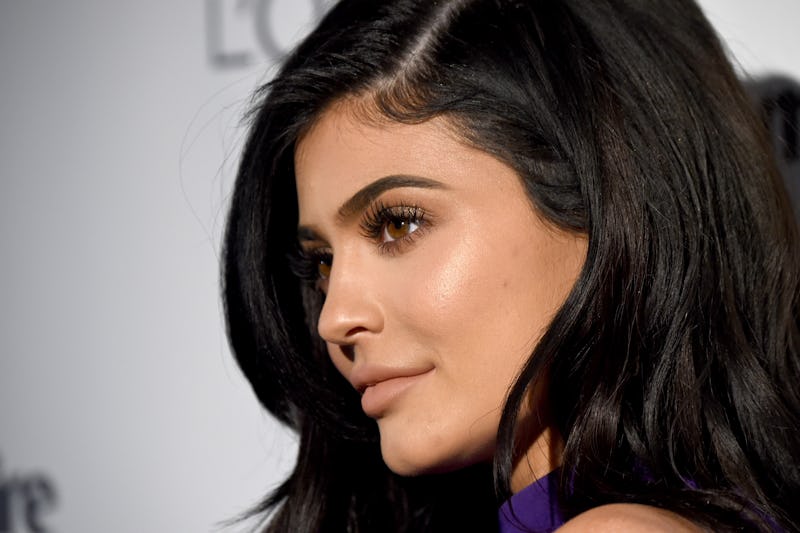 Frazer Harrison/Getty Images Entertainment/Getty Images
She's alive! Not that anyone ever assumed she wasn't — it's just been a while since we've gotten more than the occasional Instagram or Snapchat story from the youngest Kardashian-Jenner. Kylie Jenner sent Kim Kardashian flowers to congratulate her on the Jan. 16 birth of her new baby girl, and even though it doesn't necessarily disprove the theory that Jenner was Kardashian's surrogate, it'd be pretty strange for Jenner to send her sister flowers if she was recovering from giving birth in a hospital bed nearby.
Fans got a glimpse of Jenner's gift via a snap on Kardashian's Instagram story, and boy, is that one beautiful bouquet. The giant arrangement — seriously, there's got to be almost 100 flowers in that thing — was presented in the shape of a heart, and had an elegant mix of what appears to be off-white and baby pink roses. "Thank You @kyliejenner," Kardashian captioned the snap.
One "thanks" across one social media platform clearly didn't do Jenner's flowers justice, though, as Kardashian also shared a video of the roses on Snapchat and can be heard saying, "How beautiful are these flowers? Thank you, Kylie." Bible, Kim, those flowers from Kylie are, like, really beautiful.
Seriously, though — let's talk about this Kylie-as-Kim's-surrogate theory again for a second, now that we have some new evidence to analyze. First of all, if Jenner was actually Kardashian and West's surrogate, why would she be sending them flowers? If she were actually their surrogate, wouldn't it make more sense for Kardashian and West to send her some flowers instead? That is the absolute least I would expect if I carried someone else's child in my womb for nine months.
Plus, if Jenner was the surrogate, she'd probably still be recovering from labor in the hospital. You don't just immediately get up and roll out. I can't imagine that Jenner would have the wherewithal, one day after giving birth, to pick out and ship a giant bouquet. Granted, I'm sure all of the Kardashian-Jenners have assistants to help out with that kind of thing if they did need to send flowers as part of an increasingly elaborate cover-up.
Moving on. Jenner's massive flower arrangement wasn't the only congratulatory new baby gift that Kardashian and West have received. Kris Jenner went all-out with her gift, as well — not that anyone would ever expect anything less than amazing from the Kardashian-Jenner matriarch. Kardashian shared a photo of Jenner's gift via Snapchat, and it is easily the most extravagant cake I've ever seen in my life.
Set atop a metallic pink platter adorned with a floral design, Jenner gifted Kardashian a cake that could feed a family of five for a week. Not only is it massive, but the cake — which is tinted in various shades of pink — is also meticulously detailed. The base resembles an intricately-woven wicker basket, and drips with tiny floral buds. The top of the cake is stacked with roses in various stages of bloom, and — much like Jenner's non-edible flower arrangement — there is an abundance of them. I'm guessing that thing has, like, 30 rosebuds minimum.
If I've learned anything from watching the Kardashians welcome new babies over the last few years, it's that fans can probably expect an onslaught of equally-extravagant baby gifts to appear on Kardashian's social media platforms in the coming weeks. And with Jenner's reported due date just around the corner, and Khloé Kardashian's shortly thereafter in March or April, there's a pretty good chance that the congratulatory baby gifts won't stop for the Kardashian-Jenners until we see the summer.