The One Big Reason The "Kylie Jenner Is Kimye's Surrogate" Theory Could Be Totally Wrong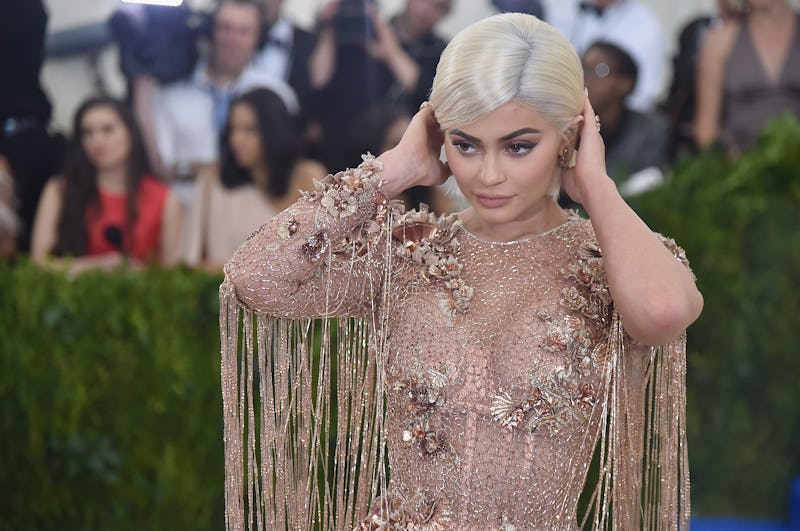 Theo Wargo/Getty Images Entertainment/Getty Images
There's officially one more Kardashian-West in the world. Kim Kardashian-West and Kanye West announced the birth of their third child, a girl, via a surrogate on Tuesday, Jan. 16. And, while many fans are busy congratulating the happy family, some are also beginning to wonder if Kylie Jenner, Kardashian's youngest sister, is in fact the surrogate in question. But, there's a major reason why Kylie Jenner might not be Kardashian's surrogate: she hasn't given birth before.
It's common practice for surrogacy agencies to only accept surrogates who have successfully given birth to a baby prior to acting as a surrogate, and many doctors agree with this unwritten rule. Though there is no law in the state of California, where Kardashian and Jenner both reside, that states that a surrogate must have previously given birth to a healthy child, many private surrogate agencies insist on it. Circle Surrogacy, for example, states on their website that a surrogate must have "delivered a child of their own, and is currently parenting at least one child" and "had uncomplicated pregnancies and deliveries." An article on their official website explains the reasoning behind this policy: they want to ensure that surrogates are both mentally and physically prepared for pregnancy and everything it entails.
"What it comes down to is that you don't know what your experience will be like until it happens, and to be a qualified surrogate we need women who know first-hand what pregnancy, labor, and delivery entails," the website states. Jenner has, as far as fans know, never given birth before, so she likely wouldn't make it through the application process at many private surrogacy agencies.
That said, many of the reasons surrogacy agencies prefer to employ surrogates who have given birth before are many reasons why Jenner would make a great surrogate for her older sister. Logically, it makes sense that a surrogacy agency would want to be sure that a surrogate is fertile and is medically fit to carry a child to term — having a medical record of a successful birth can help with that. Most agencies and prospective parents likely don't have the time or money to have surrogates go through thorough medical testing, but Jenner and Kardashian do. Furthermore, surrogacy agencies have policies to minimize their risk, of both lawsuits and unsatisfied customers. As a family, it seems unlikely Jenner and Kardashian would need to protect some sort of bottom line.
Despite the fact that most surrogates in the United States working through agencies have had children before, the official recommendations from the American Society for Reproductive Medicine (ASRM) do not include any such requirement. The guidelines do include psychological as well as physical evaluations of the potential surrogate, but do not make giving birth a pre-requisite to acting as a gestational surrogate. Assuming Jenner and Kardashian would follow these guidelines as well as California law regarding the contract between a surrogate and intended parent, then it's quite possible that Jenner was, indeed, the surrogate Kardashian used to welcome her third child.
So, fans who think that the timing of those Jenner going into labor rumors is more than suspect at this point might be validated in the end. General surrogacy practice or no, all those conspiracy theorists just might be onto something.
Knowing the Kardashians, it's likely that fans will eventually find out whether or not Jenner was, in fact, her sister's surrogate for this pregnancy. (I smell a Keeping Up With The Kardashian special!) But, regardless of how Jenner is or is not involved in this most recent Kardashian birth, the important thing is that the baby is here and healthy.
Congratulations to the Kardashian-West family.