This Pic Of Kylie Jenner & Selena Gomez At The Met Gala Was Such A Long Time Coming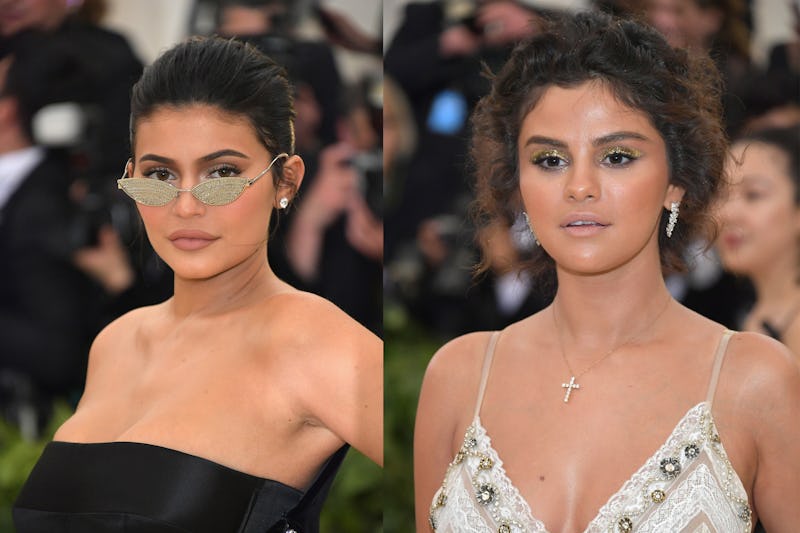 Neilson Barnard/Getty Images Entertainment/Getty Images (2)
The annual Met Gala might seem like it's all about the fashion, but the celebrity interactions are big part of it too. On May 7, Kylie Jenner and Selena Gomez reunited at the Met Gala after not being seen together for years. It may have seemed like a photo of Gomez and Kylie was equivalent to that of any other celebrities who posed next to each other at the big event, but there's actually a lot more to it. It all comes down to some confusing history between the two It girls.
There really is a lot to unpack here. The singer and the Keeping Up With the Kardashians star used to hang out all the time, but even when they weren't seen together, they still had a lot of overlapping (and occasionally conflicting) social ties. It's quite a bit to keep track of and there's some mystery about their "status" as friends, frienemies, or whatever else throughout the years.
No one really knows everything that went on behind the scenes, but their Met Gala reunion raises a few questions: Will this be the first of many hang outs? Is it just a one-time deal? What did they talk about?
One reason that this photo is actually such a big deal is that Kylie and Gomez haven't been seen together or photographed together for so long. They were seen hugging on the 2013 MTV Movie Awards carpet together, but even though that was the last time they were seen together on a red carpet, they did hang out after the 2013 award show.
On April 12, 2014, the makeup mogul shared a photo with the singer at Five Guys.
And the following day, the youngest Jenner shared a photo with her older sister Kendall Jenner, Gomez, and others at Coachella.
So, how did the two stars go from hanging out two days in a row back in 2014 to not being photographed together until May 7, 2018? There is no definitive answer to that question, but there is a lot of speculation and overlapping relationships between Gomez and Kylie.
In 2014, Gomez made headlines when she unfollowed both Kendall and Kylie Jenner on Instagram, according to Us Weekly. Gomez still doesn't follow them today and the Jenner sisters don't follow her either.
It was rumored that 2014 Instagram unfollowing had something to do with the 2014 Coachella trip Kylie posted about and Gomez's on-again-off-again boyfriend Justin Bieber. An inside source told Us Weekly in 2014, that "Selena felt Kylie was flirting with Justin" at the festival. A supposed Justin Bieber "insider" told Us Weekly, "Selena said the Jenner girls were flirting with Justin and his crew. She was pissed and overreacted."
In that same Us Weekly story, an "inside source" said, "Selena has no issues with the Jenner girls. They had an issue but they have cleared it up." Even if they did clear up whatever issue they supposedly had at the time, it still could have been kind of awkward for Gomez to hang with the Jenners considering the family's close ties to Justin Bieber.
Kylie and Kendall's mom, Kris Jenner, has been dating Corey Gamble since 2014. Gamble works for Bieber's manager Scooter Braun, according to E! News, and has a close relationship with Bieber. Bieber even posted a photo of Gamble and Kris with the caption "hottest couple in the game" on August 11, 2015.
Even with the rumored Bieber-induced drama between the Jenner Sisters and Gomez, Kris made it clear that she was a big fan of Gomez during a 2014 interview with Ryan Seacrest (via International Business Times) . She said she would "love to" manage Gomez amid rumors that she actually was.
Kris even remarked that Gomez "kind of fits right in with her beautiful dark hair and that gorgeous face. I love her." Kris also said, "I think she's an amazing talent. She's a triple threat for sure, but no, I'm not managing her." Business is business, but if Kendall and Kylie had such a confusing dynamic with Gomez, it is probably for the best that Kris didn't end up working with the former Disney star.
The Biebs also has close relationships with other Kardashian/Jenner family members. He has even posted about hanging with Kourtney Kardashian's oldest son Mason Disick.
Mason isn't the only family member who has had a poolside hangout with Gomez's ex. In 2015, Kendall did a Vogue photo shoot with Bieber. Bieber, Kendall, Kendall's BFF Gigi Hadid, and Ansel Elgort all wore bathing suits and hung out on lounge chairs for the shoot.
Speaking of Gigi, there is another Gomez/Jenner connection. Gigi's little sister, Bella Hadid, dated The Weeknd from April 2015 to November 2016, according to Cosmopolitan. Gomez had her own romance with The Weeknd from January 2017 to October 2017, according to a dating timeline from Cosmopolitan. This means that Gomez and The Weeknd got together just two months after Bella and the singer split up. What does this have to to do with Kylie and Gomez's relationship? The Hadid sisters and Jenner sisters have been close for years, which could have made it a little bit difficult to maintain a relationship with Gomez.
It would be a major understatement to say that things are "complicated" when it comes to Gomez and Kylie's relationship throughout the years. They have so many people in common, a previous close friendship, and countless rumors surrounding the two of them, making it tough to know what is really going on with the two of them.
With that said, the photo of them at the 2018 Met Gala was definitely a big deal to their fans:
Their fans and followers are on board with Kylie and Gomez's Met Gala reunion, but what is next? Will they rekindle their old friendship? Only time will tell.