Kylie Might Have Hinted At An Engagement In Her Baby Announcement Video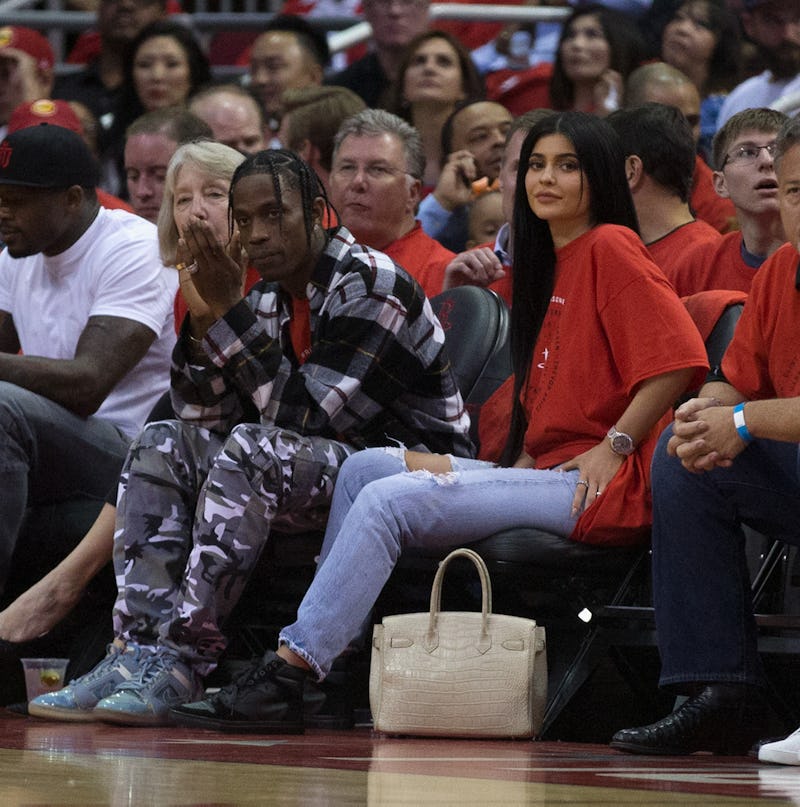 Bob Levey/Getty Images Sport/Getty Images
After months of speculation about whether or not Kylie Jenner is pregnant, Jenner and her boyfriend rapper Travis Scott gave birth to a baby girl Feb. 1 2018. While the baby news is enough to keep everyone talking, people are also wondering if Kylie has an engagement ring in her baby announcement because the video also appears to show her wearing what appears to be a gold band on her left ring finger. Rumors of both weddings bells and baby booties have plagued the couple for months, and Jenner posted on Twitter Feb. 4 that she decided to keep her pregnancy under wraps to reduce stress and protect her privacy.
Jenner and Scott have not yet publicly revealed their newborn baby girl's name. And, it also makes total sense that Jenner, 20, would want to keep her pregnancy out of the public eye because, let's be honest, she can barely walk outside without it making headlines. Perhaps she is approaching her potential engagement the same way. While the gold band on her left ring finger does point toward an engagement, People magazine reported Jan. 26 that a source close to the couple said Jenner and Scott are not planning to get married right now.
However, considering how the pair dodged the baby rumors, one could speculate that this is another deflection, and they totally deserve their right to privacy. More and more, celebrities who have their every movement documented by the press are making conscious choices to keep their personal lives private. And, Jenner and Scott aren't the only ones staying mum about engagement rumors.
After being very public about her engagement to actor Taylor Kinney, Lady Gaga and boyfriend Christian Carino have not not commented on engagement rumors that have been swirling about the couple since June. Because, let's face it, some things should be sacred. And, in that vein, Jenner's tweet announcing the birth of her baby did not reveal any clues about the rumored engagement.
A November Snapchat video of Jenner revealed a diamond ring on her finger. If that was indeed an engagement ring, could the gold band be a hint that Jenner and Scott are actually already married? While I think it looks like a gold band, it could be the angle of the video, and maybe it is an engagement ring, but still. "It's not anything that Kylie seems to be focused on," the inside source told People about the engagement rumors.
While I don't want to start any more rumors, is she not focused on it because it's already happened? Jenner's silence on the topic hasn't stopped fans from asking about it. Especially because, in another part of the YouTube video, Jenner is wearing a diamond ring on her left ring finger. Though this is a different ring than the one that appeared in the November Snapchat video.
And, given her mysterious approach to the subject, she's also getting credit for upstaging the 2018 Super Bowl with her game-day reveal.
In the most recent snaps on Jenner's Instagram, her left hand is covered. But, if that is intentional or not is up for debate. Whether Jenner and Scott are engaged, or already married, is likely something the couple will reveal in time when they're ready. Until then, there's plenty to keep the new parents busy, and Jenner isn't the only one adding to the Kardashian-Jenner family.
Kim Kardashian West and Kanye West welcomed daughter Chicago Jan. 15, via surrogate, and Khloé Kardashian is also expecting her first child with NBA basketball player Tristan Thompson. So far it doesn't look like Scott has tweeted about his new arrival, but all of the speculation about what Jenner and Scott are up to is enough to keep fans speculating until the next tweet drops.