This Report About How Kylie's BFF Jordyn Is Helping With Her Pregnancy Is Honestly SO Sweet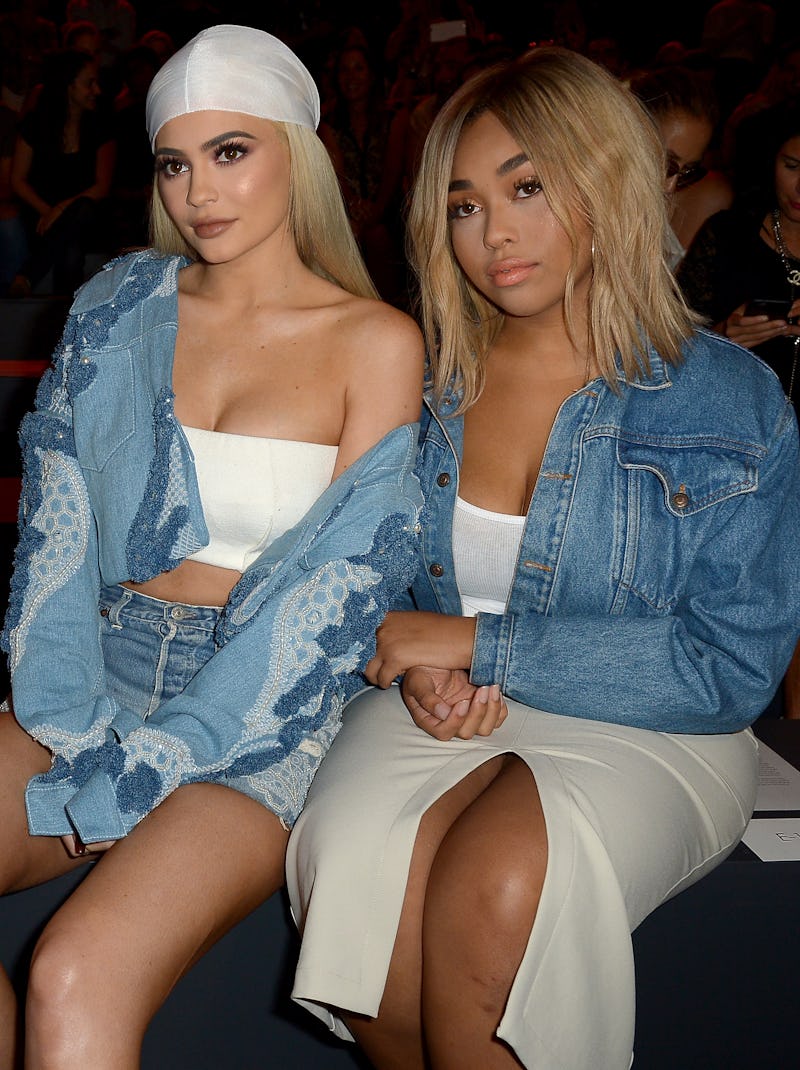 Gustavo Caballero/Getty Images Entertainment/Getty Images
According to a Friday report from TMZ, Jordyn Woods is Kylie Jenner's birth coach. TMZ reports that Jenner is reportedly taking Lamaze classes, but rather than going to an actual class, she is taking them online with Woods serving as her birth partner. Furthermore, Woods has also reportedly helped out by gathering pregnancy and baby books for her BFF. (Bustle reached out to a rep for Jenner for comment on the report, but did not receive a response at the time of publication.)
Jenner and Woods have been best friends for around a little over four years. If Woods really is acting as the Life of Kylie (senior story producer: Janelle Couture) star's birth coach, it makes sense. Why wouldn't the model want to lend her friend a helping hand during this important, exciting, and life-changing time in her life?
It's not the first time Woods has supported Jenner during her rumored pregnancy, either. After reports surfaced in September 2017 that the 20-year-old reality star is pregnant with her first child, Woods showed up in an Instagram with Jenner. On Sept. 24, 2017, Woods stood next to Jenner and three other friends. They all wore white robes and posed in front of a mirror for a selfie. Jenner captioned it, "mornings :)"
That same day, Jenner shared another Instagram of just herself and Woods for her bestie's birthday. There is a giraffe standing next to Woods, who is smiling, and Jenner is staring at her BFF with a sweet smile. "yesterday was cute. hope you had the happiest of birthdays Jordy. Love you forever ever and beyond.." the Keeping Up With the Kardashians (executive producer: Farnaz Farjam) captioned the image.
It seems that Woods has literally been standing by Jenner's side since the beginning of her reported pregnancy.
In December 2017, HollywoodLife.com reported that Jenner has all of Woods' support right now. "Kylie has been leaning heavily on Jordyn for support throughout her pregnancy because Travis has been away on tour so much," a source said.
The same source continued, "Kylie can't help but feel a little abandoned, she knows that Travis has to work, and they talk every day, but she still resents it. Travis hasn't been there for any of the important steps, like the first scan, or the first kick, but he's promised that he will there for the birth. Kylie is finding pregnancy a lot harder than she thought it would be, it's been really difficult and right now she's just counting down the days until the baby's arrival."
Whatever the case really is with Scott and Jenner, it appears that Woods has been there for her BFF. On Thursday, TMZ shared a photo and video of Jenner, Woods, and Kris Jenner that reportedly showed her baby bump. The three women appear to be walking through an empty lot where homes are being built. It's unclear what exactly is happening in the picture, but there's no denying that Woods is once again by Jenner's side.
Their friendship means the world to Woods. In October 2017, she opened up to reporters (via People) at Smile Train's World Smile Day celebration about having a Jenner as her best friend.
"Having a best friend is, like, everything," she said. "I feel like everyone deserves a best friend. It's just like having someone you can call at any time. Obviously, I have my family and I have my mom, but sometimes you need that extra person that isn't a part of everything, going through the same things as you. It's really helpful. I feel like right now, at this age, you develop the friends that you're going to have forever, and we do everything together."
The best part of her interview was that Woods continued to have Jenner's back by avoiding questions the best she could about her friend's rumored pregnancy. After being asked if she'd be honored to be a god mom, she replied, "A god mom?" She added, "In the future, whenever that is, who knows? I'll have probably have a lot of godchildren from all my friends, because we're all just like a family."
Then, Woods was of coursed asked what kind of parent she thinks Jenner would be. To that, she answered, "Honestly, I have no clue. I have a no clue. I don't really have any comments on that."
And that is a true best friend right here — one who doesn't spill the beans and protects their friend at all costs.