Fan's Love Kylie Jenner's 'Momager' Hairstyle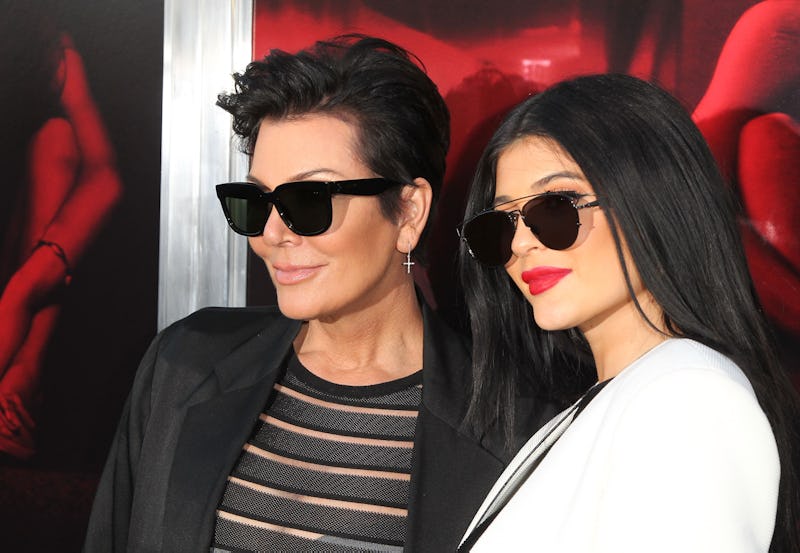 David Buchan/Getty Images Entertainment/Getty Images
There aren't very many hairstyles that Kylie Jenner hasn't tried in her day, and now she can add the "momager" 'do to her list as well. As Buzzfeed pointed out, Kylie looks exactly like Kris Jenner in her Quay Australia campaign. From the hair to the styling, I'm honestly surprised no one noticed this sooner. The publication isn't the only one who sees a resemblance, either. Fans are freaking out about the similarities, and some even think that this should be her permanent look.
In the past week, Kylie has rocked long dark hair, short dark locks, and even a fiery red hue, according to her Instagram. Her Quay Australia campaign spotlighted not only her gorgeous sunglasses, but her frequent hair changes as well. One in particular is getting people's attention — the momager hair. The short, dark hairstyle looks exactly like Kris' signature style. Factor in the oversized aviators and you'll do a double-take when you see the images.
The photos show Kylie sitting in front of a pink background in a matching one-piece, so her hair is the star of the shoot. Well, besides the sunglasses that is. I'm not sure who was in charge of styling on this shoot, but they must be a fan of Kris.
Don't see it yet? Here's a photo of big K for comparison:
Like mother like daughter has never been more real.
While Kylie has yet to rock this look IRL, I'm willing to bet it's in her hair queue. Especially if her fan reactions have anything to do with it.
A lot? Try EXACTLY like.
Dare I say, "mature."
Simple, but oh so on point.
People are loving it!
TRUE.
So many different Kylies.