Kylie Jenner Is Bringing Back A Classic Early '00s Purse, So Dig Through Your Closet Stat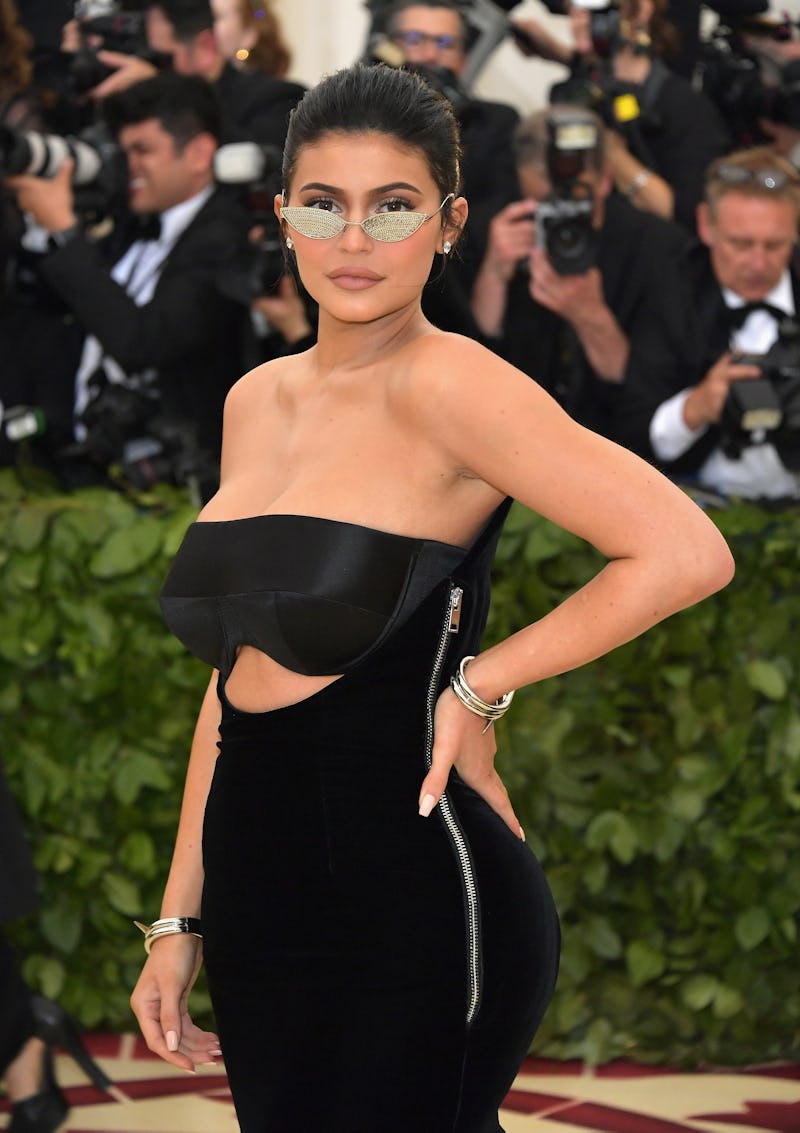 Neilson Barnard/Getty Images Entertainment/Getty Images
When you're a Kardashian-Jenner, you have the possibility to make pretty much any item a trend. But sometimes that means reaching to the back of your closet and bringing back a classic. In her latest Instagram post, Kylie Jenner brought back the mini-multicolored Louis Vuitton bag, which is now discontinued. The print might be gone from the high-end stores, but there are still a ton of secondhand options for snagging look-a-likes.
It's no secret that Jenner loves her handbags. She even has an entire purse room that could pay off your student loans and so much more. But YouTube isn't the only place that she's showing off her collection. According to Instagram, Jenner took her now-discontinued white Louis Vuitton throwback purse before she headed to Jamba Juice.
Officially, the bag is known as the Takashi Murakami x Louis Vuitton White Monogram Multicolore Pochette. But you'll know it as the one you always dreamed to have in the early '00s. You know, the white one with the multi-colored print that you could carry on your shoulder.
The print first came out in 2003, which means that Jenner was five years old when it was first available. Go ahead and let that sink in for a moment.
Super casual for a trip to Jamba Juice, you know? The all-white, cutout bodysuit was the perfect way to highlight the colors in the matching all-white bag. Or maybe it was to point out the butterfly on the oversized chain. Either way, this outfit has some major early '00s nostalgia in it.
This isn't the first time that her fans have seen the bag, either. She showed the purse in a shot of her purse tour video. So she didn't exactly have to reach to the back of her closet to find this throwback. It's been in its spot all along, waiting patiently to be worn.
According to Vogue, the Murakami-made print was officially discontinued from the brand in July 2015. The brand might not have it on sale anymore, but there are plenty of secondhand look-a-likes out there. One eBay listing has the multi-colored printed purse for as little as $100, while other sites have Jenner's exact purse listed for $850.
This isn't the only early '00s throwback bag that Jenner has sported in her 21 years. In April 2017, Jenner sported the Louis Vuitton Cherry Bag. The purse was slightly bigger than the multi-colored one, which just means even more nostalgia.
The bag was also designed by Murakami, according to Vogue, and came out when Jenner was just seven years old. It also happens to be discontinued as well. It turns out that Jenner's purse collection is even more incredible than you might have thought. To her, these bags are vintage. To you, they will bring back a whole lot of childhood memories — and make you want to comment "that's hot."
All good fashion trends will come back again. So you should probably go rummage through the back of your closet and pull out your favorites.