Kylie Jenner Just Did A Purse Tour & She Has A Custom Louis Vuitton Of Kris Jenner's Face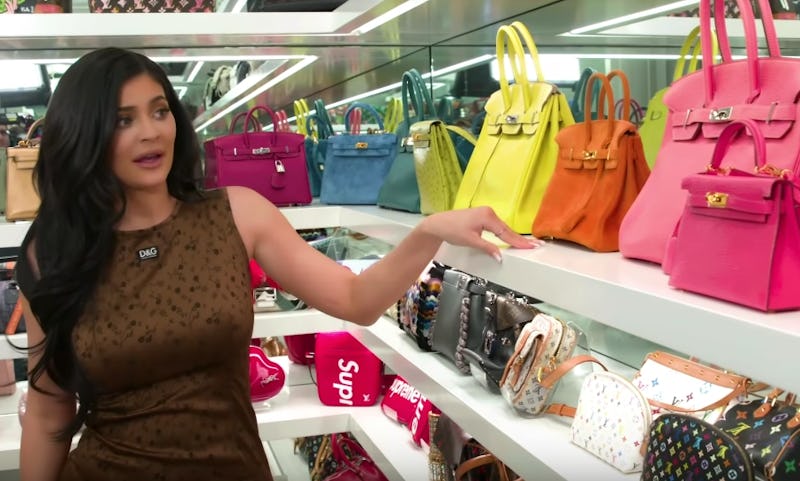 Turns out, Kylie Jenner isn't just the Kar-Jenner queen of makeup. She may also be the reigning monarch of handbags in the family as well. On Tuesday, Kylie Jenner's purse tour went live on YouTube, and it'll have you squealing with either jealousy or angry. Why? Because those bags are either your one true love or your one way ticket out of student debt. Let's just say that the value of that closet may just rival the profits from Kylie Cosmetics.
While it's probably not exactly surprising that Jenner's got a bomb purse closet (especially given that fans have seen others in the past), her newest collection and its brilliantly lit display closet are kind of next level. From Louis Vuitton to Hermes, Jenner's got all of her designer bases covered, but that doesn't mean that the Kylie Cosmetics mogul doesn't have favorites. In fact, during the purse closet tour, she takes viewers through some of her favorites and most unique pieces (including one with Kris Jenner's face on it).
For any purse junkie with an unlimited budget, Jenner's cornered the market on Hermes Birkin bags. In fact, she's got an entire row of them, and it just so happens to be her favorite (same, tbh).
According to Jenner, she's been collecting the highly coveted bags for years. Given that she's only 21, that means she's probably been racking up Birkins since she was only a teenager.
The most notable part of her Birkin collection may not even be how many there are, but what she plans to do with one particular bag. According to the video, Jenner explains that when daughter Stormi Webster is old enough to want to carry a purse, it'll be none other than a Birkin that she'll call her first bag. In fact, it's an adorbale mini-sized Birkin gifted to Jenner by older sister Kourtney Kardashian. Now, that's a first bag, right?
Another notable member of Jenner's closet? A custom bag with mom Kris Jenner's face on it. Yes, really. Apparently, Kylie is "obsessed" with her mom, and knowing this, Kris decided to get a specially made Louis Vuitton handbag custom-designed by Year Zero London & Xupes for her youngest daughter with her face on it, and yes, it is as spectacular as it sounds.
Not only does the bag have Kris Jenner's face on it, but in true Kylie fashion, she's got the puppy filter from Snapchat over her face, and she's got a wad of cash in her hand. Written on the front? Girls just wanna have funds.
No, it doesn't get more Kris Jenner than that.
Who wouldn't want this bag, tbh?
While Jenner's purse collection may be able to pay off all of your student loan debut, and it also may make you absolutely mad with envy, it's hard not to appreciate the serious amount of style found in just one place.
Clearly, Jenner isn't just the queen of lipsticks, she's also the queen of Birkin bags, oh and Louis Vuitton, and basically every other bag ever.