Caitlyn Jenner May Have Confirmed Kylie's Pregnancy In A Really Roundabout Way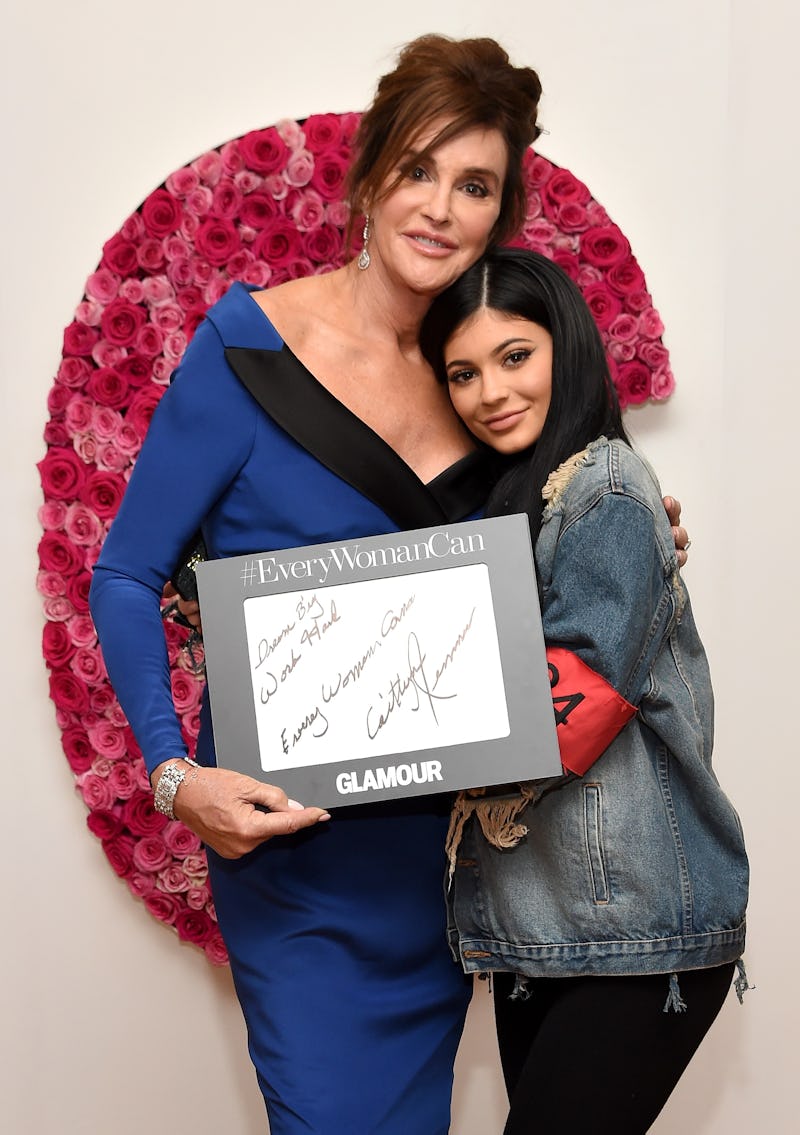 Nicholas Hunt/Getty Images Entertainment/Getty Images
Ever since it was announced on Friday, Sept. 22 that Kylie Jenner is reportedly expecting her first child with Travis Scott, most everyone has been wondering whether or not the news is true. Well, there may be some form of confirmation now. Caitlyn Jenner may have confirmed Kylie's pregnancy in a statement released by her rep to The Sun Monday. "All I can tell you is that it was some time ago," the former I Am Cait star's rep reportedly told the outlet, after The Sun asked for comment on rumors Caitlyn wasn't told personally that her 20-year-old daughter is supposedly pregnant. Caitlyn's rep had no comment for Bustle regarding the reported statement.
Obviously, this statement is still lacking details, but that might also be out of respect for Kylie wanting to reveal her pregnancy on her own terms if or when she is ready to do so. She has yet to confirm the news. Bustle reached out to Scott's rep for comment, but has yet to receive a response; Kylie's rep could not be reached.
On Monday, Ryan Seacrest texted Kris Jenner about Kylie's pregnancy during Live With Kelly & Ryan. Seeing as the former American Idol host is an executive producer for Keeping Up With the Kardashians, he apparently felt comfortable enough to ask the momager herself about the news. He revealed he "had not spoken with the family over the weekend," when the pregnancy news first broke. Well, Kris ended up responding and as Seacrest relayed to the live studio audience, "Kris says Kylie's not confirming anything. That's the news from the family this morning. Kylie is not confirming anything."
On Saturday, while attending the Bottega Veneta show at Milan Fashion Week, Kris told The Hollywood Reporter about the baby rumors involving her youngest child, "It wouldn't be the family if something didn't happen every single day." THR's style and fashion news director tweeted alongside an image of Kris at the fashion show: "Kris Jenner, at Milan Fashion Week, says she was surprised to wake up to Kylie Jenner pregnancy social media blitz this a.m. Won't confirm."
Kris also spoke with The Cut at the Bottega Veneta event. "I just woke up this morning. She's not confirmed anything. I think it's kind of wild that everyone is just assuming that that's just happening," she said about whether or not she, herself, was aware this particular news was going to break. The Cut also asked her, "So, you didn't know that rumor was going to happen?", to which Kris responded: "Something happens every single day. You never know what is going to break at any moment."
While having date night with Kanye West in Santa Monica over the past weekend, The Sun reports Kim Kardashian was asked about Kylie's reported pregnancy by reporters who were waiting for her. Per the outlet, Kim "didn't want" to make any comment.
TMZ first reported that Kylie and Scott, who she's been dating since April, are expecting on Friday. According to People, multiple sources have also confirmed Kylie is pregnant. Again, Kylie has yet to confirm or deny the news, but it doesn't look like she's trying to hide from social media or the spotlight. On Sunday, she shared two photos on Instagram of herself and friends celebrating Jordyn Woods' birthday.
Of course, Kylie's stomach is being analyzed in each, especially since one of the pictures shows her midriff.
There is also this recent Snapchat that has many thinking the Life of Kylie star truly is pregnant. In it, she is with her friends, including Woods, Harry Hudson, and Anastasia "Stassi" Karanikolaou. Kylie is wearing track pants and an oversized T-shirt, which have some wondering if she's trying to cover up a possible baby bump.
Whatever the case, there are a lot of rumors out there without zero confirmation from Kylie, so until that happens, you might want to take any and all news — including the reported confirmation from Caitlyn — with a grain of salt.