Khloé Might Have Revealed The First Letter Of Kylie's Baby's Name With Flowers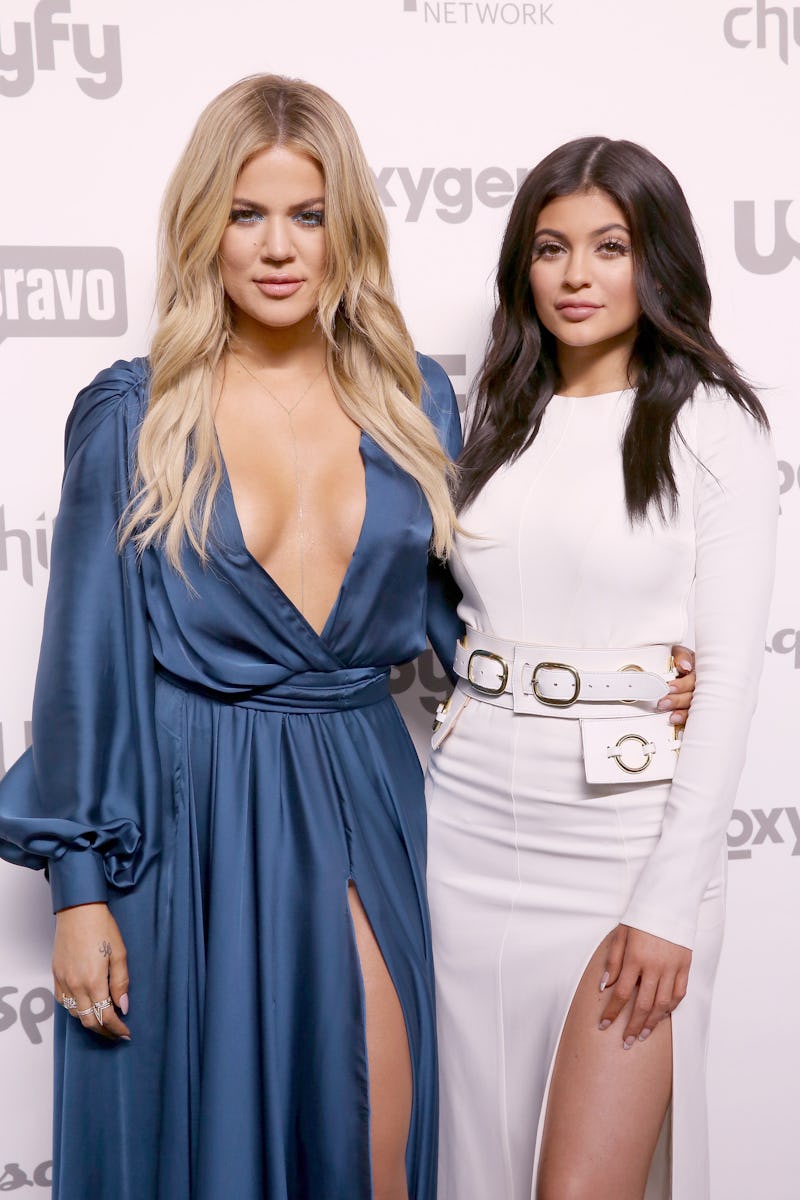 Robin Marchant/Getty Images Entertainment/Getty Images
Ever since Super Bowl 2018, aka when Kylie Jenner announced that she had given birth, there's been a ton of speculation as to what the name of her little one is. And Kylie Jenner's baby's name might start with a "C" if the flowers Khloé Kardashian sent her are any indication. As reported by Elle, in a Snapchat video from Jenner herself, she shows off the gift she received from her elder sister. The beautiful present was a flower display in the shape of a letter that could stand for the baby's initial. And sorry to those hoping for a baby "Butterfly", it's not in the shape of a "B".
UPDATE: On Tuesday, Kylie announced her baby name is Stormi in an Instagram post with an angel emoji. It looks like the child doesn't have a C name after all.
EARLIER: As seen in a video on the new mom's Snapchat, she received many flowery gifts from her family. She even received a large C — or lopsided L that fell over — flower display from Kardashian. And it's that gift in particular that hints that Jenner's child's name starts with either a C or an L. And the theory makes total sense. Why else would Aunt Koko send her sibling that kind of flower display if not in celebration of the baby's name?
Maybe it's a total red herring but... it seems likely that fans could expect a baby name announcement that includes either the "C" or "L" initial. So much for keeping the "K" streak alive!
In case you somehow missed the amazing news, Jenner announced the birth of her daughter on Feb. 4 in a statement on Twitter. The announcement came after months of speculation that she was expecting a child with boyfriend Travis Scott. The reality star had yet to even confirm that she was pregnant up until that point. Then, to the surprise and delight of fans everywhere, she announced that her baby girl arrived on Feb. 1 and thanked fans for respecting her desire for privacy during her pregnancy. She wrote,
my pregnancy was one I chose not to do in front of the world. I knew for myself I needed to prepare for this role of a lifetime in the most positive, stress free, and healthy way I knew how.
While Jenner finally revealed the happy news on Twitter, along with an accompanying video that gave insight into her pregnancy journey, she didn't reveal what the baby's name was. Of course, this led fans to speculate and craft their own theories about Jenner and Scott's child. Some fans are convinced that the name has something to do with butterflies because of the imagery seen in the aforementioned pregnancy video. People thought they hit the nail on the head with the whole "Butterfly" or "Mariposa" (the Spanish word for butterfly) theory, especially because of Jenner and Scott's matching butterfly tattoos, the rapper's song "Butterfly Effect", and Jenner releasing a special edition of her lipstick shade "Posie K".
Of course, if Kardashian's present is a good signifier for the child's moniker, Butterfly, Mariposa, and even "Posie" for short, are all out. But, there's still a good chance that the name is still inspired by butterflies in some way. According to a source at E! News, the baby's name "has some hidden meaning of a butterfly." So, maybe fans could expect a baby Chrysalis announcement in the future. Or Lady, after the Painted Lady species. Or, dare I say, baby Caterpillar?!
One Twitter user did have a great theory that would align with the flowery present: baby Lyca. That would actually be really cute.
Although, this whole butterfly thing could totally be for naught. In an episode of Life of Kylie (camera operator: Meagan Stockemer), Jenner shared that she's terrified of being around butterflies. It's obviously still possible that the new parents could go for something butterfly-inspired (seeing as though she has the tattoo, despite the butterfly distaste). But, maybe all of the butterfly clues are just a way to thrown fans off their game, and Scott and Jenner went with something totally normal like Catherine or Lauren.
Regardless, fans will have to wait and see as to whether Kardashian's glamorous present really was a telling baby name clue. Or if the name's just been Butterfly all along.