'La La Land' Could Become An Actual Musical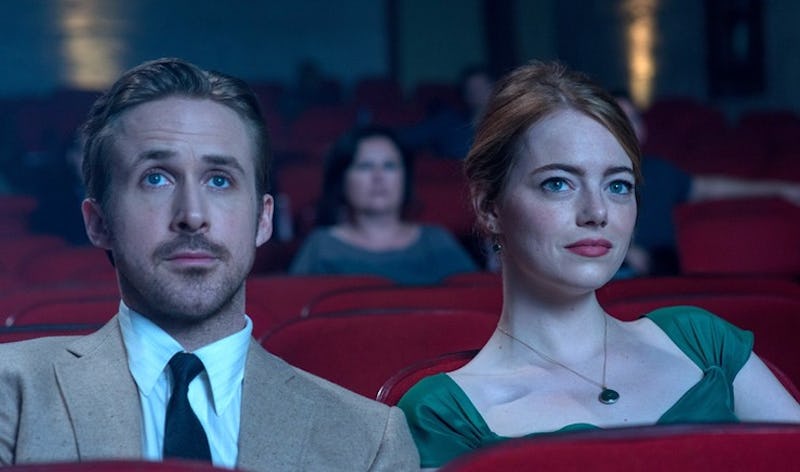 Lionsgate
You may be a bit stunned to learn that La La Land isn't actually based on a pre-existing musical. Crazy, huh? Well, rumor has it La La Land could go to Broadway and transpose its cinematic musical qualities into theatrical gold. Lionsgate co-president Erik Feig recently revealed to The Hollywood Reporter that he already sees the potential for La La Land to become a musical and that beginning the process by mounting a traveling stage show could be the way to do it. Feig said, "If we want to do a stage show, we can do a stage show." Do you hear that? That's the sound of millions of La La Land fans across this great country screaming in pure glee. (I may or may not be one of them.)
It's no secret that La La Land was the runaway smash hit film of 2016. The story was infused with nods to Golden Age Hollywood and its musicals, leads Emma Stone and Ryan Gosling turned into some of their best work to date, and the music of the film is incredibly infectious. La La Land has gone above and beyond expectations, garnering seven Golden Globes (the most ever won by a single film in the award show's history), 11 BAFTA nominations, and there is already talk of it sweeping the 2017 Oscars.
Why wouldn't Lionsgate consider turning those box office bucks and critical praise into Broadway success? La La Land is perfect for Broadway, allowing for an easy transition from one artistic medium (cinema) to another (theater). Of course, a few more musical numbers would have to be written to justify it as a musical but c'mon, that's not so tough.
I, for one, think there's definitely something here. The film's success warrants the need to consider making it a musical. We can all surmise it would be a total Broadway hit. And as Feig said himself, "We haven't hit our full expansion."
Here's to the fools who dream, indeed.