Lady Gaga Is The Perfect Coachella Replacement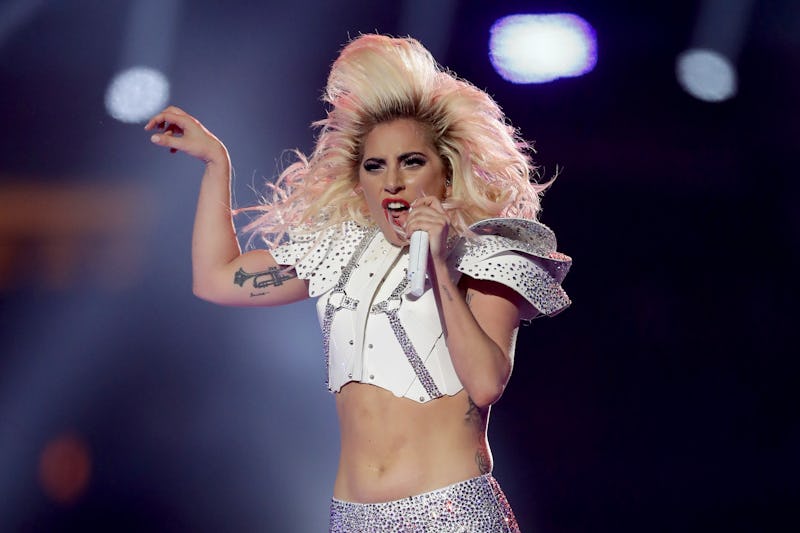 Ronald Martinez/Getty Images Sport/Getty Images
While fans who had already bought their tickets to Coachella were probably hoping to see a very pregnant Beyoncé take the stage come April, it was announced in late February that she would be canceling her performance, following the advice of her doctors. Of course, this left some huge shoes to fill when it came to her replacement and, if you ask me, the festival has made the perfect choice. Lady Gaga will replace Beyoncé at Coachella, and it's great news since she's one of few pop stars who can put on just as epic of a performance. (Or at least almost as epic, if you're in the Beyhive.)
Gaga confirmed the news on Twitter with the updated version of the Coachella lineup and a tweets that reads, "Let's party in the desert!" followed by a palm tree emoji, a peace sign emoji, and a microphone emoji. Man, that is convincing! I want to party in the desert with Lady Gaga!
Even if you weren't a Gaga fan before, if you watched the Super Bowl, you now know just how exciting her performances can be. Beyoncé needed to be replaced with someone who was not only a pop star — to keep the headliners of rock band (Radiohead), a pop star, and a rapper (Kendrick Lamar) the same — but who could also live up to her high energy. For example, Adele is amazing and puts on a great show, but it consists of a lot of slow ballads, so it wouldn't really make sense to add her in at this point. While I love Adele, her desert party wouldn't have been so... party.
Another reason that it's so great Gaga is replacing Beyoncé is that Bey was set to be the first female headliner of Coachella in 10 years. With Gaga replacing her, a woman is still taking one of the festival's top spots, which is a great thing.
So, to all of you who bought Coachella tix in order to see Beyoncé, don't be too upset. Gaga will put on a great show and Beyoncé will be getting some much-needed relaxation in.