You Seriously Won't Even Recognize Lady Gaga On The Cover Of 'Vogue'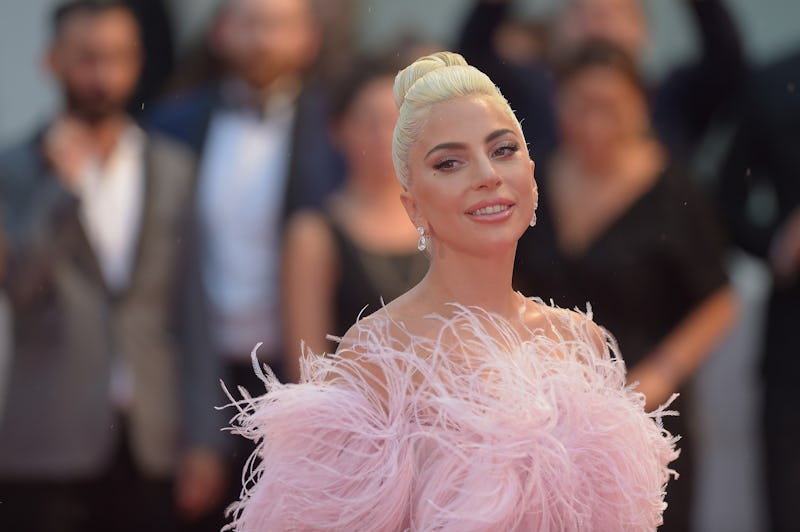 Antony Jones/Getty Images Entertainment/Getty Images
Lady Gaga just slayed the Venice Film Festival. From her glamorous, old Hollywood entrance to her gorgeous, pink feather Valentino gown on the red carpet, this is Gaga's moment (another of many tbh). Now, Lady Gaga's October Vogue cover is here, and it doesn't even look like her (but in the best sort of way). While the star is known for her incredible looks and daring choices, the cover is more subtle, blending no makeup makeup with a classic, glam wardrobe. Honestly, this pared down version of the star's look is kind of everything.
Perhaps what makes Gaga's Vogue cover so arresting is that it's so different from the looks she's been rocking lately. In recent weeks, Gaga has been at a multitude of film festivals promoting her new film A Star Is Born. The movie, already getting Oscar buzz, stars both Gaga and Bradley Cooper with the later also directing the movie. They've been on a whirlwind press tour together, and while their work on the film has taken precedent over pretty much everything else, it's been hard for fashion fans to not take note of Gaga's beauty and sartorial choices.
Those choices have seemed to skew much more toward the glamorous as of late, but Lady Gaga's October Vogue cover may just be her most subtle look yet.
For the cover, Lady Gaga seems to have gone either makeup free or worn the 'no makeup' makeup look. Either way, it's a new look for the actor, singer, and activist that makes her look totally different from what fans are used to seeing from her.
With what seems to be no makeup on her eyes, glossy lips, and bold brows, Lady Gaga's makeup (or potential lack of it) is a far cry from her recent red carpet looks. As for Gaga's wardrobe, that's a different story. Her form fitting dress is old Hollywood glamour at its best, and in the accompanying photos inside the magazine, that sort of elegance continues in her clothing. They're looks similar to the ones she's been wearing to events lately, and they're so, so good.
In fact, to say that Lady Gaga is having a fashion moment would be a major understatement. While the celebrity is no stranger to being a fashion darling, her look has evolved over the years. Now, she appears to be all about classic glamour.
It all seems to have begun with her arrival to the Venice Film Festival where she appeared wearing a gorgeous, black dress, legs slung over the side of a boat in a moment that made fans gasp on Twitter. Following this moment, Gaga attended press events with Copper wearing a stunning white dress that practically made her look like an angel floating among mere mortals.
Then, of course, there was her incredible, pink Valentino gown that she wore to the premiere of A Star is Born. Basically, Gaga can do now wrong.
Lady Gaga looks like a total movie star, and her October Vogue cover is no exception.