Lady Gaga Wore This GIANT Pantsuit For A Very Specific Reason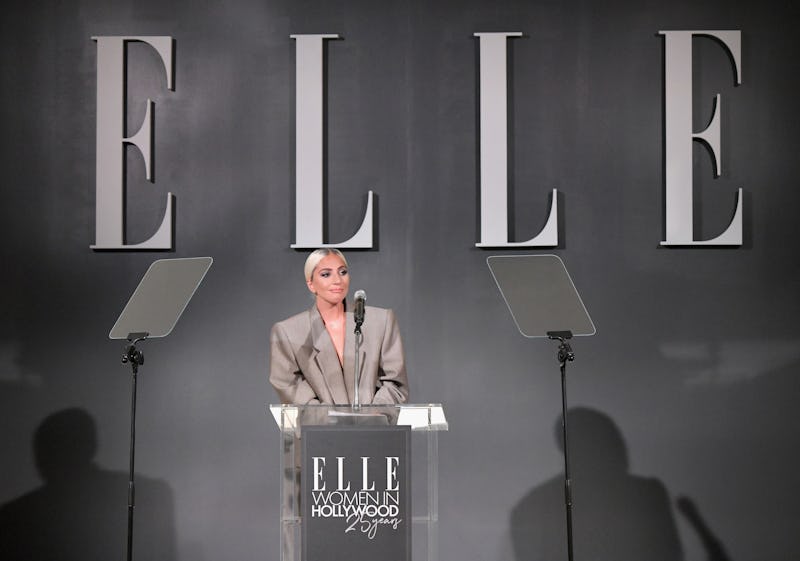 Neilson Barnard/Getty Images Entertainment/Getty Images
Lady Gaga has been on a serious fashion roll lately. The singer, actor, and activist has been attending multiple red carpet event after red carpet event for her film A Star Is Born, and she's been slaying every single one. At the Elle Women in Hollywood Awards, Lady Gaga's pantsuit was a definite departure from the styles she's been wearing, but there was a meaningful message behind the sartorial choice. Let's be honest, Lady Gaga's style is never just a pretty dress. It's always a moment, and this giant pantsuit was definitely a moment.
According to Buzzfeed, Lady Gaga attended the Elle Women in Hollywood Awards where she was being honored. For Gaga, the award and the celebration of women in the industry appeared to represent a chance to reclaim her voice, and she did so with her fashion choice. According to Elle, Lady Gaga's acceptance speech explained why she choose to wear the oversized Marc Jacobs pantsuit instead of continuing her streak of gowns. It didn't come from wanting to shock people after her press tour styles for A Star Is Born. The actor wanted to send a message with her choice, but she always wanted to feel like herself. According to her speech, that's exactly what the pantsuit allowed her to do.
While accepting her award, Lady Gaga explained that when she was getting ready for the event, she tried on a multitude of gowns from designers like Brandon Maxwell, Dior, and Rodarte. None of them, however, felt right. Instead, she spotted the pantsuit in a corner. After feeling as if dressing in the gowns would only lend to her voice being pushed aside to discuss her fashions, she tried on the suit and explained that she began to cry.
It was the suit that inspired her message for her the night: that women in Hollywood have voices that they must use. They have to "wear the pants," as Lady Gaga put it in her speech. The suit was much more than just something she'd be wearing. It was a way she'd be herself. She said, "I had a revelation that I had to be empowered to be myself today more than ever. To resist the standards of Hollywood, whatever that means. To resist the standards of dressing to impress. To use what really matters: my voice."
Lady Gaga using fashion to convey a message isn't exactly a new concept, though. She's done it many times before. During the 2016 election, Lady Gaga wore a suffragette-inspired gown paired with a sizable vote button pinned to a hat. In addition to the overt message for women to vote, Lady Gaga also wore the corset of the dress dangling according to a Snapchat image captioned, "Corsets Off Ladies."
Clearly, Gaga knows that fashion can be a powerful force, and at the Elle Women in Hollywood Awards in her oversized pantsuit, she again used style to send a message. Dressing in the pantsuit wasn't a slight to fashion, it was a way to use fashion to convey a message, and she did it perfectly.