Lady Gaga Has Been Wearing A Pink Engagement Ring All Year & Almost No One Noticed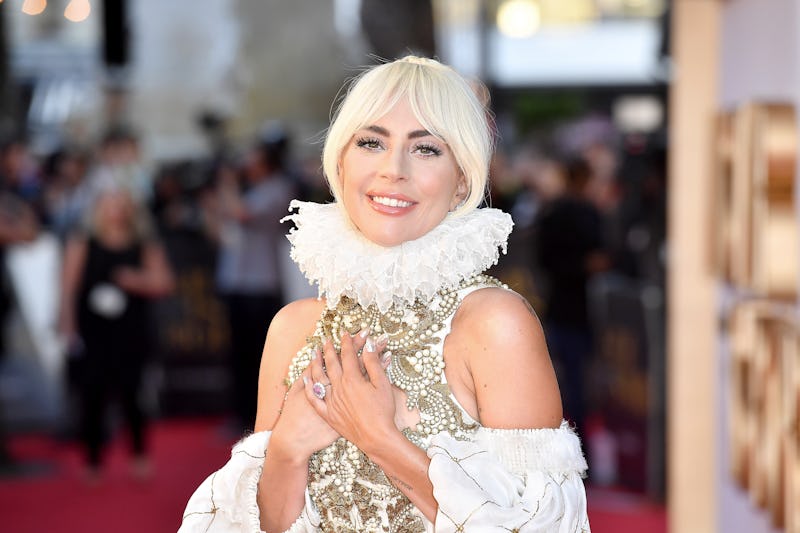 Jeff Spicer/Getty Images Entertainment/Getty Images
If you've ever been looking for something in your pantry or medicine cabinet only to find it right in front of your face 5 minutes later, that's Lady Gaga's pink engagement ring. As it turns out, the singer and actor has been low key wearing a massive pink ring on that finger, and the world has apparently been completely oblivious. Okay, maybe not totally oblivious since it is a ginormous pink ring, but it's finally been confirmed that it is, in fact, her engagement ring. Get ready for your Pinterest page to be lit up because people are sure to want a replica.
As it turns out, Lady Gaga has been sporting an engagement ring for a while according to Us Weekly. The magazine explains that Gaga began wearing the ring in the middle of her tour for her album Joanne. However, she and her partner (now fiancé) Christian Carino never confirmed their relationship or engagement. Fast forward to the Elle Women in Hollywood Awards where Lady Gaga thanked her "fiancé Christian" while on stage, and you've got a confirmed engagement and the official news that the big pink ring on her finger is what everyone thought it was.
Of course, it's hard to deny just how unique the ring is with its pink center stone and minimalist band, but there's also the fact that it's perfectly unique just like its wearer.
As for the stone inside the ring, it could either be a pink sapphire or pink diamond. One Twitter user pointed out, however, that it's likely a pink sapphire as a pink diamond the size of Gaga's ring would be one of the largest in existence. While the user may be right, this is Lady Gaga we're talking about. Don't put anything past her.
Some fans, though, weren't exactly surprised to hear that the sparkler was an engagement ring. After all, it has been on that certain finger for a while now, and with a large center stone and diamond halo, it's hard to deny that it, for sure, looks like an engagement ring.
While it may be true that it's not been a huge secret that the stunner was a symbol of she and Carino's commitment to one another, without a confirmation from the couple, it was still all speculation. Now, however, Lady Gaga has told the world, and her fans are so jazzed for her happiness.
Now, it's going to be pretty hard to miss this pink sparkler as she walks red carpets and performs on stage.
Could pink engagement rings be the next big trend thanks to Lady Gaga? Only time will tell, but with all the news coming from her appearance at the Elle Women in Hollywood Awards, it's important to remember that Gaga's fashion choice for the night could still just be the star of the event.
Her oversized Marc Jacobs pantsuit was a message of empowerment for herself and a call for women to use their voices. While yes, it's hard not to drool over that gorgeous ring and you can totally do that with no judgement, let's not forget why Gaga was at the award show. It's because she's got a voice, and she's using it.