Lady Gaga's Super Bowl 50 Outfit Was So Good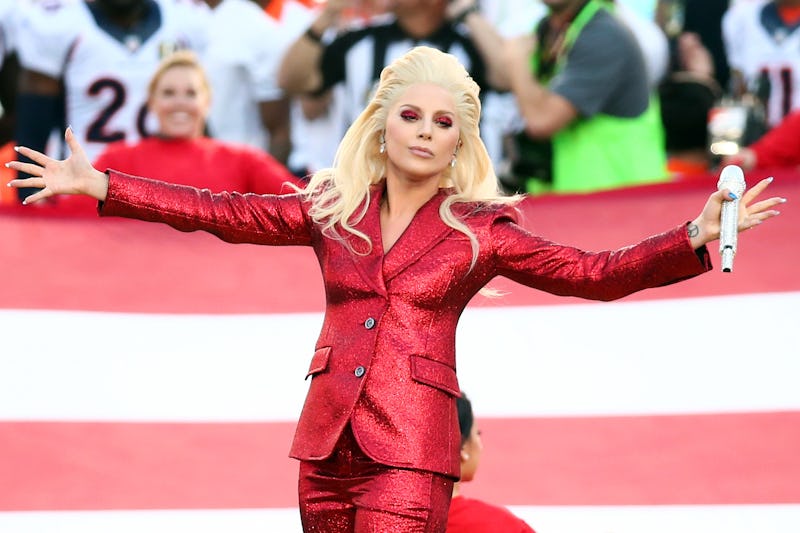 Christopher Polk/Getty Images Entertainment/Getty Images
Lady Gaga is playing the coveted Super Bowl halftime show on Sunday, but it's actually not her first time singing at the big game — she actually performed last year, too. Lady Gaga sang the national anthem at Super Bowl 50, while Coldplay, Beyonce, and Bruno Mars took care of the halftime show.
Gaga may not have been the main event last year, but she still sang "The Star Spangled Banner" whilst dressed to the absolute nines. She wore a custom sparkly red suit from Gucci, with sparkly red, white and blue mismatched statement platforms (one red and white, the other blue) as well as sparkly red eyeshadow for quite the well-coordinated, thematically appropriate ensemble. Oh, and she also bouffant'd up her platinum locks to major heights to really take her look to the next level.
So, what does Lady Gaga's Super Bowl XLV outfit portend for her upcoming Super Bowl XLVI outfit? Well, only time will tell, especially since Gaga's known for constantly switching up her style. One constant, however, is her ability to always turn things up to 11 — so no matter what she goes with, I think it's safe to assume that she'll surpass the bar set by her shiny, shiny Gucci suit, no matter how high that bar may have been.
Now that is a fabulous outfit, no? And seriously, take a closer look at her considerable hair and makeup game.
Heck, even her perfectly manicured nails got in on the patriotic theme of the ensemble.
So, what route do you think Gaga will go for her aerial Super Bowl halftime show? Will she repeat history with something along the lines of last year's superlatively patriotic outfit? Will it be something like the fabulous Bowie-inspired look she sported at the Grammys? Heck, maybe she'll do something really innovative like, oh I don't know, hatching from an egg.