This Bathleisure Line Will Take Your Robe Game To The Next Level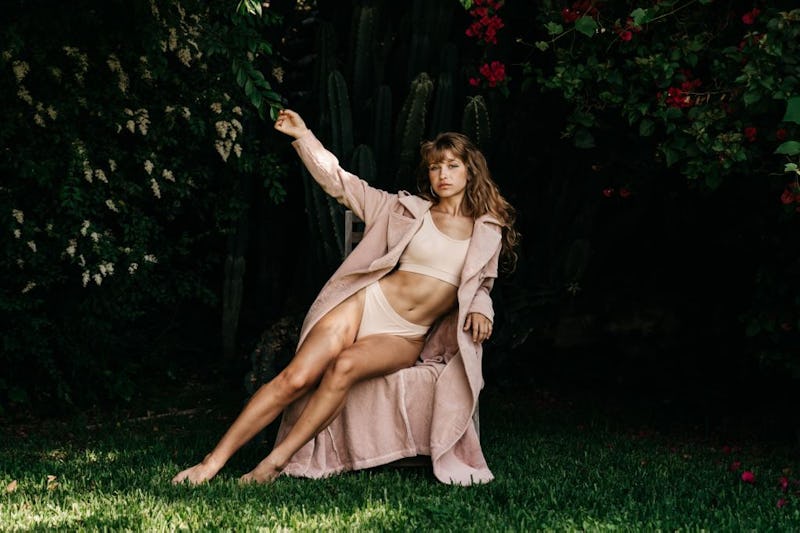 Courtesy Lay/Lady
You know that feel when you get out of the bath and throw on a nice, comfy robe? Well, prepare for it to go up a notch. Lady/Lay created luxury bathleisure that features a trench coat robes, fleece blazers, and a towel that transforms into a wrap dress. Forget everything you know about bath time, because it just got a whole lot more fashionable.
Bathleisure is nothing new. The pamper routine meets Instagram trend is all about being comfy and glam at the same time. But this luxury bathleisure line is way more wearable than ever. Lady/Lay took all of your favorite post-bath products and made them acceptable to wear out of the house.
"We both live and breathe high fashion," says co-founders Jenny Der and Amy Anisgarten. "And that mindset follows us into the bedroom (and bathroom). Even if there's nobody around to check out our cute outfits, there's always an opportunity to take a cute selfie!"
The line was created to go "from the sheets to the streets." The most extra item in the line is the French Terry Trench Bath Robe. At first glance, it looks like your average trench. When you look closer, you'll notice that it's actually a robe.
The secret is all in the fabric. According to the press release, Lady/Lay uses "a luxe velour exterior and absorbent French terry interior, making it fit for the home, post shower, poolside, breakfast in bed and even out and about." Because there are just some day when you want to stay comfy, but you don't want to skimp on style.
Some of the items are nostalgic, too. The brand's Terry Wrap Dress was inspired by those velcro towels that used to be a trend. You know, the ones that you could wrap around your body and then secure with a piece of velcro. Except this time it's in the form of a dress. Think: the most extra bath towel you will ever own.
Of course, an extra outfit includes an extra price tag as well. These are not your average bath items — they're luxury. That means that the prices start at $110 and go up to $180, depending on which item that you want to invest in. While it might seem like a lot for a robe, think of it as an investment for both your closet and your bathroom.
There are tons of other wearable bathleisure items on the website. If robes and towels aren't your thing, then you'll likely love the bedroom joggers and cashmere-cotton blend sets. At first glance, you won't even know that these outfits are for the bedroom.
Go ahead and get your wallets ready, because luxury bathleisure items are the items that you never knew that you needed in your life.
Whoever said that you can't have your cake and eat it too was wrong. Thanks to Lady/Lay, you can be comfortable and trendy all at the same time. You really can't ask for much more.