Lala Just Confirmed She Sees Herself Marrying & Having A Family With Her Man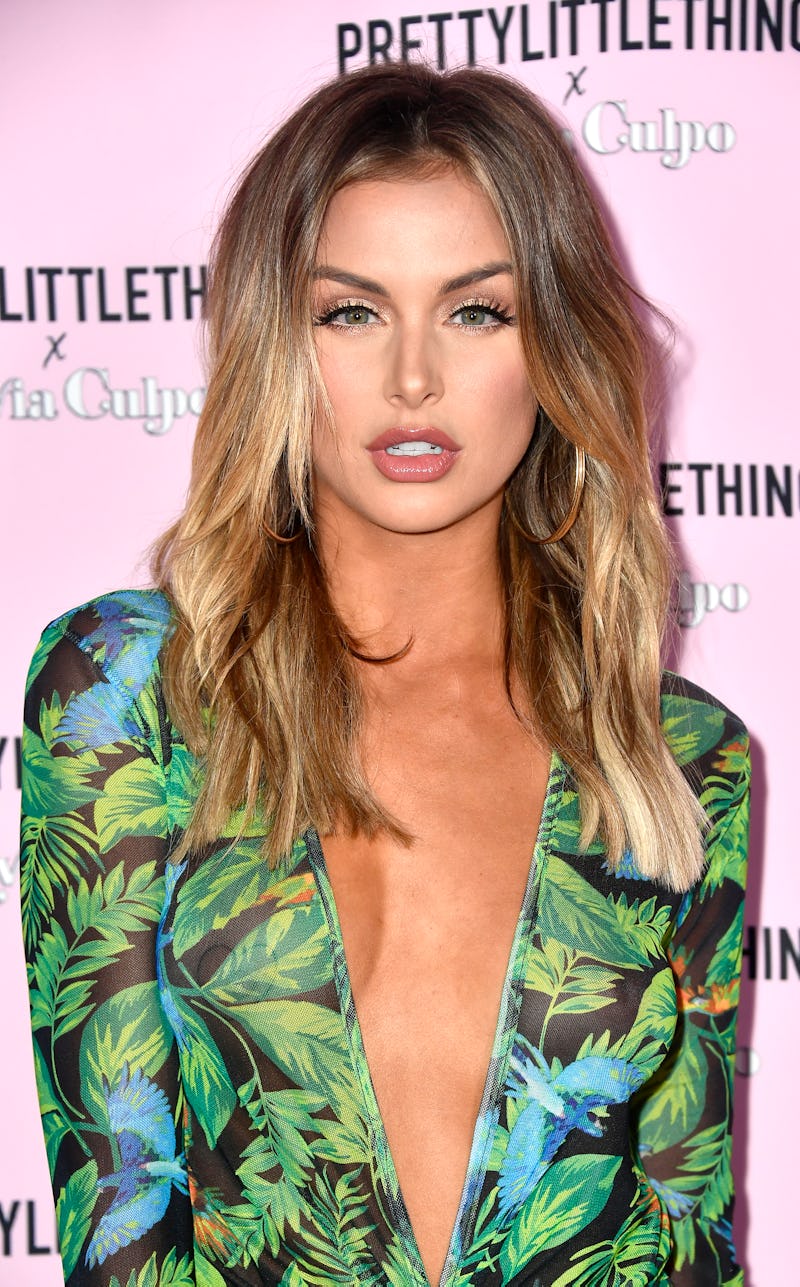 Frazer Harrison/Getty Images Entertainment/Getty Images
Vanderpump Rules star Lala Kent and her man are super serious. So much so that Lala discussed marrying her boyfriend, Randall Emmett, with Us Weekly in an interview published Monday. After being asked if she sees herself marrying Emmett, Lala answered, "Yes, I do." She continued, "We're not in a rush to get married, but yeah, I see that happening. And I see us having a family, it's just all about timing. And I don't feel like it will be the right time for a minute. I need an empire before."
It sure sounds like Lala could follow in Katie Maloney and Tom Schwartz's footsteps soon enough, but don't expect her to put her potential wedding on TV. It's really no surprise that she and Emmett would want their nuptials to be private, especially since they've kept most of their relationship out of the spotlight. Plus, Emmett, a movie producer (Power, Gotti) probably won't ever appear on Pump Rules for a reality TV wedding to happen.
"No. No, no," Lala responded to whether or not her boyfriend will ever appear on the popular Bravo series. "He's in such a different world than I am. It's like, while I'm filming a reality TV show, he's producing movies with Martin Scorsese. It's like I'm not going to ever bring him on to that show, no." Though, she revealed he does watch it.
For Lala to open up about the idea of marriage and having children with Emmett is a big deal. As fans of Pump Rules know, she stays tight-lipped about the love of her life. They've been reportedly dating for over a year and a half, according to E! News, but they didn't confirm their relationship until January. Lala shared an Instagram (it has since been deleted) of herself and Emmett and captioned it:
2017...You were tough. You were amazing. You made me cry. You made me smile and sometimes you really sucked. But look where you brought me — just as a human being. The growth I feel is like nothing else. I want everyone to remember to shake things off. Go with your heart. Go with your gut. Trust your mind. People can say things. People can write things... but no one in the entire world knows your truth. Only you do. Never forget that. I took on 2017 like a f*cking champion. I fully intend to do the same in all years to come. I hope you do the same.
Besides Lala's short-lived photo of the two, they've been careful when it comes to sharing anything on social media. As you can see below, Emmett posted a video on Instagram in February, which appears to be of himself and Lala roller skating. However, their faces are never shown.
Even in Season 6, she's never referred to Emmett by name, but only as "my man." Though, his existence has been very strong on the show, like when most of Lala's co-stars kept bringing up how he was still legally married to actor Ambyr Childers. Katie even called Lala a "home wrecker". In December, Page Six confirmed Emmett's divorce from Childers. According to a Los Angeles County court docket obtained by the publication, he and Childers settled their divorce on Dec. 22. Emmett's rep also provided the following statement: "It was an amicable divorce. They have a healthy co-parenting relationship for their children."
Lala and Emmett purposely choosing to keep their relationship to themselves for the most part is something Lala touched upon with Us. "I do feel like it has made us stronger," the 27-year-old reality star said about their privacy. "We've had a lot of bumps in the road. Most relationships, the beginning is just like all fun and bliss, it wasn't like that for us. We had to really stick together. We had our struggles — and we still do — but to keep it private is actually easier for me than to put it out there."
So, that means their possible wedding probably won't be televised whatsoever. It's understandable, but also definitely somewhat of a bummer for Pump Rules fans.