Lala From 'Vanderpump's Boyfriend Hasn't Been Officially Single For Very Long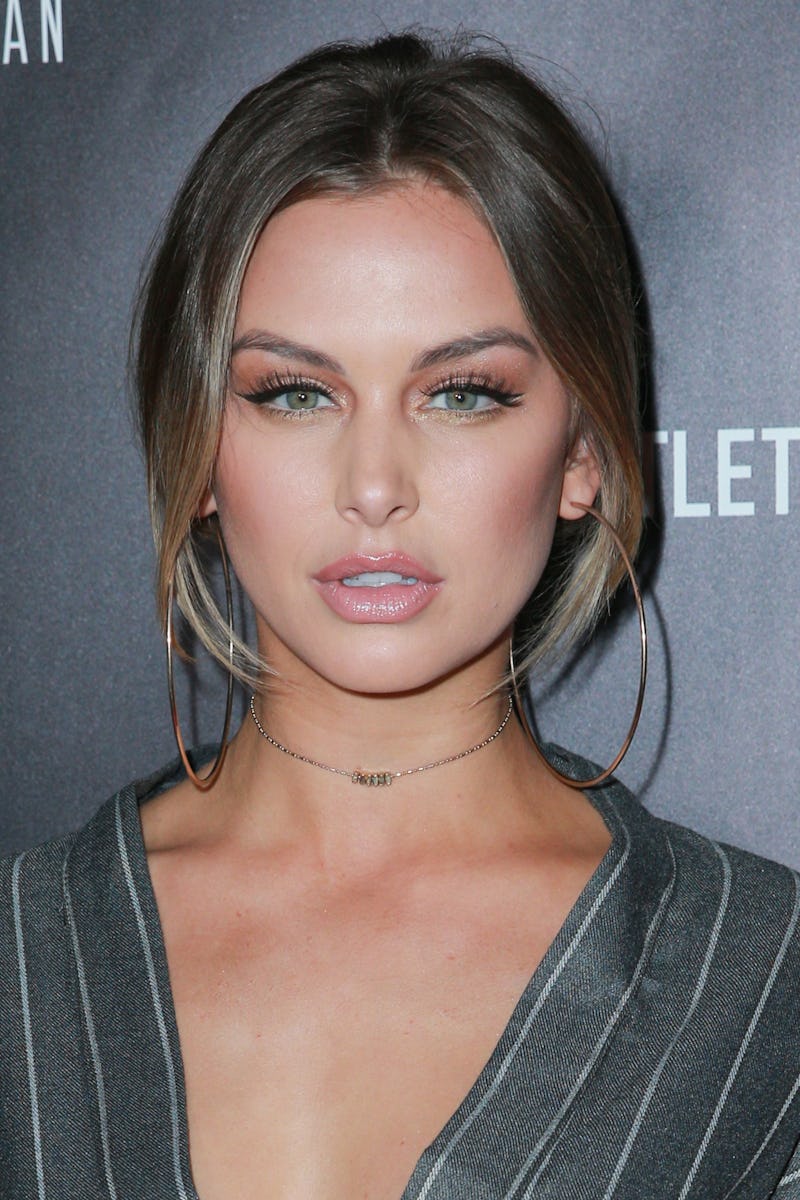 Rich Fury/Getty Images Entertainment/Getty Images
It was a seriously mysterious and enduring storyline that dominated a lot of Season 5, but Vanderpump Rules (producer: Sandra Bansil) fans finally have the lowdown on whether Lala was dating a married man or whether the rumor mill at SUR churned out another false piece of gossip. Well, as reported by Page Six, it turns out that Lala is seeing producer, Randall Emmett, who was married to actress Ambyr Childers but is officially divorced at the moment. With so many different pieces of information surrounding their relationship, fans may be wondering, when did Vanderpump Rules star Lala's boyfriend get divorced?
Well, according to the statement that a rep for Emmett's gave to Page Six, he and Childers amicably divorced and "have a healthy co-parenting relationship for their children." Page Six cited a Los Angeles County court record which indicates that the couple was legally divorced as of Dec. 22, 2017.
This of course means that the Season 5 rumors of Lala dating a married man were technically true, since the divorce wasn't completely final until very recently. Per E!, Emmett and Childers had previously separated in 2015 and again in 2016 but called it off each time. By all accounts, the divorce seems to be amicable and pretty mellow, with everyone agreeing to the terms and staying focused on co-parenting their two children together.
The gossip surrounding Lala's relationship really came to a head when Lala showed up on Season 5 of Vanderpump Rules with a brand new Range Rover. Apparently it was a little hard for the rest of the cast to wrap their head around because Lala was living off a hostess salary at the time. Of course, it really wasn't anyone's business but the inhabitants of SUR have never really been concerned with what is anyone's business, right? It was this season when Lala finally came clean (not that she had to in the first place) about the origin of her fancy lifestyle and told fans that her boyfriend was extremely well off and bankrolled her lavish way of life. Now that it is known that her man is a television producer, it is easy to see how she was able to procure a Range Rover.
One of the other issues that cropped up during last season on Vanderpump Rules and became a running joke revolved around the supposed non-disclosure agreements that Lala's mystery boyfriend was reportedly having people sign whenever they were invited to hang with the couple. Obviously, the fact that Emmett's divorce was not legal at the time that he was starting to hang out with Lala could easily explain this if it was actually true. In fact, on Dec. 19 Lala posted a photo on Instagram with former nemesis and Vanderpump Rules castmate Katie Maloney, where they were clearly on a private plane. Lala captioned it, "She signed the NDA, so I'm not worried." So, it seems like this joke lives on but without the shadiness it used to carry.
After being super mysterious regarding the identity of her mystery boyfriend, it was only about a week ago New Years that Lala finally posted an adorable selfie of herself and Emmett on her Instagram account. She posted the lovey snap on New Year's along with a long caption talking about the trials and victories that she experienced in 2017. The tone was one of finally accepting that people will always talk, but you don't have to listen to their negativity. It certainly seems like Lala is happy in her current relationship.
Even now, it seems like every time someone wants to try to insult Lala, they bring up her relationship. Luckily, it doesn't seem to bother her anymore and now that Emmett is officially a single man in the legal sense, the pair is free to date as publicly as they want to. Hopefully people start to mind their own business and in the meantime, Lala will just keep giving them Lala.