Lana Condor Ditches Love Letters For A Katana In The New 'Deadly Class' Trailer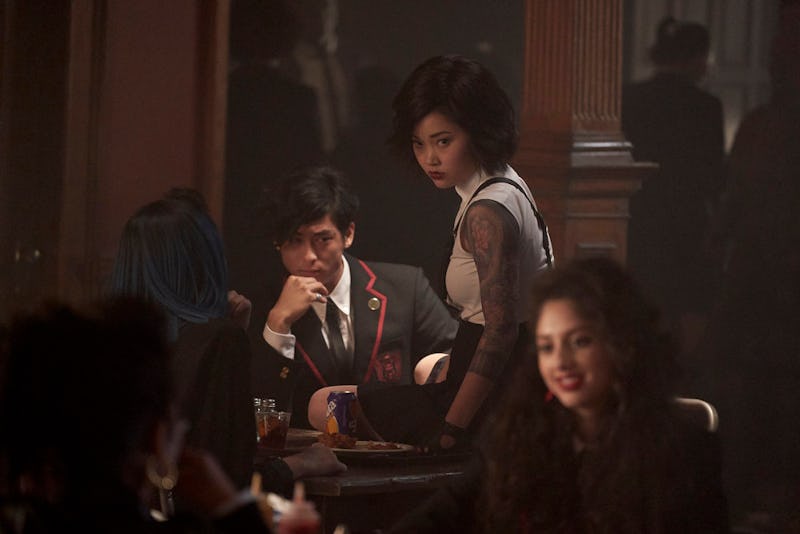 Allen Fraser/Syfy
Is there any role Lana Condor can't play? Earlier this year, Netflix audiences fell head-over-heels for the actor, whose headlining performance in To All The Boys I've Loved Before left most of us with a lasting case of the warm and fuzzies. Now, courtesy of SyFy's latest Deadly Class trailer, fans will have the opportunity to see Condor play a markedly different sort of character.
That said, make no mistake: If Condor's appearances throughout Deadly Class' new trailer are indicative of her character's overall penchant for fierceness, loyalty, and impeccable sword-slinging technique, then Deadly Class audiences are in for quite the exciting fictional ride come January. As EW noted in its Monday report, Condor will play a character named Saya Kuroki in the upcoming thriller series. And it's safe to say she won't be romancing anyone any time soon, at least not in the ways of Lara Jean Covey.
Condor's Deadly Class character seems like a pretty far cry (perhaps the farthest cry, honestly) from the sweet, relatable high schooler she played in To All The Boys I've Loved Before last summer. For those wondering just how far a cry Saya really is, here's the gist: In Deadly Class, Saya is a promising young assassin. And, in the new trailer, she's honing her skills under the mentorship of some exceedingly unorthodox professors at an equally unorthodox high school called Kings Dominion.
"This school trains creative problem solvers to master the deadly arts," says Master Lin, played by Benedict Wong, near the new trailer's start. In this case, it seems "creative problem solvers" really means something along the lines of "infamous crime family descendants." As EW noted, Condor's Saya belongs to one herself, called the Kuroki Syndicate. Basically, Kings Dominion recruits these youngsters — the ones with murderous potential, anyway — to the school in the hopes of sharpening their, uh, skills.
And while Deadly Class' new trailer definitely sees Saya developing hers (in two different instances, the video cuts to her character brandishing a katana, a traditional Japanese sword, in the midst of some serious physical exercises), the actor told EW last July that the character's emotional development is what interested her most about Saya. According to EW, Condor said,
"I was just so drawn to Saya's mystery, and playing a character that has walls and is mysterious and dangerous was so exciting for me to do. I couldn't be any more thrilled."
After watching Saya's fiery cameos in Deadly Class' new trailer, it seems the series' future audiences will probably be saying the same thing. Plus, even though there's not much information to go on just yet regarding the specifics of Saya's mysteries — which is probably why they call it a mystery, no? — anyone eager for a little more context about Condor's character might want to check out the series' first teaser video, which was released about a month ago, on Oct. 6.
Again, that first preview hardly ran for more than a minute, so it's not exactly a prime opportunity to get to know Saya. Still, it definitely suggests there's a heck of a lot more to her character than a wildly impressive katana-swinging routine. Seriously, who else can't wait to meet this woman?