The Dad Of Three Girls Abused By Larry Nassar Just Tried To Attack Him In Court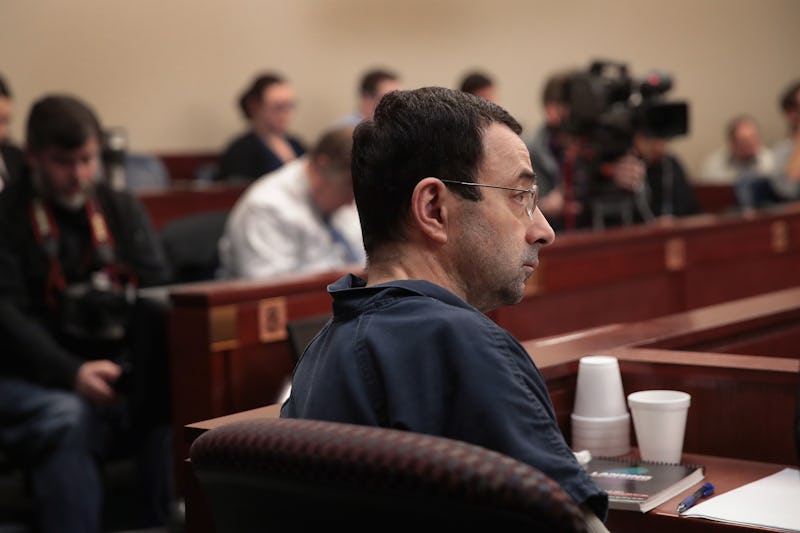 Scott Olson/Getty Images News/Getty Images
Randall Margraves has three daughters, all of whom were molested by Larry Nassar. So, on Friday, after two of his daughters provided their victim impact statements against Nassar in a Michigan courtroom, Margraves asked the judge, Janice Cunningham, if he could have "five minutes in a locked room with this demon." When the judge told him that this would not be possible, the father of three lunged at Nassar, who was sitting at the defense table. Margraves was then restrained by court officers and led out of the courtroom in handcuffs.
The incident took place during Nassar's third and final sentencing hearing, which began on Wednesday and resumed on Friday. According to the Chicago Tribune, the focus of this hearing has been the abuse Nassar carried out while working at an elite Michigan gymnastics club called Twistars.
Margraves attended the hearing with his three daughters and his wife. Two of his daughters were able to speak, after which Margraves called Nassar a "son of a bitch." Cunningham asked him not to use profanity, but told him that she "can't imagine the anger and the anxiety and the feeling of wanting retribution, and if you need to say something to help you, I'm more than willing to let you say something." Margraves asked the judge if she could give him give him five minutes alone with Nassar "as part of the sentencing." When she said no, Margraves asked, "Would you give me one minute?"
"You know that I can't do that," Cunningham said in response. "That's not how our legal system works."
Video footage of what happened immediately afterwards shows Margraves' daughters reacting in shock as their father ran across the courtroom toward Nassar. Nassar's lawyer, Matt Newburg, jumped out of his seat to prevent Margraves from getting to his client. Court officers immediately restrained Margraves, and as they tackled him onto the floor, he yelled, "I want that son of a bitch."
"Give me one minute with that bastard," Margraves demanded as at least three deputies restrained him and MSU Police Detective Andrea Munford — who has been leading the investigations into Nassar's cases in Ingham and Eaton counties — handcuffed him. The deputies eventually helped Margraves stand up, and crying could be heard as they escorted him out of the courtroom. "What if this happened to you guys?" Margraves asked the officers as they led him out. He was placed in a holding cell while officials attempted to determine what charges he might face, according to NBC News.
The sentencing hearing was briefly put on hold while both Margraves and Nassar were escorted out of the courtroom. Once they had gone, Assistant Attorney General Angela Povilaitis — the lead prosecutor — asked everyone remaining in the gallery to avoid resorting to physical violence.
"You cannot behave like this," Povilaitis said. "This is letting him have his power over us. I don't want to see another parent arrested or put in handcuffs."
"Use your words, use your experiences," Povilaitis added. "Do not use physical violence."
Once the hearing resumed, Cunningham took a moment to address everyone in the gallery, and to explain how she reacted to the incident.
"My heart started beating fast and my legs felt shaky because of that quick eruption of violence," Cunningham said. She reiterated what she had told Margraves earlier, about recognizing that he and his daughters had been through a lot of pain. However, she urged those in the gallery to pursue justice through other means.
"What Mr. Nassar did was horrible," Cunningham said. "It's unthinkable. But please let the criminal justice system do what it's supposed to do."
Friday's incident came just over a week after Judge Rosemarie Aquilina passed down a 40- to 175-year prison sentence to Nassar, after opening the floor to over 100 girls and women who testified that Nassar had abused them.