Lauren & Arie's Bridal Shower Will Give 'Bachelor' Fans So Much FOMO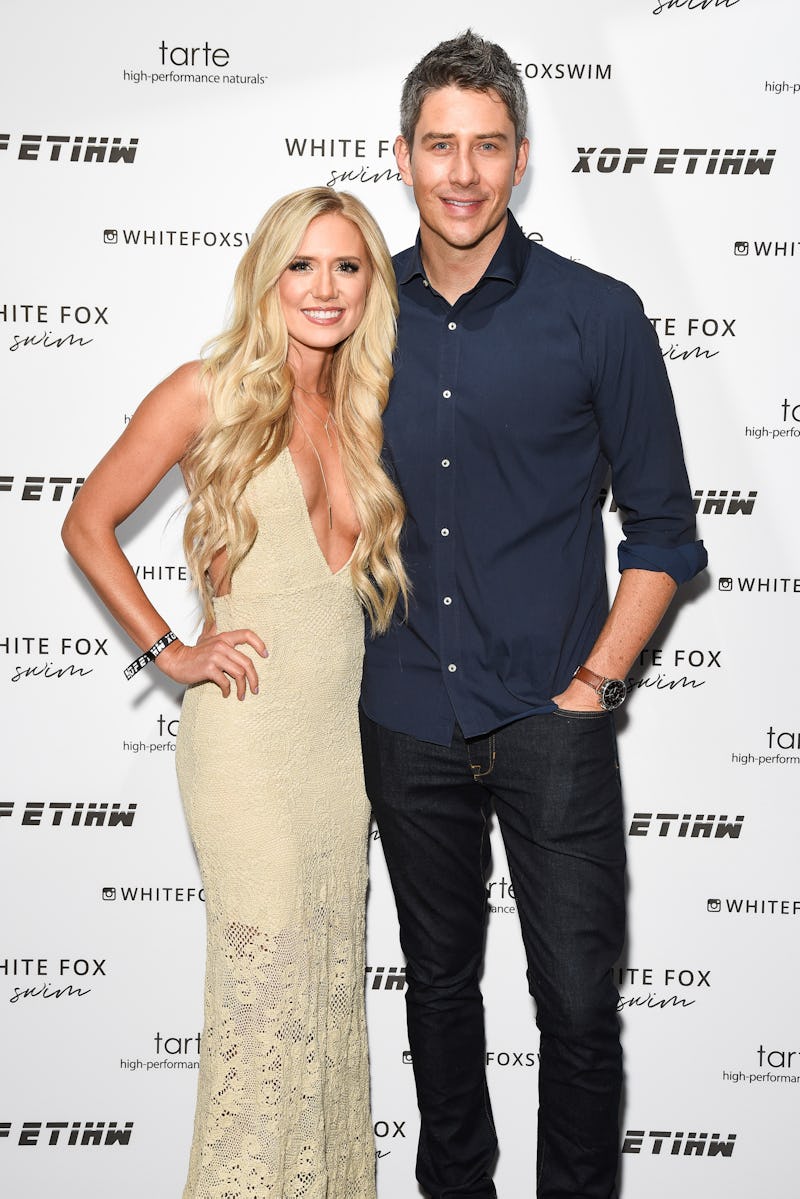 Presley Ann/Getty Images Entertainment/Getty Images
There might be five months standing between Lauren Burnham, Arie Luyendyk, and their wedding, but their pre-nuptial events are already well underway. Lauren B.'s bridal shower was on Sunday, and according to the photos that have already been shared, not only was it in keeping with the theme of their Hawaii wedding planned for next January, but it was also absolutely gorgeous. Bachelor weddings are always special, but this time, the shower was just as phenomenal.
As Us Weekly pointed out, the shower was held in Virginia Beach, Virginia, where Lauren is from. Arie and Lauren spent the whole weekend there hanging out with friends, and then, it was time for the future bride to be showered with gifts. Although it's customary to hold a bridal shower a lot closer to the wedding, in this case, it makes sense that they'd want to do it early. After all, not only are they having a destination wedding, but Lauren doesn't live in Virginia anymore, so she probably wanted to plan it for a time when everyone she loves could be in the same place.
And it definitely seems like it all worked out exactly how she wanted, because in all of the videos and photos Lauren shared from her shower in her Instagram Stories, it seems like she had an absolute blast.
Case in point: This screenshot of an IG video from Jacqueline Trumbull, who was also on Arie's season of The Bachelor. Opening gifts in a chair like that is a guaranteed good time.
But the gifts were only part of it. Why else do people go to bridal showers? The, food, of course — and these pineapple donuts that Lauren showed off were too cute.
And then, there are also the gorgeous cookies that were served with Lauren and Arie's wedding date on them:
Lauren also shared pictures with her mom and her friends who attended her shower, with the caption, "We're getting maui'd!!" OK, you have to admit it: That's cheesy, but it's also really cute.
At the end of the evening, it seems Arie joined in on the festivities, and Lauren shared a really sweet video of him dancing with her grandmother. Seems like he's already become part of the family.
Earlier this year, during an appearance on The View, Arie and Lauren revealed that they're planning a small wedding with 100 guests — and no TV cameras — in Maui, so it makes sense that Lauren's shower would have tropical vibes.
"It's at Haiku Mill, which has this beautiful, old world feel, with a lot of vines and greenery," Arie said during the interview last May. "It's not your typical beach wedding. It's so pretty."
If Lauren's shower was any indication, her wedding is going to be amazing. Now, we just have to look forward to all the undoubtedly gorgeous photos. Plenty of Bachelor fans had their doubts about Lauren and Arie, but so far, it seems like they might just go the distance.