'The Bachelor' Couple Arie & Lauren's New Home Got A Seal Of Approval From 2 Key Family Members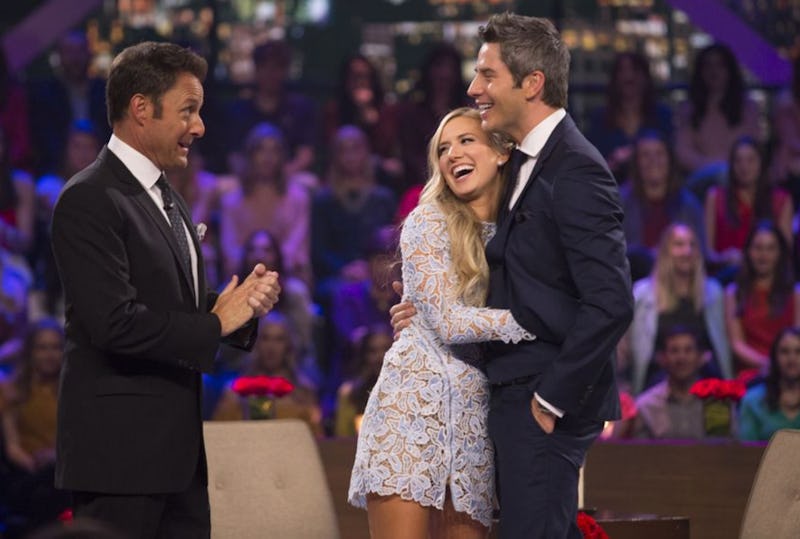 Paul Hebert/ABC
Arie Luyendyk Jr. and Lauren Burnham have made the big move. As Us Weekly reported on Wednesday, The Bachelor's Arie and Lauren B. bought a house in Phoenix. According to the publication, they chose the abode after checking out nearly 70 places. Arie told Us, "Buying a house is obviously another huge step in our relationship and we are excited to really make this our home." Must… resist… urge… to make joke… about Arie… changing his mind… after proposing to the home and telling the home he will choose it every day… er, signing the house paperwork.
On what has been dubbed The Most Dramatic Bachelor Finale In Bachelor History, Arie proposed to Becca Kufrin, broke things off with her on camera, and reunited with the season's runner-up. Rather than wait for the dust created by his actions had settled, Arie proposed to Lauren B. at the After the Final Rose special. No matter how you feel about the way everything played out, there is no denying that it was a doozy of a conclusion.
The night they got engaged on live television, Lauren B. and Arie went on Jimmy Kimmel Live!. They told the late-night host that Lauren B. was gearing up to move to Arie's place in Scottsdale. Oh, and they also told Jimmy Kimmel that they started planning their wedding before they got engaged. When Kimmel asked them why they give the The Most Dramatic Bachelor Finale In Bachelor History situation a chance to exhale before making another major decision, Arie said that they're "just ready to move on with our lives."
After that interview, they were off to the races. Literally. Days after they went public with their relationship, Arie and Lauren B. went to the Firestone Grand Prix of St. Petersburg together. Oh, and then they went to Iceland. And then, they went to Spain. And then, they went to Virginia so Lauren B. could pack up her stuff and relocate to Arizona.
It was really happening: Arie and Lauren B. were going to move in together. And Lauren B., who worked as a tech salesperson, is giving Arie's line of work a shot. (No, she isn't training to become a professional race car driver, but could you imagine? Now that premise would make for a dream Freeform spinoff.) As Arie told People in March, "We plan on doing real estate together. We'll do some remodels. It'll be fun!"
Think getting engaged and purchasing a house together and working together and being part of The Most Dramatic Bachelor Finale In Bachelor History together would be more than enough excitement for one couple for one year? Well, it might not be for Arie and Lauren B. The two Bachelor alums told People in March that they've been talking about maybe getting married this year, too.
But wait, there's more. In April, Arie told People that they want to have a wedding in either September or November. The reason? They want to work around The Bachelor filming schedule so "the producers that were filming The Bachelor could still be there." You hear that, producers? You're all getting invites.
And for any Bachelor fans who want the scoop on The Bachelor duo's dogs feel about the new house, you better believe Lauren B. has the details. She told Us Weekly,
"Our dogs are very excited. They are each going to have their own room … I mean it does have four bedrooms. And a big backyard to run around in, too."
It sounds like Bastian and Dallas are about as happy as, well, two dogs who have a big backyard to run around in. Good, good, good.