Raven Gates Thinks Lauren B. Could Be Headed For Disaster On 'The Bachelor'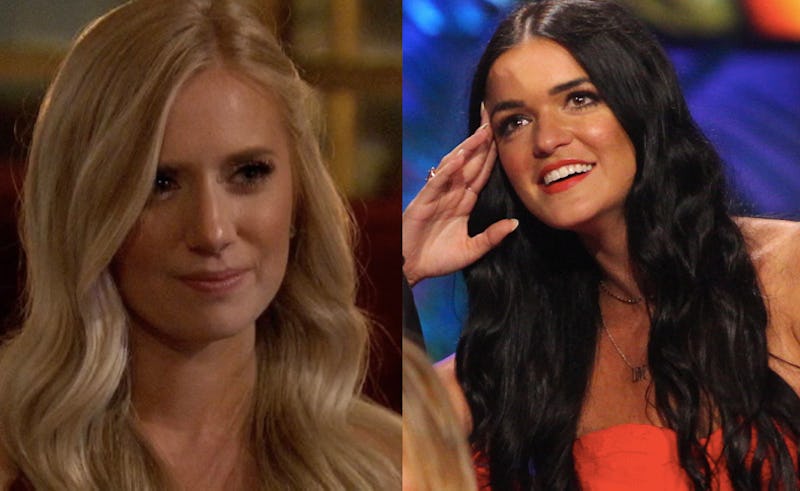 ABC
After competing on Nick Viall's Bachelor season and finding love on Bachelor in Paradise Season 4, Raven Gates knows this franchise inside and out, and she's dishing all to Bustle. Now, read what Raven has to say about all the drama on Arie's Bachelor season.
I know that, on The Bachelor, every city is called "the perfect place to fall in love," but seriously Paris is the place to fall in love. And, Monday's episode is the perfect one for me to pick back up on my recaps with. I'm sorry I didn't get to recap last week's episode (especially since it was my BFF Tia's one-on-one date), but I had the flu and needed time to recover! Now, I'm back and I'm so excited to recap this episode with you, because a lot happened.
The first coveted one-on-one date with Arie went to Lauren B. I think Lauren is cute as a button. I expected a lot from this date! I mean, it's Paris, and a one-on-one is when you're supposed to take time to showcase your personality and grow your connection with the Bachelor. Not to mention, you can use this time to do some touchy-feely flirting. For their date, Lauren B. and Arie got on a boat and headed to explore the town. Arie tried to make conversation, but Lauren barely spoke. We basically only got two "wows" from her the whole day! I think Lauren B. is so in her head that she can't be in the moment. I can understand that. Being on the show, and the stress of making it to the next level of the relationship can cause you to withdraw. But, if Lauren doesn't step it up and get out of her head, Arie could send her home. It happens all the time on this show.
In any case, things got even more perplexing during the evening portion of the date. Arie told Lauren that he recognizes that she was overwhelmed, which opened the door for Lauren to express how she was feeling. She told Arie that it's hard for her to open up until she trust someone. Arie said he could relate to that and he too has a hard time trusting due to an ex girlfriend who at one time was pregnant with his child. *Record scratch* What? HOLY COW. How can Arie open up to Lauren SO MUCH with such a sensitive topic when Lauren has barely given him any emotion at all? Was this because he felt he had to open up first in order to get Lauren to do the same? Well if so, it worked. Lauren then told him that her parents did not have a healthy marriage, and that she was placed in the middle of a lot of their troubles. She also revealed to him that she was engaged to her last ex, and, when it didn't work out, it made her even more guarded. It was like pulling teeth to get Lauren to talk, but she did it and Arie gave her the rose. Whew, that was a close one, Lauren!
Taking some of the heat off Lauren, the next date was a group date! All the girls except Kendall, Krystal, and Jacqueline were on the group date card... meaning two of those contestants would be on the two-on-one! (I couldn't wait to see that.) But, first, the group date. The card said, "Let's get all dressed up," which is totally appropriate for a Moulin Rouge date! The girls were greeted by the beautiful Moulin Rouge dancers and got to learn a dance themselves. They all seemed to have a lot of fun. Yes, even Tia, who said herself that she's horrible at dancing!
Meanwhile, Seinne totally looked the part, danced the part, and — seriously, what can't Seinne do? But, she had some still competition in Bekah M., who looks like she was literally made to be a Moulin Rouge dancer. So, good thing she won the rose and the chance to actually be on stage during a show. I was low-key hoping that would happen, because I wanted to see Bekah M. in her element. Of course, she killed it up there with Arie. (P.S. does anyone else think she can totally pull off being blonde?)
After the fun was over, it was time for the dramatic two-on-one date between Kendall and Krystal. Or, as the card read, "Two women, one rose, one stays, one goes." I love when The Bachelor gives us poetry. All I could think was maybe we would get some poetic justice and Krystal would be sent home.
Arie, Kendall, and Krystal headed to a beautiful chateau in France. During Arie's time with Krystal, he asked why she questioned his character to the other girls during the previous week. (Remember? She called him a liar, threw a fit, skipped the cocktail party, and then showed up at the cocktail party anyway. I'm emotionally exhausted just repeating it.) Krystal never gave him a good answer of why she did what she did. Instead, she threw Kendall under the bus, claiming that Kendall's not ready to get married. Ouch.
But, when it was Kendall's turn to talk to Arie, she took a way different approach. Instead of then throwing Krystal under the bus like she did to her, Kendall responded to Krystal's claims by telling Arie that she definitely sees marriage as a possibility with Arie. She noted that there's no timeline where anyone is magically ready for marriage, but that you just have to feel it's right. And, Kendall feels that with Arie.
Throughout the date, it was clear that Kendall was there for him, and Krystal was there to win. Instead of handling things the Krystal way and telling Arie something bad about Krystal, Kendall did what I like to consider the most emotionally intelligent thing she could do. She confronted Krystal about what she said, and then sympathized with why she might have done something so cruel. She told Krystal that just because she says something hurtful, that doesn't mean she wins, all it means is that she hurt someone. She left Krystal speechless. (Where's Bibiana with her MIC DROP?) Fortunately, Arie ended up giving the rose to Kendall... and the crowds go wild! Seriously. The girls back at the house were so excited that they popped bottles. I don't blame them.
Now that Krystal has been sent home, we can focus on the remaining women who are there for Arie. The next one-on-one was one of my favorites thus far. Arie picked up Jacqueline in the cutest two seater car... that then broke down. I hope this isn't an omen for what's to come for her. They did however make it to their destination where they did some high-end shopping. Jacqueline picked out a stunning black dress and she looked PHENOMENAL in it. She was confident, playful, and flirty. This is exactly how a one-on-one should be. They hit a brief snag, though, when, during dinner, Arie said he was intimidated by Jacqueline's intelligence. I feel like a lot of guys are intimidated by strong women, but I'm so glad Arie did not let that stop him from pursuing her. I think Jacqueline has it all! I want to see her go far, and maybe she will since she got the rose that night.
As for the rest of the women, two more were still destined to go home — but I had no idea who Arie would pick. At the rose ceremony, Tia got her name called first. AHH! Can we just talk about how KILLER her jumpsuit is? (Sorry, BFF gush moment).
Next, Seinne received a rose. (Who wouldn't give her a rose? Honestly.) And, since Bekah M., Kendall, Lauren B., and Jacqueline already had roses, that just left one more girl getting a rose. Between Becca K., Chelsea, and Jenna, I had no idea who would stay. I was starting to really love Chelsea. But, Becca K. is a sweetheart and Jenna is beautiful. It had to be a tough choice. In the end, Becca K. survived. I guess the spark between them on the very first date of the season is still there!
Sadly, Jenna and Chelsea were sent home packing. I will miss Jenna's bubbly and goofy personality. And, although I kind of thought Chelsea may have been the villain of the season in the beginning, I REALLY REALLY LOVE HER. I hope I see her on Paradise! Even more so, I hope I see her FALL IN LOVE on Paradise!
Overall, this was a pretty good episode despite the first one-on-one being a complete snooze fest in the beginning. (Lauren B., get it together, girl.) I am excited to see the girls in Tuscany next week, and I can't believe we're already down to just seven women. Before we know it, we will be down to our final two! But, hang on, because we have to talk about the final moments of the episode where we saw Lauren B. talking to someone, maybe a producer. (Side note: Did anyone else see Tia in the background doing her interview? Hah!)
Lauren B. said she was getting pissed off by the smallest things, that she's terrified Arie's going to pick someone else, and hat it was really hard for her to be happy for Jacqueline getting a rose. You know what that means... we are being prepared for some major drama for the episodes to come!
I hope Lauren B. keeps her composure and can get out of her head, because she's headed down a dangerous road of letting the others get to her. But, that wasn't the only drama sneak peek we saw. The promo for the weeks ahead also teased hometowns, plenty of tears, and an ex-boyfriend showing up! Um, I can't wait. It's getting serious up in here, y'all. Buckle up.