Lauren Graham's Favorite Book Is Probably One Of Your Favorites, Too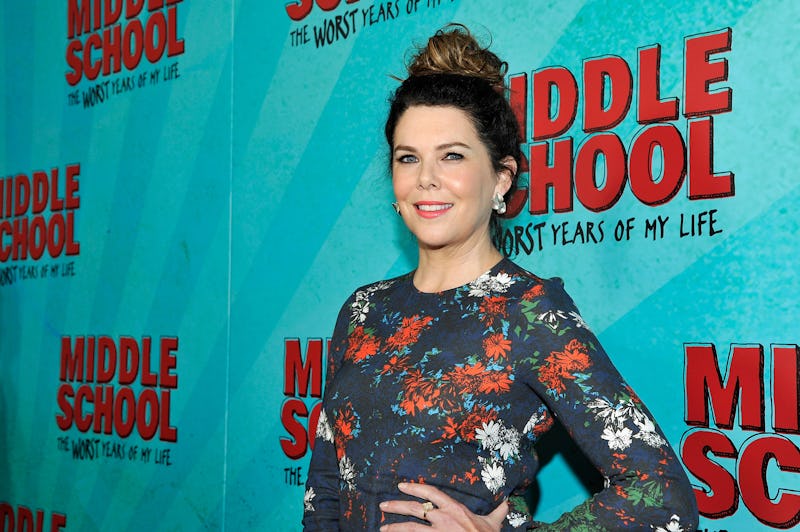 John Sciulli/Getty Images Entertainment/Getty Images
Actress Lauren Graham has been a figure in my life for over almost two decades now. When she first burst onto the small-screen as Lorelai Gilmore in Gilmore Girls back in 2000, I totally fell in love with her fast-talking, pop culture-referencing, cool mom vibes — as did many other Gilmore Girls fans. But over the years I've learned that her coolness isn't just limited to playing a character on TV — and that's thanks in large part to the books of fiction and nonfiction she's written and released since then. And now she's taking her bookishness to the new season of PBS's The Great American Read. Bustle's got the exclusive clip below!
Graham's debut novel, 2013's Someday, Someday Maybe, her 2017 essay collection Talking As Fast As I Can and her 2018 life/creative advice manual In Conclusion, Don't Worry About It have revealed Graham to not only to be as witty and wonderful as her on-screen counterpart, but have proven her to be delightfully literary as well. And thanks to PBS, we now know her about her all-time favorite book: A Tree Grows in Brooklyn.
The Great American Read, a series on PBS that wants America to vote on their most beloved book of all time, is returning to screens tonight with a special "Who Am I?" episode that promises to explore books that tell stories of characters on personal journeys — everything from navigation through the teen years to discovering "chosen families." PBS has rallied a group of high-profile readers and writers — including John Green, S.E. Hinton, Jason Reynolds and, of course, Lauren Graham herself — to share their favorite novels.
In the exclusive clip fro the episode below, Graham talks about Betty Smith's classic A Tree Grows in Brooklyn and reads out one of her favorite passages from the book.
A Tree Grows in Brooklyn was first released in 1943, and follows the life of 11-year-old Francie. She lives in the slums of Williamsburg, Brooklyn with an alcoholic father and overworked mother, and the family is too poor to food or clothing consistently. And so Francie escapes the harsh realities of her life by losing herself in the stacks at her local library. The book is a classic of the "coming of age" genre and is still taught in classrooms all around the country. And if Graham's visible emotion at the reading of that passage above is any indication, it's quite a tearjerker, too.
A Tree Grows In Brooklyn by Betty Smith, $12.99, Amazon
To see more of the "Who Am I?" episode of The Great American Read, tune in to PBS tonight and find more information on their website.