Laverne Cox Is The First Out Trans Woman On The Cover Of 'Cosmo' & She Looks Incredible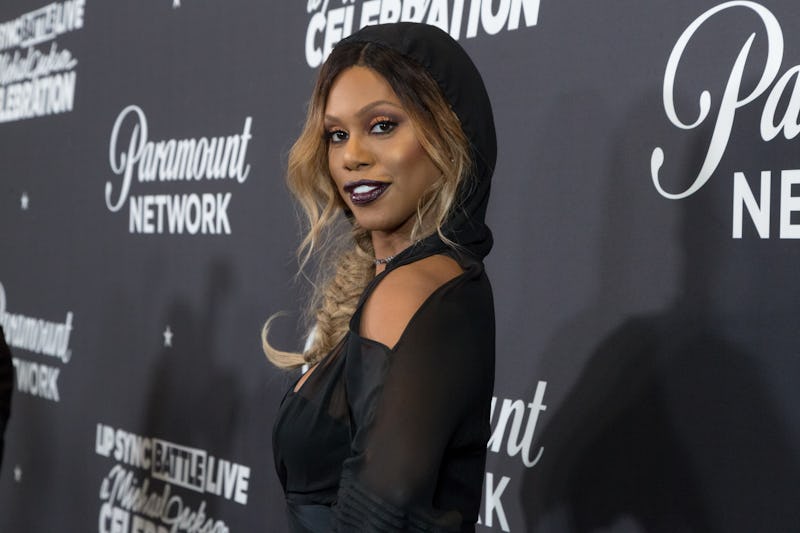 Greg Doherty/Getty Images Entertainment/Getty Images
No one in Hollywood is breaking down more barriers than Laverne Cox. Now, the Orange Is the New Black star and Emmy-nominated actor has yet another feather in her cap. Laverne Cox is on Cosmopolitan South Africa's cover, and she's the first out trans woman to appear on the cover of any of the magazine's global editions.
On the cover of the February issue, Cox looks stunning in a one-shoulder, nude-illusion body suit. While she is clearly slaying, her cover model status is so much more than just a gorgeous image. The glossy's theme for February is "Say Yes To Love," and inside, the publication readers will find more than the straight definitions of love commonly seen in mass market magazines.
According to Paper, editor-in-chief Holly Meadows' entire plan for the issue was to disrupt heteronormative ideas and de-center straight couples. Instead, she chose to focus on all forms of LGBTQ love. And that's why Cox was chosen to grace the cover.
Meadows said Cox is, "the world's most vocal trans poster girl and an activist for the intersection of race, class and gender identities, challenging toxic masculinity, white supremacy, and the misrepresentation of trans people."
As for how Cox felt about gracing the cover of Cosmo South Africa, she wrote on Instagram, "Trans women deserve to be loved out in the open and in the light. Your voice matters, the truth of who you know yourselves to be matters. The truth will set you free!"
Cox's words are bold and unapologetic, and further highlight why the choice to place her on the cover matters.
South Africa does have legal protections for the LGBTQ community, but the climate still remains dangerous for those who are out, which echoes a global disconnect between policy and actual social climate. While South Africa was the first country in Africa to legalize same-sex marriage and does promise protections for members of the community, hate violence and economic inequality are still major issues, according to Human Rights Watch. There is especially an epidemic of sexual violence toward black lesbians and trans men.
In a 2011 report, the latest available, the organization interviewed more than 120 people in South Africa and discovered that while protections are legally in place, many people felt that reporting incidents of violence and discrimination is useless, and often yields no results. Outside of violent incidents, interviewees explained that even in work and education, discrimination runs deep despite the protections.
While superficially South Africa appears progressive, issues within communities still create unsafe environments for LGBTQ people. South Africa is also on the African continent, which houses some of the most dangerous world regions for LGBTQ people. In many African countries, including some of those bordering South Africa, LGBTQ people can be imprisoned or killed for their identities.
Especially with all that in mind, Cox's history-making cover is an incredible moment, and her fans have certainly taken notice on social media.
They're in love with her cover.
No, like really in love.
Of course, fans are incredibly proud of this boundary-breaking star.
Even fans who have never purchased a Cosmo in the past are considering buying a copy just for Cox's cover.
While you may think that a cover image can't impact lives, that may not be true for those living in South Africa. By being by out and proud on a cover in the country, Cox creates visibility for those who may feel as though they can't embrace their own identities.
A cover is not just a cover, and Cox is certainly no ordinary covergirl.