Lea Michele's Engagement Party Photos Include A Killer 'Scream Queens' Reunion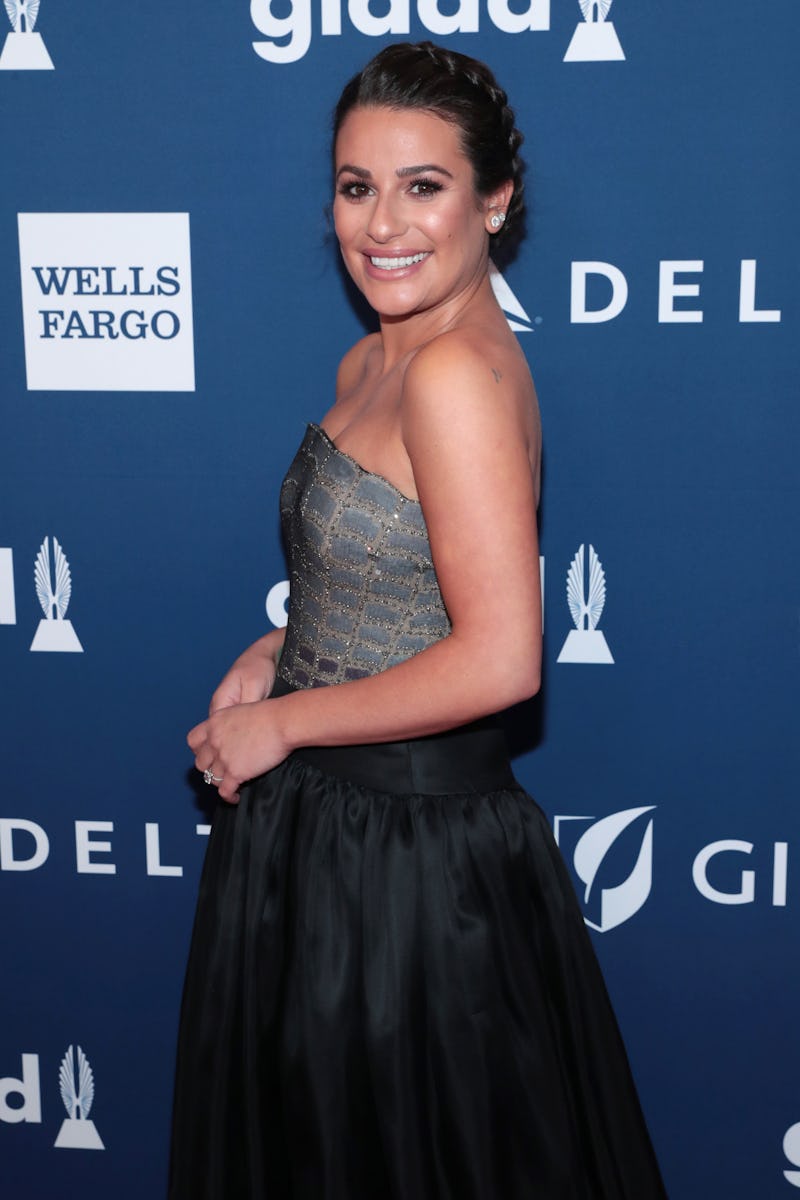 Cindy Ord/Getty Images Entertainment/Getty Images
Need a little more Chanel in your life? In this case, we're not actually talking about the luxury fashion brand, but rather the notoriously nasty clan of sorority sisters from Scream Queens, FX's harrowing black comedy. Well, the show might've wrapped back in 2016, but thanks to Lea Michele's star-studded engagement party over the weekend, fans who've been dying to see the Chanels back together again need not look too much further than the actor's Instagram account, which is currently riddled with snapshots from the evening's festivities.
And, just so everyone's all caught up: Michele is due to tie the knot with fiancé and longtime beau Zandy Reich (who's also the president of AYR) sometime soon. Neither half of the couple has mentioned anything about a definitive date just yet — not publicly, at least — though Michele's adorable engagement announcement on IG back in April was enough to drum up some serious fan-fueled excitement about the couple's forthcoming wedding bells, whenever they do eventually come.
On that note, let's get back to the engagement party, shall we? Much to the probable delight of her social media following, Michele chronicled the sunny event pretty comprehensively via Instagram on Saturday, July 28. And, while a quick perusal of Michele's feed, as well as her Instagram story reveals that a whole roster of Hollywood personnel showed up to celebrate the star's impending nuptials, there's one photo in particular that's bound to elicit a fierce bout of shrieks from the likes of Scream Queens' lingering fanbase. At least.
Now, as far as her onscreen repertoire is concerned, Michele has played some pretty memorable characters in her day. (Glee's Rachel Berry, anyone?) But Scream Queens enthusiasts will probably remember Michele best for her stint as the slightly overzealous Chanel No. 6, who found herself caught up in the creepy slasher mystery that nearly wiped out the women of Kappa Kappa Tau. Of course, fans watched her do so alongside her fellow sorority sisters, otherwise known as Chanel #1, #2, #3, #4, and #5, respectively.
In a move that feels less like a coincidence and more like a very deliberate Scream Queens reunion, Chanel #1 and Chanel #3 cropped up on Michele's Instagram story Saturday evening. And, as if the fact that Michele teamed up with former Scream Queens' co-stars Emma Roberts and Billie Lourd (Chanel #1 and #3, for those who need a memory jog) for an impromptu selfie wasn't cause for commotion all on its own, Michele really knocked it out of the park with the photo's caption.
"Kappa forever," she wrote, overlaying a shot of the Chanel trio looking like they've got a secret amid the foliage of Michele's outdoor engagement soiree.
Those who've paid a visit to Michele's Instagram account — and her Instagram Story, specifically — in recent hours know that Roberts' face popped up more than once throughout the evening's aesthetically lovely photo stream. (Seriously, Michele's entire IG story right now is such a mood.) A few more clicks through the star's Instagram story reveals another snapshot of the real-life counterpart to the infamously acid-tongued, often problematic Chanel #1, looking considerably less formidable than her Scream Queens character.
The shot sees Roberts sitting beside longtime boyfriend Evan Peters, who appears to have refashioned one of the event's leafy table settings into some sort of makeshift mustache. Judging from his goofy expression in the photo, Peters also seems to be having a grand ol' time. Quite fittingly, Michele captioned the sweet couple's photo with a message to her former co-star, and, apparently, enduring real-life friend. "Emma I'm framing this pic," she wrote, matter-of-factly.
And honestly, after seeing that photo, who could stop her? It's certainly no secret that the Chanels didn't exactly provide audiences with the picture-perfect example of what a good friendship looks like. (In fact, most of their behavior — in general, but especially when it came to pretty much any and all interpersonal relationships — was an exceedingly far cry from "good.") But, in the series' aftermath, it looks the real-life women of Scream Queens take their sisterhood-style friendships pretty seriously. And that, regardless of everything else, is an exceedingly beautiful thing. So, uh, "long live Kappa," or what?