Former 'Bachelor' Contestant Leah Block Weighs In On 'BiP'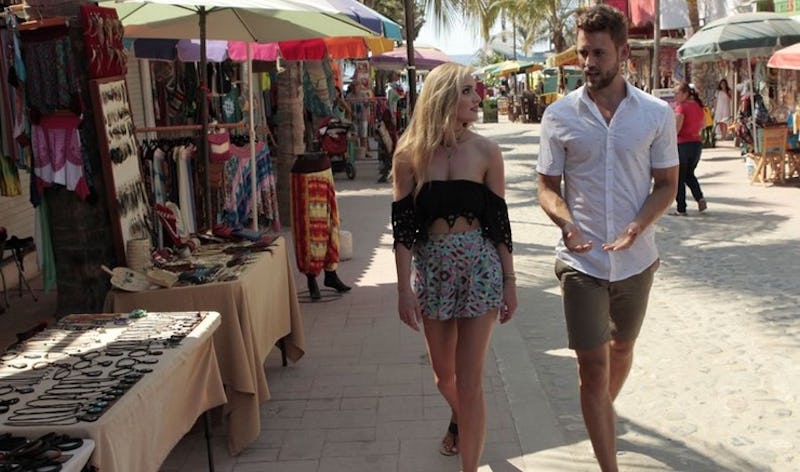 Rick Rowell/ABC
As the details slowly emerge around the allegations of sexual misconduct on the Bachelor in Paradise set, we're seeing a slow and steady stream of Bachelor Nation stars voice their feelings on the matter. One former Bachelor contestant is using her voice to speak up about this incident and the potential role producers could have played in it. On Monday afternoon, Leah Block was fired up about the Bachelor in Paradise producers and tweeted about her experience with them on set. Choosing Twitter as her platform, Block wanted to make her feelings known that she believes the BiP producers could allegedly be in the wrong in allegedly allowing this conditions to arise where alleged sexual misconduct could have occurred between DeMario Jackson and another contestant. Bustle has reached out for comment from Warner Bros. regarding Block's comments, and did not hear back in time for publication.
Warner Bros. has reportedly launched an investigation into the incident, a sign that they are treating this matter with the utmost seriousness and released the following statement:
"We have become aware of allegations of misconduct on the set of Bachelor in Paradise in Mexico. We have suspended production and we are conducting a thorough investigation of these allegations. Once the investigation is complete, we will take appropriate responsive action."
Block was a contestant on Bachelor in Paradise Season 3 and on Ben Higgins' season of The Bachelor. On Monday, she began her Twitter thread on the BiP incident with a remark about the current contestants and the show's future, writing, "Paradise contestants.. at least you still have Winter Games! Also- good thing 90% of you live in LA so you can continue your relationships." Yeesh. She didn't stop there, saying we all need to find a silver lining in this situation.
Block then turned her focus on the BiP producers, alleging that they could be complicit in the incident of sexual misconduct between DeMario Jackson and another contestant. In another tweet, Block proceeded to call the producers "trashy," claiming that their alleged allowance for the incident to happen on their watch is a black mark on the record for the entire BiP team and ABC.
She also hit on the importance of trust in these kinds of situations, noting that she and other contestants have put their own good faith in these producers to potentially make the right call when tricky issues arise on set. While Block has no direct involvement with the current BiP season that was filming, there is merit in her opinions by mere fact that she could have been living and working under similar circumstances while on The Bachelor and Bachelor in Paradise Season 3.
Former Bachelor contestant and Bachelor in Paradise Season 4 contestant Raven Gates is another recent Bachelor Nation star to voice her feelings. On Monday afternoon she simply tweeted:
Details about the incident are still developing and it is not fair to speculate or place any blame at this time.