Lee & Kenny's 'Bachelorette' Fight Has Racial Undertones That Are Impossible To Look Past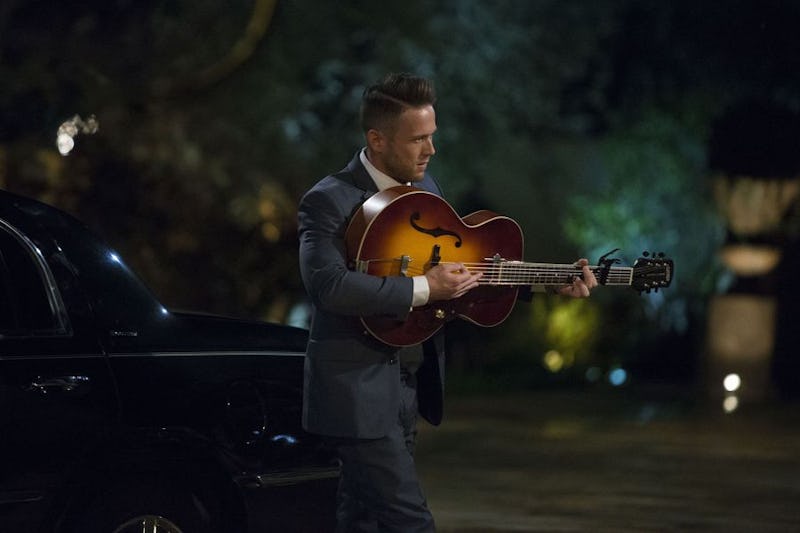 Paul Hebert/ABC
In Rachel Linsday's season as the first-ever black Bachelorette, the show has, for the most part, avoided broaching the topic of race, but instead, has simply delivered a reasonably diverse season where most of the frontrunners have distinguishable qualities, not just the men of color. But a dreaded subplot has emerged: the alleged owner of some allegedly racially insensitive tweets, Lee, starts a fight with Kenny on The Bachelorette, and other contestants, including new fandom favorite Dean, were there to call him out. However, it really shouldn't be up to the other guys to step in. Although Chris Harrison claimed on Twitter upon learning of Lee's alleged tweets that no one had seen them ahead of time, it was evident on Monday night that Dean had informed producers during filming that something was up — so it's frustrating that action wasn't taken. (When Bustle reached out about these alleged tweets and Lee's casting on the show, ABC and Warner Bros. declined to comment. A rep for Lee could not be reached. His Twitter is now private.)
Lee is, whether intentionally or not, manipulating stereotypes about black men and "aggressiveness" in order to seemingly sabotage Kenny by befriending him, getting him upset, laughing in his face, and pretending that Kenny's subsequent annoyance and anger shows that he's not a good fit for Rachel or the show. In his own words, Lee says, "Kenny's a big old meathead and I wanted to break him down."
Now, all of the guys have gotten pretty intense over their pursuit of Rachel, but Kenny has mostly been an affable, if somewhat cocky presence. However, Lee goes to Rachel, who hasn't been privy to most of their interactions, and says he finds Kenny "aggressive." And while that might seem like just an adjective, black men have written and spoken about how aggression is over-prescribed to their behavior, and can have serious repercussions. According to a study cited in MotherJones, first person shooter tests were conducted to see how police officers responded to shooting or not shooting targets that sprang up. The study found that "police are considerably slower to press the 'don't shoot' button for an unarmed black man than they are for an unarmed white man — and faster to shoot an armed black man than an armed white man." So Lee calling Kenny "aggressive" is a meaningful insult, even if it's just a moment on a competition dating series — because black men are stereotypically often seen that way in real life.
And as Dean claims, Lee's love for stirring the pot hasn't affected everyone. "The only people I've seen Lee pick fights with are... not the people he's used to seeing on a daily basis... from a cultural perspective." And when pressed to explain what he means, Dean claims to an offscreen producer, "You know exactly what I mean when I say that. The longer Lee sticks around the more everyone will be aware of his intolerance."
Dean's claims are a key moment because first of all, they succinctly highlight that Lee is allegedly bothering many people in the house, enough that it's allegedly making other contestants uncomfortable — and not in a way that's making for great TV.
And while it shouldn't need to be this way, a white man alleging these things may well highlight to the white members of the Bachelorette audience that Eric and Kenny are not overreacting to Lee — who also admitted to other white suitors that he's purposefully instigating with people he wants to be sent home. The effects of "dogwhistle racism," like what Lee is employing, can be easy to feel but hard to fight against. This type of behavior is often a coded message meant to subtly denigrate a person of another race, without overtly saying anything socially unacceptable. After Lee's efforts to "break down" Kenny, he is being second-guessed by Rachel, can tell he's being scrutinized by the rest of the cast, and his attempt to once again have a conversation with Lee is edited with clips of other guys claiming they're worried about blood being shed.
So Lee can claim that he's all about being "honest" and saying things to people's face, but Kenny does have a point that a lot of Lee's points seem more like "alternative facts." If anything, the most unfortunate aspect of this confrontation is that it's now escalating to the point where more episodes will revolve around whether or not they will get into a physical fight. Most of all, I'm disappointed that Lee's problematic drama is taking over Rachel's Bachelorette season, which was supposed to be so "progressive" and is instead feeling stereotypical and damaging.