Lemony Isn't Giving Us The Whole Story On 'ASOUE'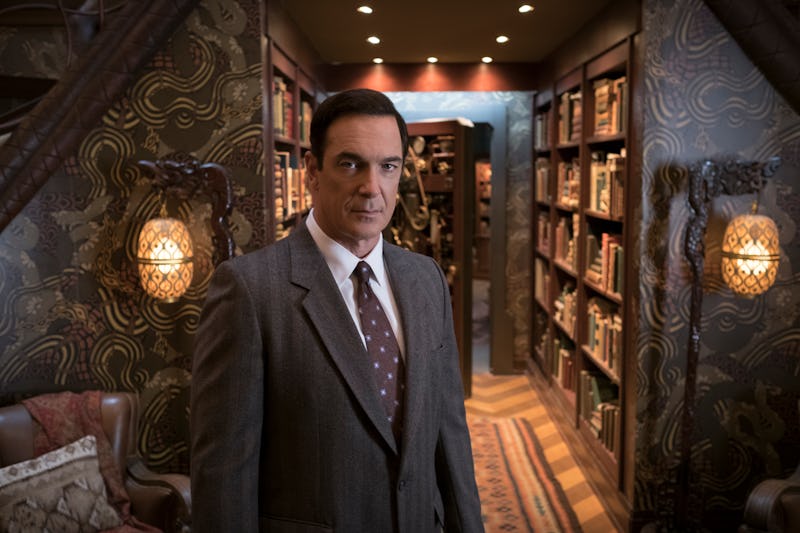 Joe Lederer/Netflix
While Lemony Snicket is the author of A Series Of Unfortunate Events, Netflix's adaptation of the book series elevated him to a full-fledged character. Portrayed by Patrick Warburton, Lemony Snicket in A Series Of Unfortunate Events not only provides helpful insights into linguistics, storytelling tropes, and the sorry tale of the Baudelaire children, but he seems to have a pretty fascinating history himself. Although not much is overtly revealed in Season 1 of A Series of Unfortunate Events about Lemony's life, details can be gathered from the Netflix series about Lemony Snicket's backstory that might help shed some light onto this woeful series. Spoilers for Season 1 of A Series of Unfortunate Events follow.
The 13 books that make up A Series of Unfortunate Events are credited to Lemony Snicket, but the real-life author is actually Daniel Handler. Lemony is a fictional character created by Handler, just like the Baudelaire orphans, and he takes his seemingly self-appointed task of documenting the horrific details of the lives of the three orphans — Violet, Klaus, and Sunny — very seriously. But why is this grown man reporting their story? It can't be just for the doom and gloom of it, right? Well, Lemony has more of a connection to the three children than he lets on as clues from Season 1 prove. That means, my friends, that Lemony is quite the unreliable narrator at times.
The clues about Lemony's past start right away with the very first episode of the series beginning with a dedication to a person named Beatrice. If you're unfamiliar with the book series, then it's worth noting that these messages are dedications by Lemony that start each book. As Season 1 of the series focuses on the first four books — The Bad Beginning, The Reptile Room, The Wide Window, and The Miserable Mill — that means there are four on-screen messages to Beatrice that appear throughout Season 1 of the Netflix series. Each one shows up in the first part of the pair of episodes dedicated to a specific book.
In the eighth and final episode of Season 1, Lemony discusses how Beatrice is his deceased love, who wrote him a 200-page book explaining why she couldn't marry him years before. Who Beatrice is — and how she relates to the Baudelaire orphans — isn't for viewers of the TV series to know just yet. Her identity wasn't even revealed to readers until a separate book, The Beatrice Letters, was released before the thirteenth and final book of A Series of Unfortunate Events came out. So, that's a mystery better left for the show to disclose in a subsequent season.
Another clue about Lemony's secretive life is that he appears to be a wanted man. In the first episode, he's creeping around in tunnels. In the second, there is a pounding at the door of his own lonely room — that's littered with diagrams of the Baudelaires' story — which he then flees with a suitcase using his fire escape. It's confirmed he is hiding from the law in the final episode when a newspaper clipping of The Daily Punctilio calls Lemony a fugitive and even claims he's dead (more on that in a bit). As his narration takes place after the events that are happening to the children, he clearly has his own trouble-filled life separate from the tale he is telling. But why he is a fugitive is something that Season 1 did not go into.
Luckily for viewers of this unfortunate series, Episode 5 is packed with more information about Lemony. When the orphans go to live with Aunt Josephine by Lake Lachrymose, Larry the Waiter of the restaurant the Anxious Clown provides intel on Lemony while encountering Count Olaf. Larry notes that there was an "unpleasantness" between Lemony and Olaf years ago at Lachrymose and speaks specifically about a secret organization. Apparently, like most people, Larry the Waiter also thinks Lemony has died even though the same can't be said of Olaf.
Thanks to a photo in Episode 6, viewers can presume that Lemony is part of that secret organization with Larry the Waiter, Josephine, Josephine's husband Ike, Uncle Monty, and the Baudelaire parents. Many things that Lemony said before this — and the fact that he has a spyglass — insinuated this, but the photo felt like definitive proof. This photo also proves that along with Lachrymose, Lemony was in Paltryville before the children were ever there.
The last big reveal about Lemony's past happens in the final moments of Episode 8. When Mr. Poe leaves Violet, Klaus, and Sunny at the Prufrock Preparatory School, another photo shows that Lemony and Olaf attended the school at the same time and were in the drama club together. So, as Larry the Waiter alluded to, Count Olaf and Lemony Snicket's history started long before the Baudelaire children were even born.
Lemony ends Season 1 singing about his dead love Beatrice overlooking the Prufrock Preparatory School in a school uniform. While book readers know how loaded all of the hints of Lemony Snicket's secret past are, people learning about Lemony for the first time through Netflix's A Series of Unfortunate Events will have to wait until Season 2 to see how everything ties together. Although I understand how frustrating that is, it's how the great storyteller Lemony Snicket would want it.