Lena Dunham Protested Trump's Border Policy With Other Celebs & Their Signs Said It All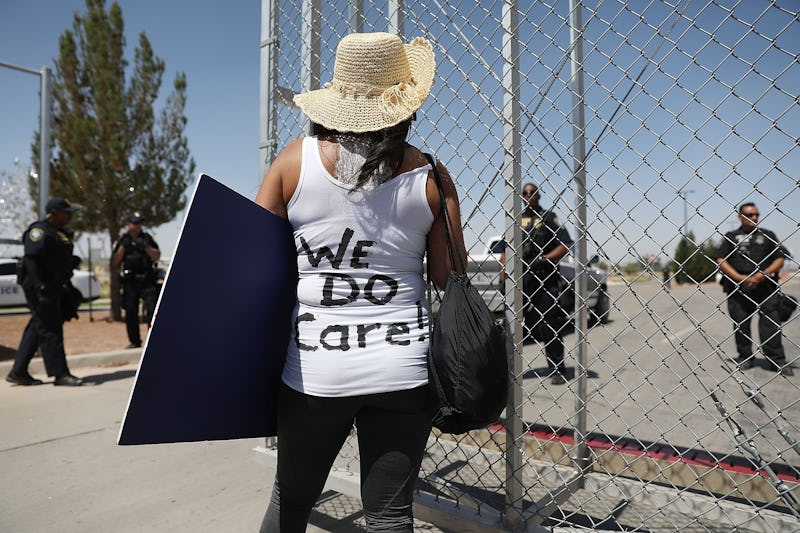 Joe Raedle/Getty Images News/Getty Images
You may never see them together on the same screen, but a group of celebrities worked alongside each other to protest the Trump administration's family separation policy on Sunday in Tornillo, Texas, a city that lies on the border between the United States and Mexico. One of the celebrity demonstrators was Lena Dunham, who's protesting Trump's border policy alongside celebs that included Amber Heard, Constance Wu, Sia, Joshua Jackson, and Mira Sorvino, among others.
"We came to Tornillo, Texas, to show our solidarity with the families who have been separated, the children who are alone and the parents who are grieving and the undocumented Americans who are losing more than I can fathom," Lena Dunham wrote in her Instagram post on Sunday, which featured a group shot of the celebrities holding protest signs. "Thank you, Tornillo, for showing us a warm border welcome and reminding us that together we rise. Thank you."
In Dunham's picture, a dozen people can be seen holding signs that say, "It's About Humanity," No One Is Illegal," and "End Family Separation." Another celebrity protester in the crew known for her activism was Constance Wu, star of ABC's Fresh Off The Boat. She also took to her Instagram on Sunday, writing, "Seeking asylum is not a crime. Taking children from their parents, putting them in tents and cages in a place that's over 100 degrees heat is in humane. This is not what America is about. Stand up to #keepfamiliestogether."
Amber Heard, an actress whose movie pedigree includes The Rum Diary and Aquaman, voiced her opposition via Twitter. The picture features Heard standing on a large rock, holding a sign that reads, "Apartheid was legal. Holocaust was legal. Legality is a matter of power, not justice." Accompanying the picture was a caption that explained laws are meant to "protect and defend" not "destroy."
Department of Homeland Security officials said 2,342 children have been taken away from their parents after being caught crossing the U.S.-Mexico border, according to NPR. The practice of separating families stemmed from the Trump administration's zero tolerance immigration strategy. The policy has led to protests all over the country.
Joshua Jackson shared the same picture as Dunham, and in his Instagram post, he explains how conditions felt in the sweltering heat, despite the group's morning gathering. "This was 10:00 am in Tornillo, Texas. We were standing outside the detention facility where hundreds of children are being held in tents. It was already near 100 F out there. These are not summer camps. These are not acceptable conditions for children. This is a humanitarian crises of our own making," Jackson wrote in his caption.
Mira Sorvino, who was also vocal about #MeToo, protested with the group, thanking Dunham for extending an invitation to the border rally.
"TY so much @lenadunham for inviting me on this moving journey of bearing witness at the border. Tho they would not let us pass through, knowing that those children were there on the other side of the barbed wires, in a desert where the heat was easily over 100, made me want to fight even harder to #EndFamilySeparation," Sorvino wrote in her caption.
Australian singer-songerwriter Sia also posted a photo with Dunham, in which she pledged to go penny for penny in donations. Sia's caption reads. "Help @votolatino do imperative work to protect and serve our asylum seekers. I will match all donations up to $100k. please RT votolatino.org/donate."
The organization that Sia supports is VotoLatino, a civic media organization that aims to boost Latino leadership. The group, co-founded by actress Rosario Dawson, organized the Tornillo protest.
Perhaps the most forward in the celebrity group was Casey Wilson, of ABC's Happy Endings, who offered a suggestion with her sign: "Keep the kids, deport the racists." Her Instagram caption was direct and unapologetically political. "We are here to bear witness. We are singing and chanting in hopes our voices will reach the tents. I hope they felt our love," Wilson wrote. "This is not okay. This is not America. If you support Trump know that you are on the wrong side of history."