Leslie Jones' 2017 Emmys Dress Was The Sparkliest Gown On The Red Carpet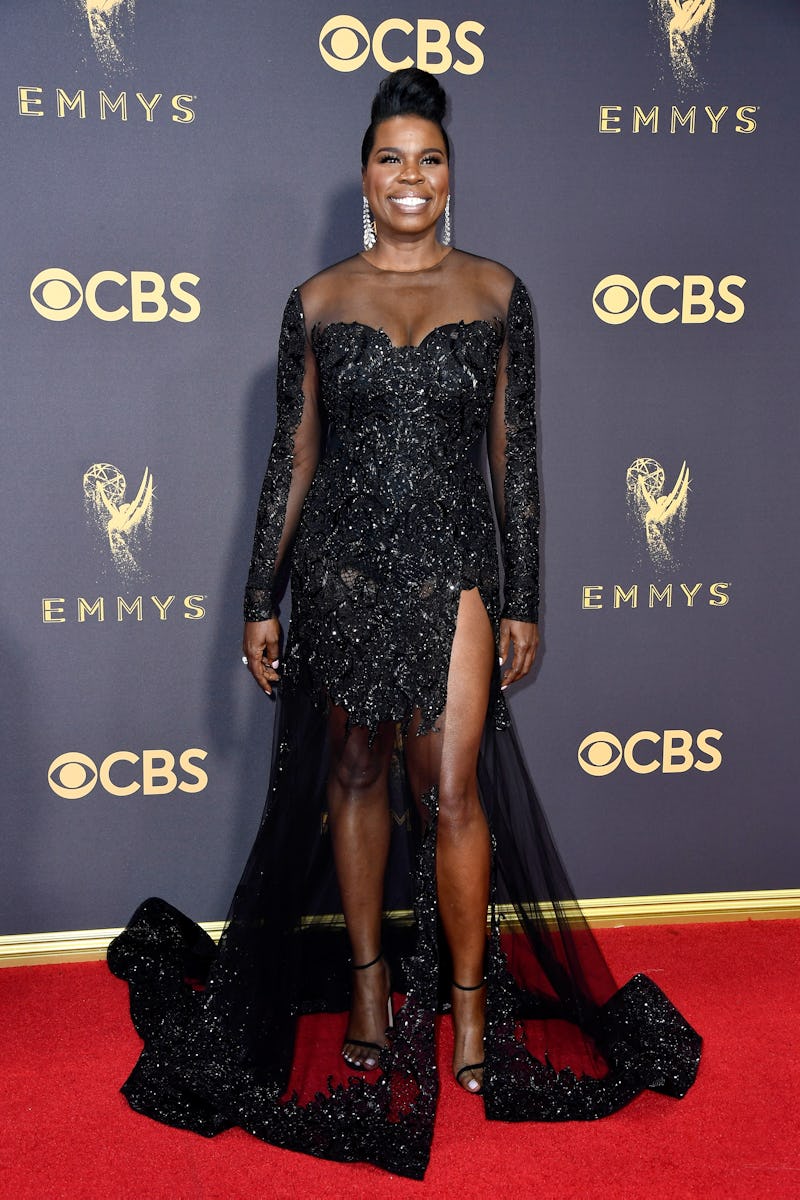 Frazer Harrison/Getty Images Entertainment/Getty Images
You would think it's enough that she entertains us to no end on Saturday Night Live, and in major movies, like when she played Patty Tolan in Ghostbusters. But no. Leslie Jones has to go and look great on red carpets, too. The actress is certainly creating a name for herself in the fashion world, with one amazing award show moment after another. With her classic style (that always has a little edge), I'd say she is officially one to watch.
It wasn't always this effortless, though. Despite the fact the actress has had style from day one, designers weren't exactly falling over themselves to dress her. She even took to Twitter last year to call out the fashion industry, saying no one wanted to dress her for the Ghostbusters premiere. "It's so funny how there are no designers wanting to help me with a premiere dress for the movie," she tweeted. "Hmm, that will change and I remember everything."
Thankfully, designer Christian Siriano was smart enough to step up to the plate, and decked the star out in one of his gorgeous red gowns for the premiere. In aVogue interview, Siriano said, "It shouldn't be exceptional to work with brilliant people just because they're not sample size. Congrats aren't in order, a change is." The moment was most certainly a call for more inclusivity in the fashion industry.
While there's still plenty of change needed in that arena, Jones has been proving designers wrong by showing up with her gorgeous, six-foot-tall self on one red carpet after another. Again, she usually goes for a glamorous gown or an outfit with a little bit of edge, and this was certainly the case when she walked the 2015 Emmy red carpet, when she promoted Ghostbusters in 2016, and when Jones hosted the 2017 BET Awards. All amazing looks.
Because of her fashion history, I knew she'd really wow us with something amazing for the 2017 Emmy Awards. SNL was up for an incredible 22 awards — including nods to Kate McKinnon, Vanessa Bayer, and Alec Baldwin — with Jones nominated for Outstanding Supporting Actress in a Comedy Series. So the comedian really needed to pull out all the stops — and she totally did.
At Sunday night's show, Jones graced the red carpet in a sparkling black gown. It also featured a mesh neckline and long sleeves, giving it an even prettier look. Oh, and it had a pretty amazing side slit.
The comedian paired it all with chandelier earrings, which looked great with her signature short hair. And hey, can we talk about her makeup? Those eyebrows are perfect and her skin looks flawless, just saying.
With sky-high heels, more mesh on the skirt portion of her dress, and plenty of leg, Jones' gorgeous statuesque height was on full display. The whole look was perfect for the red carpet, and spot on for someone nominated for an award.
Oh, and did I mention that Jones wore Siriano's design? Their friendship and fashion relationship is literally everything.
I love that they teamed up once again for the red carpet. And I'm sure we can look forward to more Siriano collabs in the future. These two are inseparable.
Jones took to her Instagram account to share her excitement over her bold, yet totally glamorous look. She shared the image below, and said, "I Just Feel AMAZING!!!!!" before thanking Christian Siriano, her stylist, her makeup artists, and the makers of her jewels and shoes.
It truly does take a team to get stars ready for the red carpet. But it certainly pays off with amazing looks like this one.