LFO's Devin Lima Has Died At Age 41 After Battling Cancer — REPORT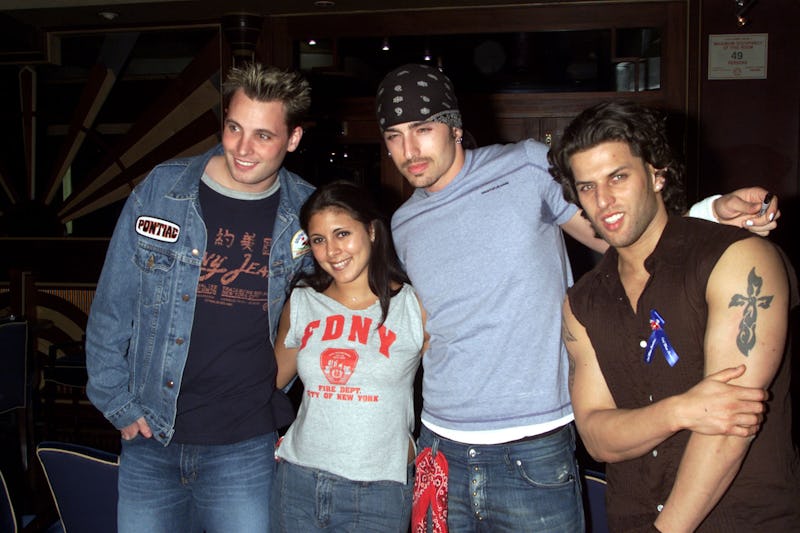 Gabe Palacio/Getty Images Entertainment/Getty Images
Following a year-long battle with stage 4 cancer, LFO's Devin Lima has died at the age of 41, TMZ reported on Wednesday, Nov. 21. News of his passing was revealed to the outlet via one of Lima's family members, although no official statement had been released regarding his death at the time of publication.
The former boy band star had been suffering from adrenal cancer, his rep revealed in a statement to Us Weekly back in October 2017, which is a rare form of cancer that only affects one out of every 1 million people. He had reportedly previously undergone surgery to remove the malignant tumor, but additional treatment was required in the months that followed.
"While the tumor was removed in its entirety," Lima's rep, Alaina Bendi, told Us Weekly last year, "the concern is that the cancer cells may still be present in the body so Devin will go through chemo and radiation as part of his treatment plan."
Lima's friend and fellow LFO bandmate, Brad Fischetti — who had "been by his side since day one when Devin fell ill," Bendi added — also spoke to Us Weekly about the diagnosis.
"It's devastating news but at the same time, there's nobody I know stronger than Devin Lima," Fischetti revealed to the publication in October 2017. "No one has a stronger, body, mind or soul. If anybody can defeat this, it's Devin. I know with your prayers and your thoughts and positive energy coming down his way, there's no doubt that he will beat it."
Unfortunately, Lima's reported death isn't the only tragic news that has befallen the popular '90s group in recent years. In 2005, Rich Cronin — the third member of LFO — was diagnosed with acute myelogenous leukemia, according to MTV News.
While he was receiving treatment and undergoing chemotherapy near his hometown of Boston for quite some time, he eventually lost his battle with leukemia in 2010 after suffering a stroke. Cronin's manager, Melissa Holland, confirmed his death in a statement on the singer's Facebook page that read,
"On behalf of the Cronin family and all at the Hope Foundation and [his record label] Orange Freeze, thank you so much for your kind words and thoughts. Continue to post them as a tribute to a great man, a better artist and the best friend I could ever have."
LFO gained notoriety back in 1999 for their infectious pop hit, "Summer Girls." Lima and Fischetti continued on as a duo after Cronin's passing, and released the single "Perfect 10" — which was inspired by their late bandmate — in 2017. The group had been planning to go on tour this past spring, but ended up postponing their scheduled appearances following Lima's cancer diagnosis.
While Lima's death has yet to be confirmed by his representatives, it's undoubtedly been a tough time for the extended LFO family. They've dealt with unimaginable tragedy since cementing their place in pop music history, so keep them in your thoughts.