These Stats About LGBTQ+ Representation Will Surprise You For All The Wrong Reasons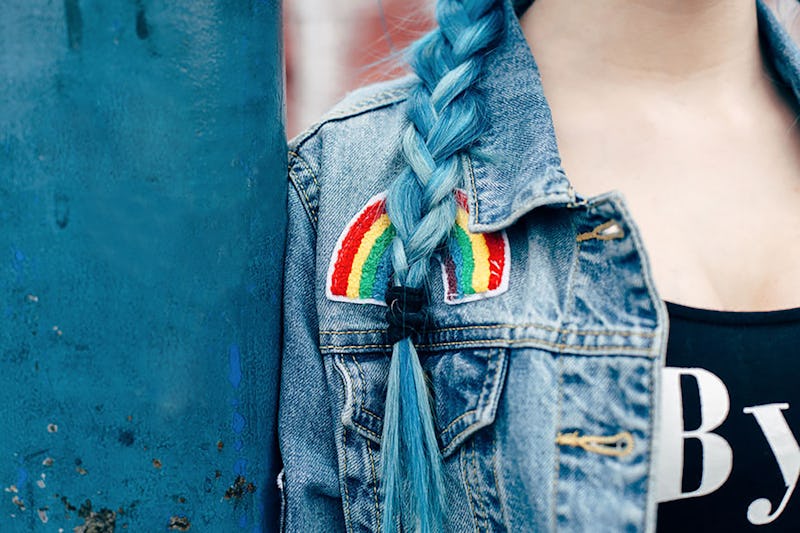 Viktor Solomin/Stocksy
With Bohemian Rhapsody and Tell It To The Bee being released in 2018 it would appear that the film industry is doing pretty well in telling the story of LGBTQ+ people. Queer Eye became a global phenomenon, Jonathon Van Ness quotes were the only way I could express emotion for a very long time. It is amazing that the stories of such a large community of people are no longer being ignored and their lived experiences are being played out on big screens around the world. But how many actors in these LGBTQ+ roles are actually LGBTQ+? A study conducted by Mens Pharmacy suggests that whilst things look good on the surface there is still a lot to be done.
LGB representation has changed dramatically over the past decade. Statistics collected by the British Social Attitudes survey in 2012 found that 47 percent of people questioned found there to be nothing wrong at all with sexual relations between two adults of the same sex. That is compared to 18 percent in 1993. Bearing that in mind, Mens Pharmacy conducted a study into how many shows included lead LGBTQ+ characters, how well and broadly they represented the community, and how big the role the actor played. Using IMBD they looked at the top 20 most popular shows of the last decade, eliminating reality TV and game shows. Their findings were a little bit shocking. Don't hold your breath, it isn't good. The study found that in 2008 only 20 percent of the leads in the most popular TV shows were LGBTQ+. This rose in 2013 and 2015 to 65 percent. In 2018 that figure plummeted to 25 percent.
These findings are low. However, perhaps most shockingly 76 percent of LGBTQ+ roles have been played by non-LGBTQ+ actors and in 2018 zero LGBTQ+ actors played the LGBTQ+ roles in the top 20 shows. You may be wondering what the big deal is? So long as LGBTQ+ stories are being told what does the sexual orientation of the actor have to do with it? But providing LGBTQ+ actors with the opportunity and space to represent their community accurately is crucial.
On the Gay And Lesbian Alliance Against Defamation (GLAAD) website Director of Entertainment Research & Analysis, Megan Townsend said, "Numbers are only a small part of the story when it comes to LGBTQ+ representation on TV and simply being present onscreen is not enough. While we're pleased to see numbers on the rise, consideration of how LGBTQ+ characters are woven into story lines and whose stories are making it to screen is crucial for judging progress of the industry. And there is still work to be done." It is not only that LGBTQ+ stories are being told as a token but that they are being normalised and the actors reflect the diverse community they are representing.
Speaking to Cosmopolitian UK about the issue of representation in film Jeff Ingold, media manager at Stonewall UK said, "LGBTQ+ people of colour and bi people continue to be seriously underrepresented in mainstream media. Greater and more diverse representations of LGBTQ+ people ensures all people see themselves reflected in what they watch or read, and helps increase understanding and acceptance of the diversity of the LGBTQ+ community."
I remember when it was announced that Desiree Akhavan's The Bisexual was being released on Channel 4. I got a barrage of messages from friends overjoyed that we might be able to throw away our old worn out Bi Icon, Orange Is The New Black's Piper Chapman (played by Taylor Schilling) in favour of a new fictional heroine. It is all light hearted but highlights the importance of representation. Whilst it is great more LGBTQ+ stories are being bought in the mainstream it still appears there is still plenty to do.