Ohio Residents Are Throwing An LGBTQ Dance Party To Welcome Mike Pence When He Visits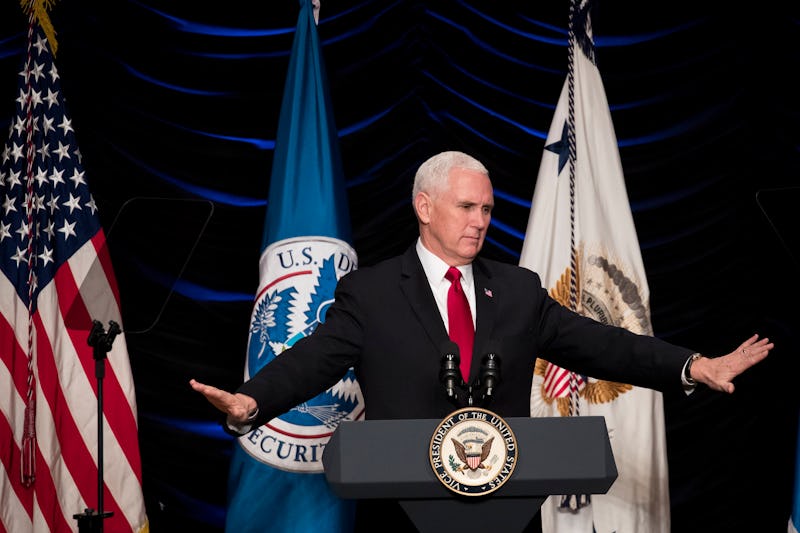 Drew Angerer/Getty Images News/Getty Images
The VP might try to skip this one. On Tuesday, Vice President Mike Pence was invited to an LGBTQ dance party in Ohio. Given the vice president's policy record and past statements about LGBTQ people, he may not want to go — but he also might not have a choice.
"Mike Pence is coming to Columbus June 15, the first day of Pride!," the Facebook event page says. "Help welcome him with a Big LGBTQ Dance Party!" Confirmed DJs and drag queens at the event include Virginia West, Sable Coate and DJ Moxy, according to the event listing.
The party, which is being co-hosted by Progress Ohio, is set to take place outside the Renaissance Columbus Downtown Hotel on Friday. At 3:30 p.m. local time, Pence will be speaking at an event at that same hotel; the dance party, meanwhile, is scheduled to run from 2:00-5:00 p.m. outside the building. It's conceivable, then, that Pence may be forced to brush shoulders with the LGBTQ attendees as he's making his way to his speech.
Make no mistake: The LGBTQ dance party is meant to troll Pence, who has consistently supported anti-gay policies before and during his time in elected office.
To take just a few examples:
Pence has also been accused of supporting gay conversion therapy, the discredited practice of trying to convince LGBTQ people that they aren't really gay. In his 2000 campaign website, Pence wrote that no federal dollars should be "given to organizations that celebrate and encourage the types of behaviors that facilitate the spreading of the HIV virus," and that "resources should be directed toward those institutions which provide assistance to those seeking to change their sexual behavior."
When this quote resurfaced in 2016, a spokesperson for Pence denied that he was voicing support for conversion therapy, and that he was instead calling for funding for "groups that promoted safe sexual practices." But Rea Carey, executive director of the National LGBTQ Task Force, told the Times that Pence's reference to "institutions which provide assistance to those seeking to change there sexual behavior" was in fact a "dog whistle" for gay conversion therapy.
After becoming vice president, Pence became embroiled in a dispute with American Olympic figure skater Adam Rippon, who is gay. Shortly before the 2018 Olympics, Rippon condemned the selection of Pence to lead the U.S. delegation to the PyeongChang games, and told USA TODAY that he wouldn't meet with Pence before the games due to his anti-gay views.
"I would absolutely not go out of my way to meet somebody who I felt has gone out of their way to not only show that they aren't a friend of a gay person but that they think that they're sick," Rippon said.
Pence's office has not responded to the reports of this event. As of this writing, 348 guests have RSVP'd to the LGBTQ dance party's event page on Facebook.