Liam Hemsworth Shared A Heartfelt Message After Losing His Home In The Wildfires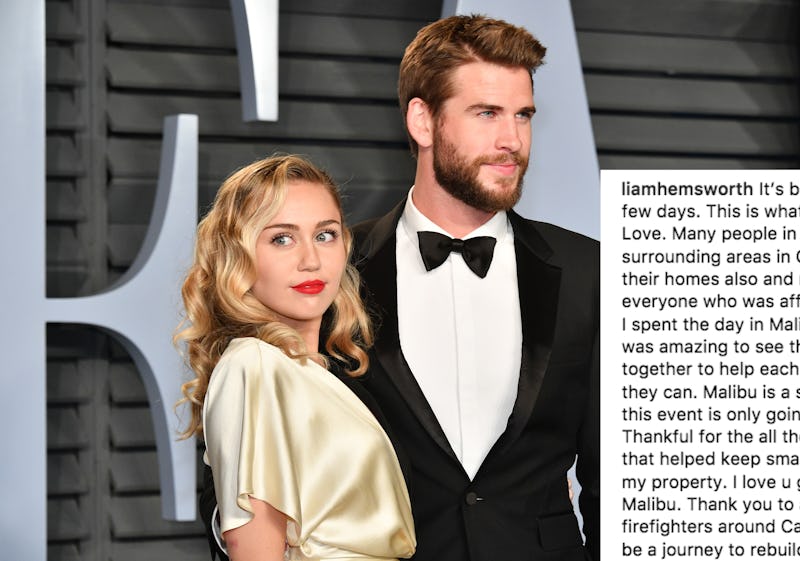 Dia Dipasupil/Getty Images Entertainment/Getty Images; Liam Hemsworth/Instagram
Like his significant other did the day before, Liam Hemsworth opened up about losing his home in the California wildfires. In a message on Instagram on Tuesday, the actor posted a heartfelt note to his followers about the devastation and offered a way for people everywhere to help out.
Hemsworth shared a photo of his house, which had been burned down by the fire. Coincidentally, one of the only things that was left standing was the word "Love" that was made up of a couple of large letter figures. In the caption for the post, he wrote about the heartbreaking loss and highlighted the hard work of the firefighters who are trying to put out the disastrous fires. The actor said:
"It's been a heartbreaking few days. This is what's left of my house. Love. Many people in Malibu and surrounding areas in California have lost their homes also and my heart goes out to everyone who was affected by these fires. I spent the day in Malibu yesterday and it was amazing to see the community pulling together to help each other out in any way they can. Malibu is a strong community and this event is only going to make it stronger. Thankful for the all the great local guys that helped keep smaller fires out around my property. I love u guys. I love you Malibu. Thank you to all the hero firefighters around California. It's going to be a journey to rebuild. Stay strong all. To help/donate visit @malibufoundation and @happyhippiefdn"
Previously, Hemsworth's partner, Miley Cyrus, also opened up about the couple losing their home. She took to Twitter to let her followers know that she and her family, including the couple's many pets, were all safe. Like Hemsworth, she also offered up many different resources that her followers could get involved in if they want to help.
"Completely devestated [sic] by the fires affecting my community. I am one of the lucky ones. My animals and LOVE OF MY LIFE made it out safely & that's all that matters right now. My house no longer stands but the memories shared with family & friends stand strong. I am grateful for
all I have left. Sending so much love and gratitude to the firefighters and LA country Sheriff's department! If you are interested in getting involved see next tweet.... Donate $ , Time , Supplies I love you more than ever , Miley"
Hemsworth and Cyrus aren't the only celebrities to open up about the loss of their homes. Gerard Butler detailed that he lost his home in the fires, as did Robin Thicke and his girlfriend April Love Geary, per Cosmopolitan.
Of course, the devastation has obviously affected so many other residents in California as well. Tragically, as a result of the fires, which remain an issue for the state, the death toll has reached 44, per CNN, with many more undoubtedly losing their personal possessions and homes. If you want to contribute in any way, there are many ways that you can get involved to make a difference.