Liam Payne Announced His New Music Is Coming So Soon & Fans Are FREAKING OUT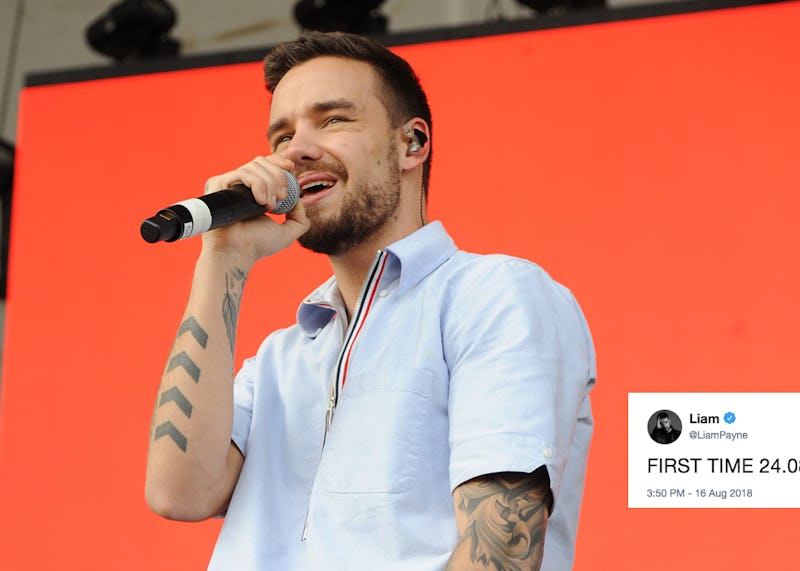 Timothy Hiatt/Getty Images Entertainment/Getty Images; LiamPayne/Twitter; Bustle/Screenshot
Liam Payne is up to something, and it sounds major. The singer deleted all of his Instagram posts on Thursday, and it appears to be connected to an upcoming project. Liam Payne announced his new music in a cryptic tweet on Thursday, Aug. 16 and fans are already super excited about what's in store.
UPDATE: Liam Payne's new EP, First Time, has been confirmed in a separate press release. The EP contains four tracks, and will be released on Aug. 24.
EARLIER: Payne's tweet is just two words and a date, but that's enough to get people talking. His tweet, "FIRST TIME 24.08.18," has fans speculating if "First Time" is the name of a new song, a new EP, or both. After One Direction split up, Payne has released several singles, but not a full-length album. So fans are dying to know more about any new music that might be on the way. (Bustle reached out to Payne's reps regarding "First Time," but have not yet received a response.)
In addition to the date teaser, Payne also shared a Notes app message on Twitter. The former One Directioner wrote that he'd recorded some songs for his debut solo album, but felt they didn't represent him as an artist. So Payne went ahead and replaced some of the tracks with new songs for the unreleased album. It's clear that he's taking his solo career debut very seriously. Payne wrote in his note,
"As you may know, the last few months have seen some big changes for me... I looked at some of the songs on my album which were done a while ago and they felt from another age. I'm determined for my debut album to truly represent me."
Based on the rest of Payne's message, it sounds like August 24 could be the release date for an EP that's separate from his upcoming album. (Payne told reporters in May that his debut album will be released on September 14.)
He continued in his Notes app message,
"I'm now back in the studio working hard to finalise the final few new songs on the record - I'm genuinely excited about the music I'm writing and recording and I can't wait for it to be ready for you all. In the meantime, this EP is a collection of songs that I'm really proud of and want you all to hear... tell me what you think. As always, thanks for your support - it means the world to me."
From that text, it sounds like the EP, which could include a track called "First Time," will be released ahead of the album. And it could include some of those songs he originally recorded but decided to take off the album's final track list. The UK publication The Sun reported that "First Time" is a track with French Montana. (Bustle reached out to Payne's reps and Montana's reps regarding Montana's appearance on the track, but has not yet received a response.)
Even though it's not completely clear what Payne has in the works, fans are thrilled at the possibility of him releasing new music. After his Twitter revelation on Thursday, fans started using the hashtag #LP1IsComing in anticipation of Payne's first solo album.
Some fans are already declaring "First Time" is their favorite song, even though they've never heard it (and there's no confirmation that "First Time" is actually a song title).
Some fans also believe Payne's Notes message included a reference to his ex and the mother of his son. Payne's mention of the "big changes" he's gone through in recent months could be an allusion to his split from singer Cheryl Tweedy. Others think that the deleted songs may have been inspired by his ex, and that's why he wanted to take them off the album.
Payne's message isn't too specific, but the general consensus seems to be that "First Time" is the name of a song. Fans will have more information next Friday, but it might be worth keeping an eye on Payne's Instagram page in the meantime.