Here's Where 'Life-Size 2' Stars Tyra Banks & Francia Raisa Think Casey & Her Dad Are Now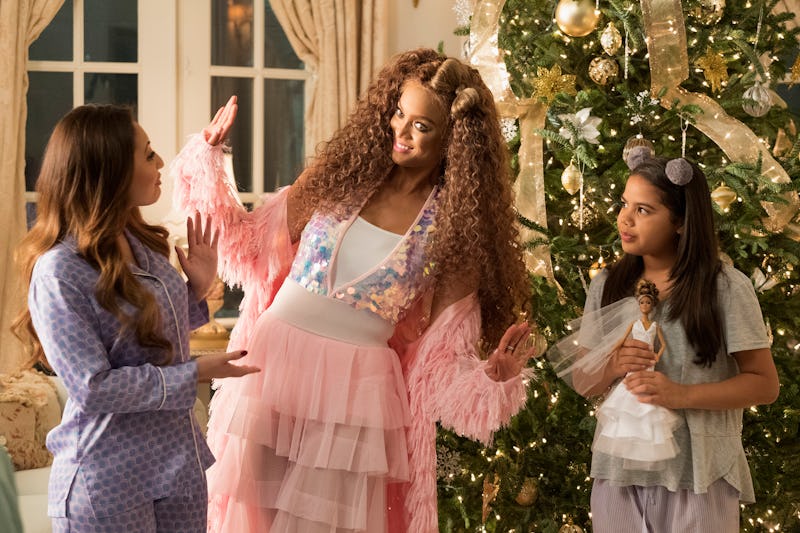 (Disney Channel/Guy D'Alema)
On Dec. 2, '90s kids will relive the glory of a classic movie while a whole new generation will be exposed to Eve and her greatness. Although it's a new chapter, Freeform's highly anticipated Life-Size 2 will be nostalgic in so many ways. And although this story takes place nearly 20 years after the original and will have many modern spins, audiences likely will have the first film in mind — including, of course, what happened to Lindsay Lohan's character Casey. Naturally, we had to ask Life-Size 2 stars Tyra Banks and Francia Raisa where they think Casey Stuart and her dad are now, and their theories are spot-on.
The magical story of Eve begins in the original film when widower Ben's (Jere Burns) young daughter Casey (Lohan) attempts to use magic to bring her mom back to life, inadvertently bringing her doll Eve (Banks) to life instead. Throughout the wildly entertaining journey, Eve helps Casey discover and embrace who she is... while having serious chemistry with her dad Ben in the process. While Life-Size 2: A Christmas Eve is centered around Eve's journey with Grace (Raisa), CEO of Marathon Toys, fans might be wondering where Casey and Ben are now.
As Banks sees it, Casey was so invested in Eve, she continued living a life inspired by her role model. "I think Casey was an investor in Marathon Toys," Banks says. "I think that Eve meant so much to her, that she grew up to be a very successful business person and that she was an investor." Of course, Banks believes Casey would be keeping up with the company in Grace's hands.
"She is so proud that Grace came and saved the company 'cause now her investment will pay off exponentially," Banks enthusiastically continues.
Raisa, on the other hand, suggests that these days, Ben is mostly still pining over Eve. "I think her dad was trying to find someone just like Eve, because I think he was secretly in love with her and I really wanted them to end up together," the actor says. "There's no other Eve." Banks, chiming in laughing, adds, "He's still searching."
No disrespect to Ben or his partner (if he does have one now), but there is only one Eve. "I feel bad for his wife, I'm sorry," Raisa continues. "I really thought you guys were gonna go there in the first one." Didn't we all? "It would've been Eve's first kiss!" Banks adds. "[Casey's] like, 'Dad, how could you?!'"
While fans of the original likely are dismayed that Lohan won't be reuniting with Banks for the sequel — Banks told The Hollywood Reporter in September that this is due to conflicts with shooting her upcoming MTV show — she did tease at the time that Lohan would be in the film "in some kind of way."
But the sequel also relishes the opportunity to build something new on to the original beloved story. The addition of Raisa's character was a new element that allowed the actor to bring her own sensibility and style to the role. She even helped design one of Grace's final looks, with encouragement from Banks.
"They just kept bringing dresses to me and I was like, 'I don't think she would do that.' Just didn't feel right," Raisa admits. "I really want her to feel powerful. We were going through Pinterest and stuff and [Banks] brought up a suit with a tie and I said, 'That's what she needs to do,'" she continues. "We started crafting stuff together. I really love that outfit." And last-minute, the outfit was handmade to fit Raisa's vision.
It's a fitting example of the kind of collaboration happening on the sequel, which feels both indebted to the original and fun enough to be a classic all on its own — even if Ben Stuart is out there somewhere missing Eve terribly...